11 of the Best Electronic Signature Apps
09 Sep 2019
Paula Williams
18095
Signing documents is time-consuming and tedious. You have an option of giving up on the writing tools and work with an electronic signature software for signing documents. There is no need for sitting somewhere in the office waiting for documents to arrive for you to take action. In some instances, you may be forced to open your mailbox and print the documents which will later on need scanning before returning to sender after signing.

Technology is transforming every workplace into a digital zone giving you a choice of electronic signature apps to use. It is a part of the digitization process of the workplace, which includes
enterprise mobility solutions
, digital information management, and more. The e-signature app makes the personal or office life much more comfortable by eliminating the tedious and time-consuming process of signing paper one by one. With such an app, you do the signing with a few clicks and send them back to the sender. We have a compilation of ten of the best eSign services that let do the signing in seconds.
1] eSignly
eSignly is a leading e-signature solution that is loved by millions of users all around the world for the ease it provides in document signing and management. A perfect tool for individuals, small to medium businesses, and also large enterprises, eSignly makes electronic signing simpler and more sophisticated. The app offers several attractive features like in-person signing, scheduled signing, self-signing, team management, top-grade security, integration with popular work applications, audit trail, and much more.
eSignly can also be used via eSignly API for even greater efficiency in performing electronic signatures. What's different about eSignly is that it offers a wide range of features at really affordable pricing plans.

2] PandaDoc
PandaDoc is available for both Android and iOS mobile platforms. The online software is an award-winning electronic signature software that has an easy to use user interface. Signing documents using PandaDoc is now an easy solution that comes in as part of its document management tool. The tools support drag and drop of forms, audit histories, and automatic workflows.
Other integrations are also available and include CRM, filing, storage, and payment platforms. PandaDoc is an e-signature app that is available at a monthly fee per user and in different business plans that include integrations.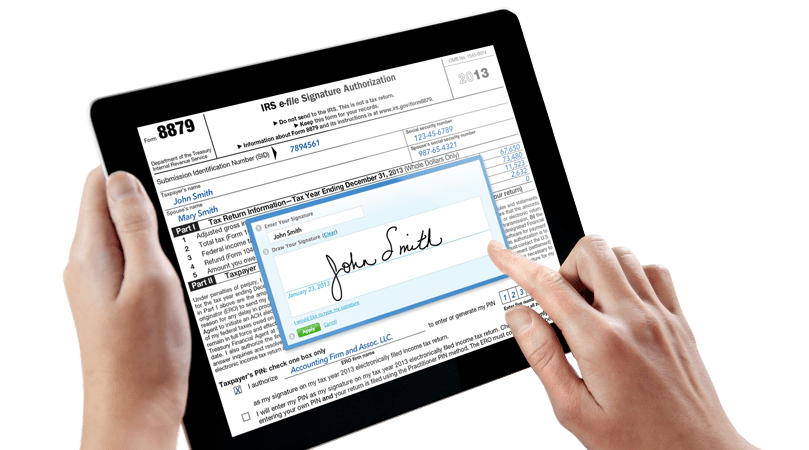 Source: https://bit.ly/33TQQeM
3] DocuSign
DocuSign is an e-signature app available on both the iOS and Android mobile platforms. The electronic signature software boasts of many users and it seems to be the choice of many looking for eSign services. Once the installation is complete, it is easy to use with good integration features.

DocuSign has a suite of Application Programmers Interfaces (APIs) enabling custom integrations with any system hosting it. There is a strong reliance on its security features, both where the data is stored and the eSign services.

The pricing plan is for a single user every month. Inclusion of advanced plans provides additional features such as payment collection and bulk handling of documents. If you want to test it as a free electronic signature app, download and use it for a 30-day trial phase.
Adobe Sign app is available on both the iOS and Android mobile platforms. Adobe is a common name in the graphics world and as such, it said to be one of the pioneers in eSign services. The software is feature rich giving the user the power to manage continuous workflows from any location or device.

The e-signature app supports many integration applications running on third-party platforms such as Microsoft, Workday, Salesforce, etc. using Adobe Sign enforced global compliance. The app has both the digital and electronic signatures.
The pricing plan for the small enterprise is for a single user, with more features available on the business plan with a monthly billing cycle on every user. You may install it in your office as a free electronic signature app for 14-days.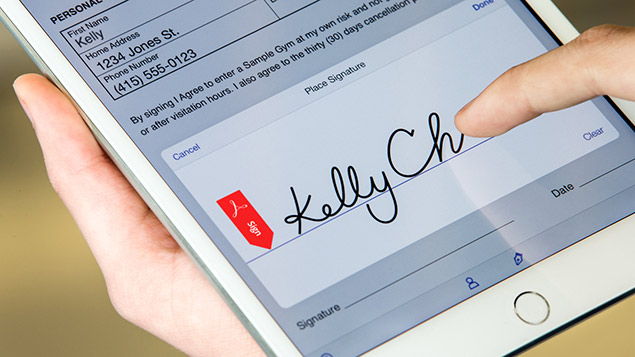 Source: https://bit.ly/2PkCocy
HelloSign is designed for mobile platforms operating on iOS and Android software platform. The most important feature on this electronic signature software is its customization and quality customer service. Using it on the web means, you have access to a free electronic signature app.

HelloSign has some APIs that enable the customization of your brand and signature on all documents. Its compliance with global signature laws and availability of major extensions makes the office place comfortable.

This e-signature app gives you a month of using the eSign services on three documents. The other plans include the Pro, Enterprise, and Business.

6] eSignLive
eSignLive is a signature app compatible with mobile platforms running iOS and Android. Large enterprises choose the eSignLive app as their electronic signature software of choice due to the available strong security features. The e-signature app gives the business an opportunity to use the software on their premises or as a cloud-based service.

eSignLive gives you an opportunity to integrate using many of its APIs. The signature software is available for small businesses.
Availability of the software depends on two plans, one is the professional plan involving billing every user per month, the other one is the enterprise plan that works for an individual depending on the volume of work.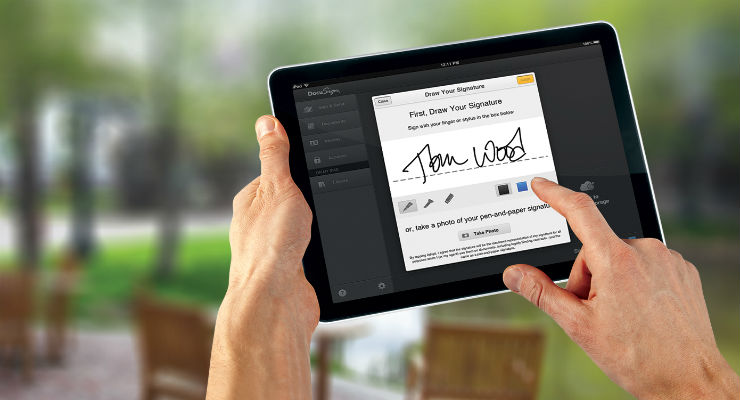 Source: https://bit.ly/2TW9G08
7] SignNow
SignNow is available for both the iOS and Android mobile platforms. The interface is simple and easy to use and includes a custom API. SignNow is accessible to its users at an affordable rate per user, and allows signing of unlimited documents. The plans available for a per-user monthly billing cycle are the Personal and Business plans. Upcoming businesses looking for an e-signature app that works seamlessly through mobile should try this.

8] SignEasy
Another electronic signature software that is compatible with the Android and iOS platforms, SignEasy is not a heavy signature application because it offers a minimal user interface with the intention of making it easy to use. You can create documents and integrate the drag-drop functionality using different third-party tools. Signing using SignEasy accommodates self-signing, remote signing, as well as in-person signing.

A standard signing plan with no in-person signing feature is available on a monthly basis. Other plans include the Plus plan for small enterprises and a Premium plan for a maximum of three users. Any additional user pays more.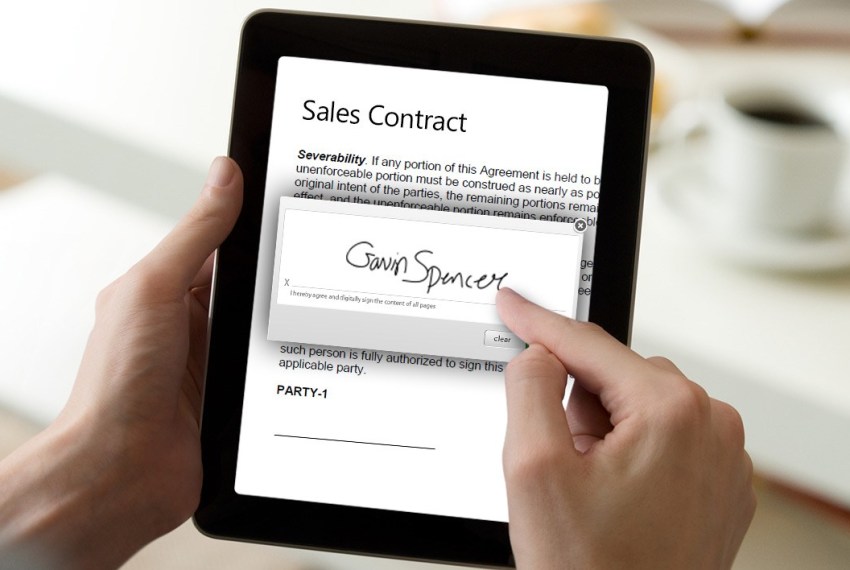 Source: https://bit.ly/2ZdPQmX
The RightSignature mobile application uses the Android and iOS platforms. This e signature app uses speed to impress its users, as documents come in faster when sending and receiving for signatures. With it, you can upload, format and send documents in the shortest time possible, as it offers several suites and APIs for the users.

The pricing plans include the Personal plan for every user with a monthly billing cycle, and the Business plan that allows a maximum of three people and going for any other custom plan means paying more.

10] KeepSolid Sign
The KeepSolid Sign app takes its security features to the iOS and Android mobile platforms. As an e signature app, it bases its main features on secure data storage and verification of legal signatures. You can use this app for drag-and-drop features, including other available integrations.

Five people can use the app on a monthly billing cycle or there is a higher monthly plan for 10 people. Apart from downloading the software to use it for free for 14-days, there is also the option of the Enterprise plan or the Annual subscriptions.

11] Signable
Designed to run on iOS and Android platforms, Signable is one of the few e signature apps available for use on the pay-as-you-go basis. Other options, such as the monthly subscriptions, are also available. Signable is compliant with EU laws because it is mainly available in the European Market.

The pay-as-you-go rates are on a per document basis, with a Business plan supporting up to 50 documents and the Corporate plan supporting a maximum of 750 documents.

You may be reluctant to change from the traditional document signing methods to electronic signatures. However, when you have a busy office schedule and need things to work efficiently, then adopting an electronic signature
software
is an easy option. So, forget paper signatures and embrace eSign services.