5 Key Features to Look for in an Expense Management System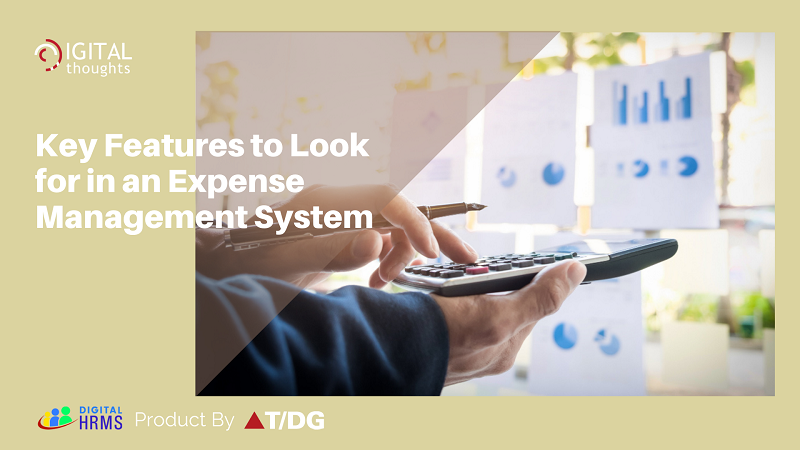 Effective management of the expenses of a business is one of the most significant steps towards profit, and the evolving needs of the enterprises today call for an automated approach towards expense management. In other words, the age-old manual process of expense management is no longer relevant for today's enterprise. Moreover, there are multiple advantages of an automated expense management system, and process efficiency is just one of them. An automated expense management system brings in convenience, makes the process faster and more accurate, faster reimbursements and a boost in employee morale.
However, with so many expense management systems available in the market today, it can be a challenge to find the right one for your business. It's important to note that no two businesses are exactly the same, and every business has its own unique set of requirements. However, here are some pointers to help you get started on the right path towards the discovery of the ideal expense management system for your enterprise.
What to Look for in an Expense Management System
Here's what you should look for when choosing an expense management system.
1] Detailed Automated Reports
The ideal expense management software will be able to break down employee expenses and identify areas where savings can be made. Managers can generate unique HR reports based on projects, employees, or time periods. This makes it easier to stick to a budget and, if necessary, implement cost-cutting measures. If you're still manually monitoring expenses, you could be losing out on a plethora of data that could help your company in strategic decision making.
2] Predefined Workflows to Save Time
Predefined automated workflows minimize manual intervention and speed up the approval process. Your administrator can create approval rules that will categorize expense reports according to the criteria applied. For instance, you can set a specific threshold, beyond which approvals would be required from the finance manager.
Using mobile apps, completing and analyzing expense reports becomes a quick, easy, and smooth process. Most new age HR software offer an advanced HRMS mobile app to the users to create unique reminders and notifications for employees and approvers. Furthermore, thanks to cloud storage, the Accounts team may view digital receipts and expense reports from any device at any time.
4] Integration with Other Applications
The Expense Management system you select should be able to communicate with third-party systems as well as your other applications. It should allow for smooth data transfer, eliminating the need to manually import and export your company's expense data. An Expense management system that works well with your accounting software, various payment methods, HR and payroll software, CRM system, and other apps, is what you should be looking for.
Expense management software assists businesses in staying in compliance with local, state, and federal tax authorities. Companies can categorize and tag expenses, such as office, travel, etc. Also, some expenses are not tax deductible and thus they are not required to be included. When you invest in an Expense management software, you should get easy access to electronic copies of reports and receipts, which is essential in the event of an audit.
Want to explore how the automated expense management system of Digital HRMS can help your organization seamlessly manage employee expenses?
Stay connected with us on Social Media for all the latest updates.