5 Reasons that Make Digital HRMS Your Ideal HR Partner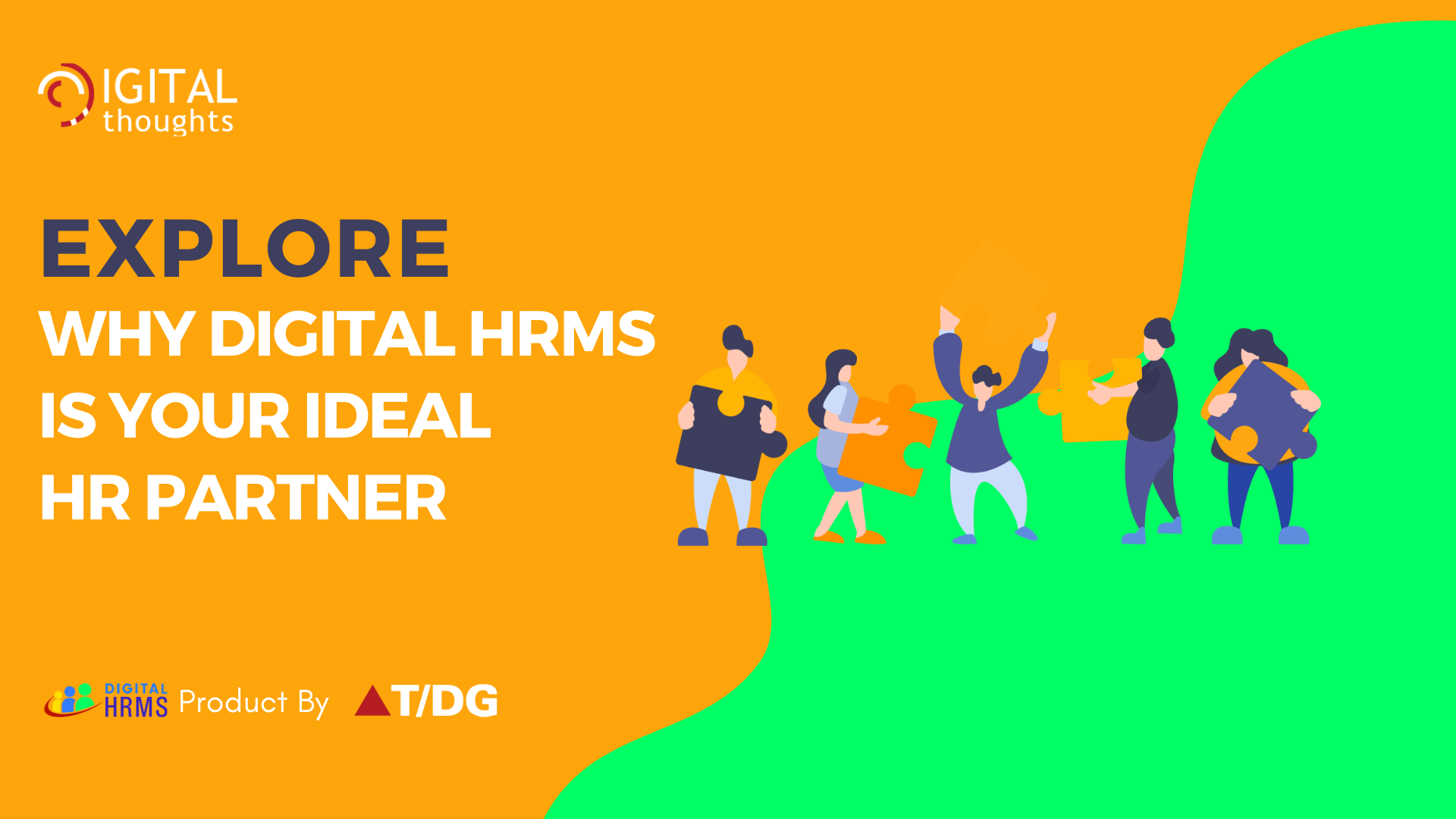 What is the role of an HR software? Well, today the HR department in every organization has multiple responsibilities, which are way beyond just managing employee leaves or processing the payroll. With hundreds and thousands of employees in organizations today, and many enterprises spread across multiple locations across the globe, the role of the new age HR department has evolved a lot over the last decade. With so much to look into, it can be overwhelming for the HR team to manage all of it with a manual process, often resulting in a drop in productivity and efficiency of the HR department. So, what is the solution?
Thankfully, we have a solution to the multiple challenges of HR management, and it comes in the form of the new age HR software platform. The HR software platform of today is designed to automate every HR function with the objective of enhancing the efficiency levels of the HR department and streamlining every aspect of employee management like never before. Digital HRMS is an example of a new age HR software platform and here we shall look at the key reasons your HR team needs to have Digital HRMS by their side. So, let's get started.
1] Highly Configurable Modules
We understand that every business is different, and the requirements of your business can be very different from the other businesses in your domain, geographical region or even in your own locality. This has inspired us to build a HR software platform that can be customized to meet your unique set of business requirements. So, not only do you have the option to pick and choose the modules you want, but also you have the power to customize the features to cater to your business needs. This makes it a very different experience from the off-the-shelf software that you can find. What's more, all of this comes at a very cost-effective pricing!
2] Advanced Data Security & Privacy
We understand that data security and privacy of data is of utmost significance because there is no way the security of sensitive and confidential employee information can be compromised with. We have the highest levels of data security with the Digital HRMS HR software platform, which includes but not limited to the following:
a] Server Security:

Information is hosted on Microsoft Azure Cloud, monitored 24×7 by world-class professionals.

b] Data Encryption:

256-bit SSL encryption software – a high-end encryption technology which is used in BFSI industry.

c] Security Protocol:

Stringent IP & Port based restrictions with communication over SSL protocol under ISO 20001, GDPR & Country specific security standards.

d] Information Availability:

Reliable disaster recovery and continuous information flow with 99.9% cloud uptime availability.

e] Multi-Layered Data Backup:

Systematic backup of data in multiple locations and backup updates throughout the day.
In addition to the security measures, Digital HRMS is also a GDPR compliant HR software platform that complies with the Data Privacy regulations of the GDPR. It ensures that the personal information of the users is never misused and is used only with the user's permission.
3] Mobile App for Android and iOS Users
We understand that today enterprise mobility is a reality and what everyone wants is a way to get the job done at the moment, without having to wait till one is at the office desk. Also, employees who need to travel can find it difficult to perform the basic functions if there is only the On-Premise model. This has inspired the dynamic Digital HRMS mobile app that is all you need for 'HR on the move'. Available for Android as well as iOS users, the HRMS Mobile app gives the users anytime anywhere access on the go with the data securely on the Cloud.
4] Remote Attendance Tracking
Digital HRMS has multiple features to simplify the lives of the employees and make it easier for the HR department. However, the 'Automated Attendance Tracking' feature is something that has proven to be of great help to all our clients in the current scenario of remote work. This feature is available on Digital HRMS mobile app and makes use of geofencing technology to track the attendance of employees even when they are not in the office premises. In addition to being helpful for recording the attendance of remote employees, the automated attendance tracking feature can also be used to track the attendance of employees who are out for office work, such as market surveys or client visits.
5] Makes HR Processes Faster
There are multiple ways in which the Digital HRMS platform helps the HR professionals as well as the employees perform tasks faster and more efficiently. The following are just a few examples –
Resume parser feature automatically parses hundreds of resumes to extract key information from the resumes as per the pre-defined parameters. This takes away a lot of time and efforts from one of the most exhausting steps in the recruitment process.

The Single Sign-On feature of the Digital HRMS HR software platform enables the employees to sign-in with a single click, through integration with their MS Office accounts. This saves the hassle of remembering multiple passwords.

Seamless integration with biometric and other attendance tracking devices eliminates the need for manual data entry, which not just saves time but also ensures the data is free from errors.

The Leave Management system of Digital HRMS allows employees to apply for leaves in a few clicks and also facilitates quick approvals. This eliminates the need to email leave applications and coordinate with multiple stakeholders for the approval.

Reports & Analytics functionality of Digital HRMS allows the HR team to generate automated reports in a single click, anytime anywhere. This eliminates the need to maintain all the required data in spreadsheets.
Now here's a bonus reason for you to explore Digital HRMS.
The many clients of Digital HRMS are more than happy to place their trust in us to help them in their HR digitization journey. Here's what our clients have to say –
"...The T/DG team has been working very efficiently and as we can see that Digital HRMS has been designed to streamline HR functions on a single platform. The HRMS improves the work performance and this is exactly what we needed to recognize the achievements of our large workforce. Also, the ability of the Digital HRMS team to come through in a timely and professional manner is greatly appreciated. Even the smallest query is resolved precisely and promptly. We highly recommend the product..."

-

Vilisi Waqavesi, Acting DHRM, Fiji Police Force
"The My Details and Leave and Attendance modules of Digital HRMS are worth a mention because of the advanced features. It is a customisable platform that allowed us to opt for the modules we were looking for and the mobile app adds to the user experience. Would recommend Digital HRMS for SMEs because of the flexibility it offers." - Mahesh Chincholi, Director, Sri Om Motors
"Digital HRMS delivered what was promised for management of employee travel and expenses at UCCI. Your software makes employee travel requests & expense reimbursement claims easy and effective, and the mobile app offers easy access on the go. It is a customizable platform with a robust support to help us choose what caters best to our specific business requirements. Thank you Team Digital HRMS for making it success!"
-
Jaykumar Patil, Sr. Manager (Finance), UCCI
"In our quest to digitize our HR functions, we found Digital HRMS as a valuable partner. With them, we could easily translate our manual processes to a self service platform designed to benefit the employer as well as the employees. The value addition is not just restricted to the platform but also the assistance extended in terms of structuring the HR function was helpful. Digital gave us a good start to our HR digitization journey!"
-
Sucheta Phatak, Head HR, Hexanika
"The Digital Group's HRMS setup is user-friendly & captures most of the HR practices in comprehensive way. The HRMS tool has definitely supported Sunfire's HR team to flexibly offer a seamless HR experience to all our employees."

-

Pooja Salunkhe, HR Manager, Sunfire Technologies Pvt. Ltd.
"I would like to thank and appreciate all of you from T/DG, for the efforts, and now I could see the LMS coming into shape according to what I was aspiring for. Keep up the good work. Thanks."
-
R Subramaniam, GM Training, Brinton Pharmaceuticals Ltd.
"Digital HRMS - a modular, configurable & customizable platform with a strong support team. Customizations in Leave & Attendance Module really helped us to implement our policy specific features. It has been a good experience using the platform.
The mobile app is good to have as it adds to the secure accessibility of key information on fingertips and ability to complete HR tasks with configured workflows on the go. Thanks to the platform, opted modules cater to all our desired business requirements." -
HR Team, Ecomak Systems Private Limited
Visit our website www.digitalhrms.com to request for a Free Demo or start your Free Trial or drop us an email on marketing@digitalhrms.com and our team will get in touch with you. Now, get Full access to Digital HRMS Free for 90 Days. Available for Limited Period only!
Stay connected with us on Social Media for all the latest updates.