5 Reasons Why Acquiring a Data Center Service Must Be a Top Priority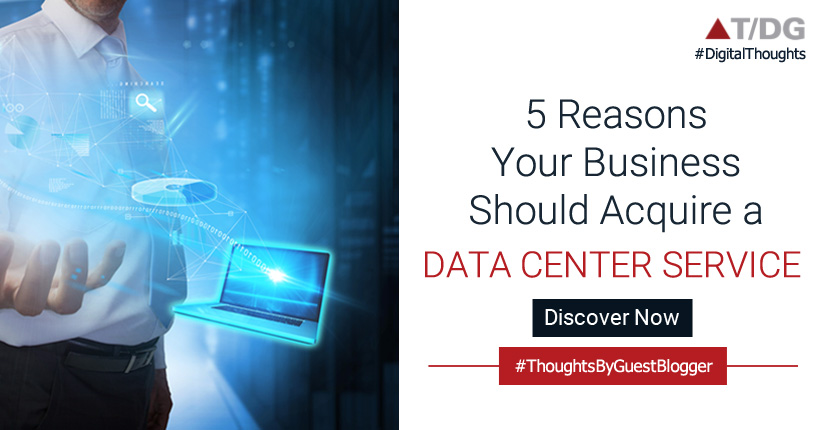 16 Nov 2018
Kath Ramirez
1132
Starting or building a business can be both exciting and challenging at the same time, especially in the present times. Entering the business industry must not be underestimated, especially now that it has become more crucial and trickier on the battlefield!
Sudden mishaps can easily take down your business to its knees, whether you're prepared for it or not. There are also unforeseen challenges that may come up and turn out to be your biggest problem in the long run. This is where acquiring a data center can come to your rescue. Wondering why? Read to know.
The thought of acquiring a data center might leave you clueless if you're not aware of it or simply have no idea what it's all about. Data centers are the facilities used for housing computer systems and related components, including telecommunications and storage systems.

Data centers provide a variety of services like colocation, web servers,
management
of data and other IT services that may be offered by a certain data center company. It is gradually making its mark in the business industry by business owners to get their businesses, whether big or small, secured and safe with or without their presence. Here we shall look into its key benefits.
1] Secures Business at Its Best
Acquiring a data center service is highly recommended for any business owner, especially those who own a big business. This is because every company has their set of highly confidential files or data to house for years or as long as eternity.

With the help of a certain data center company, you can have a peaceful day-to-day living without worrying about the safety of your company's precious asset – its data. You can start by looking for a potential data center that you would want to consider and conduct a thorough research on the company's background and gather public reviews regarding their services.
2] Significant Cut in Infrastructure Cost
Instead of pulling out a lot of money from your pocket for building an in-house data center, you can a have a significant cut in the possible expenses opting for the
hosting
services offered by a particular data center company. It may require some investment but it is way cheaper as compared to building an in-house data center where you would have a long list of expenses for the building materials, the pay rate for the workers, the budget for the lot, budget for tons of IT hardware and computing equipment, and so on.
Imagine how much money you can save by having a trusted data center? They will be the one to sustain the facilities, provide security personnel, and even provide skilled IT staff to take care of your company's data. They are 100% ready to take the responsibility from your hands.
3] Excellent Processing and Storage
One of the major reasons why you must consider availing a data center service is that they offer an excellent processing and storage facility which your company may find difficult to provide in-house. Data centers are most commonly known for their favorable security, processing and storage offerings.
Why not give it a try and see astounding results in data management? Surely, it will boost your company's growth in the corporate world. With the guaranteed and quality processing and storage provided by the data center, you will surely excel in the field at your most unexpected time.
As compared to the in-house data center, seeking help from an outsourced data center can lessen your maintenance requirements and in turn, the workload of the in-house IT department. This is because when you choose to partner with a data center company, they will be the one to provide all the necessities to secure and hold your data and files.

However, if you're still not comfortable with the services offered by the data center company, you may discuss with the company's personnel to come up with possible days and time for your IT staff to visit your availed and rented data center facility, just to get an idea of how things are going. So many options to choose from, right?
5] Helps in Business Growth
As mentioned earlier, the decision of taking the data center company's helping hands will primarily help in the faster growth of your company. This applies not only to the field that you're venturing into but also the general growth of your company - from the employees to the highest ranked positions.

Wondering how? This is simply because a data center will cut a huge amount of responsibility and workload from your company by housing your data and files. As a result, you'll have more time to focus on more important agenda that is in a great need for your time and attention. Instead of worrying a lot about maintaining and/or improving your in-house data center's security, your team could invest time in building strategies to fuel business growth.
So, what are you waiting for? Don't wait until there is a serious issue threatening the safety and security of your company's sensitive data. Outsource your data management to a data center to make your company safe and sound.