5 Ways Custom Software Development Services Can Benefit Modern Enterprises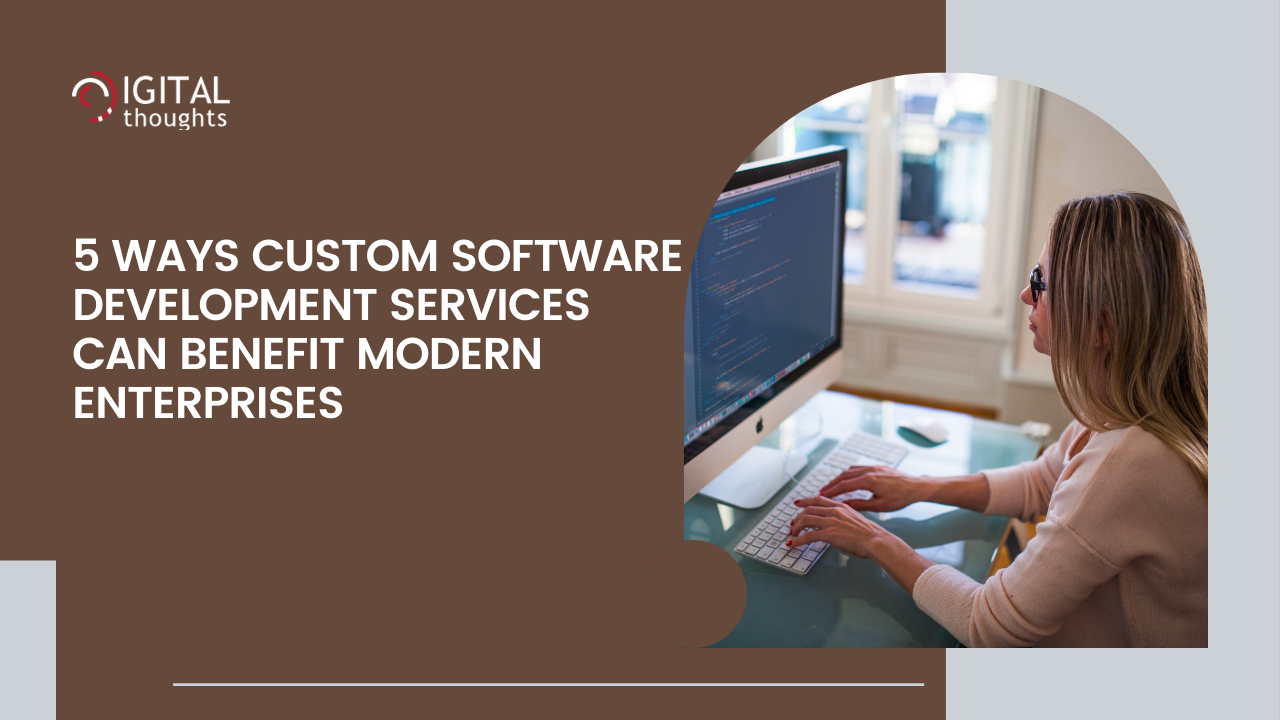 Organizations today are embracing digitization like never before. All over the world, organizations are investing in the latest technology to automate every aspect of their business operations. However, it remains a fact that every organization is different, with its own unique set of requirements and business goals. To cater to the specific requirements of an organizations and to meet its definite goals, off-the-shelf software that is readily available in the market, is not enough. In such a scenario, what enterprises need is custom software development services to help them build a software that is tailor-made to their requirements.
There are many ways in which a modern enterprise can benefit from a customized application. This post looks into the top 5 ways in which custom software development services can turn out to be a worthwhile investment for new age businesses.
One of the primary reasons enterprises should invest in custom software development services is the high ROI it brings. The high ROI is a result of the increase in productivity and efficiency that comes as a result of implementing an application that is designed to fit like a glove to meet the needs and requirements of the organization. An off-the-shelf software, although a little less expensive, can never offer the level of compatibility that a customized one offers to the business operations of the enterprise.
2] Offers Advanced Data Security
It's a fact that an application that is used by more and more people out there, are more vulnerable to threats and malware. This is because more and more people are familiar with its ins and outs and the probable vulnerabilities. However, when one talks about a custom application, the risks are low because only the people of an organization are familiar with it, and not other people in this whole wide world. Also providers of custom software development services ensure all the likely vulnerabilities are taken care of to prevent data security issues.
3] Integrates Seamlessly with Legacy Systems
Enterprises generally have multiple systems to cater to different operations. With so many applications already in the system, it becomes very much essential for the new one to fit in and work in tandem with the others. Providers of custom software study the already existing applications in an organization in order to build one that integrates seamlessly.
4] Supports Unlimited Scalability
Every enterprise has a plan of growth and as the company grows, its requirements change drastically. Hence, what organizations need is a software that "grows" with them. In other words, they need a software that can be scaled up as and when required, to cater to the changing needs of a growing firm. Custom software development services help businesses score in this area, by offering a substantial level of scalability.
5] Brings In an Element of Flexibility
When an enterprise invests in an off-the-shelf software, there comes the requirement to modify or tweak the business operations to make way for the new addition. However, with the help of custom software development services, they can build an application that fits like a glove and is flexible enough to accommodate for the existing way of business operations.
So, there are quite a few ways in which custom software development services can help the new age modern enterprises. Even though the initial investment can be a little high, at the end of the day, it all evens out because of the numerous benefits that a custom software offers.
To find out more about our offerings in the software development services, please
contact us
today. You can also send us your requirements at
info@thedigitalgroup.com
and our team will connect with you to help you get started on your journey towards effective enterprise business management.