A Quick Guide to Resume Parsing Software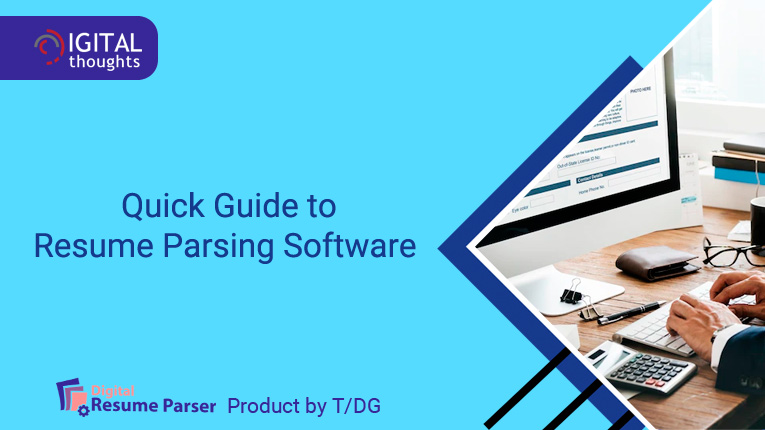 Any company's greatest asset is its people. However, recruitment has its own set of difficulties, and one of the most difficult components of the process is narrowing down the candidates for a certain post. The recruitment team will have to sift through the resumes of hundreds of job seekers to do this. Resume parsing or resume data extraction is the name for this procedure, and it is one of the most time-consuming aspects of the hiring process.
An artificial intelligence (AI)-based platform that automates the entire resume parsing process from start to finish. In other words, the resume parsing tool handles the parsing process automatically, eliminating the need for human participation. Here we shall look at a quick guide to a new age resume parsing tool like Digital Resume Parser.
What is a Resume Parsing Tool
The introduction of an AI-based resume parser has greatly accelerated the resume parsing or resume data extraction process. The manual process of scanning resumes was not only time-consuming, but also prone to data filtering and extraction errors. The resume parser, on the other hand, has not only eradicated the faults of the manual process, bringing accuracy to a whole new level, but it has also increased parsing speed.
When applicants submit resumes or CVs in response to an open position or job post, these papers can be in a variety of formats, including.doc,.docx,.txt,.rtf, and.pdf. There's a good likelihood that the candidates used different terminology to describe the same experience and education. These documents are taken and translated into the needed forms by a Resume Parsing tool, which are in agreement with the recruitment software and the organisation. It also makes it easy to neutralise the language so that the applications can be compared more easily.
Benefits of Resume Parsing Platform
The following are the key benefits of an automated resume parsing platform like Digital Resume Parser.
Enhanced Recruitment Efficiency
You'll be surprised at how much time you can save by using resume parsing tool merely by having the material organised, which increases the process' efficiency.
No More Human Errors
Human error is eliminated with AI-powered resume parser software like Digital Resume Parser. Recruiters would be unable to manually separate or segregate such data without the use of a parser. This is where it proves to be of real help.
Access to Candidate Data
Your recruitment staff will need an AI-powered resume parsing tool to manage massive volumes of resume data for simple access. After all, getting all of your applicant data in one location makes it much easier to compare and select candidates.
Database of Resume Data
They will regulate the structure in which resumes are stored in their database by using resume parser software. This makes it easy to manage large candidate pools and leaves no room for uncertainty.
How Resume Parser Works
The candidate name, email ID, contact details, qualifications and certifications, relevant skills, current job details, and previous work experience are all found and extracted by resume data extraction software. The major steps of Digital Resume Parser's resume parsing services are as follows.
Input of resumes in multiple formats
Analysis of Resume Data
Segregation of resume data into pre-defined categories
Conversion of data into machine readable output
Want to explore more on what Digital Resume Parser resume parsing software offers? Explore how a powerful resume extraction tool can simplify recruitment process for your HR. Visit the website or drop us an email on tdg-marketing@thedigitalgroup.com and our team will help you with your queries.
Read: Assure Complete Privacy of Resume Data with Digital Resume Parser