BPO Services Benefits & Industry Trends 2020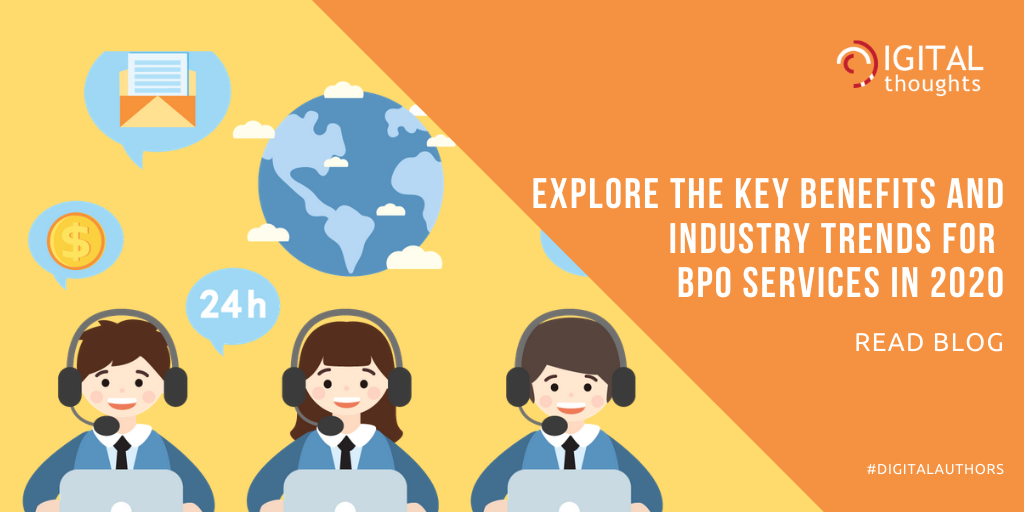 Business Process Outsourcing (BPO) services are of great benefits for enterprises to help them seek virtual assistance for some of the non-core business services, such as front office management, customer services, email support, tech support, and so on.
Key Benefits of BPO Services
So, we see that there is quite a long list of services that are being outsourced today. The benefits of outsourcing are many, and given below are the key benefits:
Helps the enterprise reduce costs

Access to a team of experts on a specific domain

More time available to the HR personnel to focus on the core functions




Enhanced quality of customer service




Effective management of business environment




Transformation of the company culture



The BPO industry has come quite far in the last decade or so, and today we have many big enterprises recognizing outsourcing as a viable approach that allows their business to grow. In fact, it's not just the large enterprises but also the small and medium businesses that are appreciating the value of outsourcing.
According to Superstaff, 37% of SMBs today are outsourcing at least 1 business process, as compared to 74% of large enterprises. When it comes to SMBs, most of them rank the increase of efficiency as the biggest benefits that outsourcing brings to their business.
The outsourcing trend is largely about organizations with more than 50 employees. The organizations with less than 50 employees are not yet too keen on considering outsourcing.
66% of organizations with more than 50 employees are currently outsourcing at least one of their business process.
So, one might wonder what stops small businesses from going ahead with outsourcing. Well, the answer might be the initial investment involved.
33% of small enterprises do not choose outsourcing because of a lack of capital.
The U.S. and the countries in the American subcontinent are the leading clients of business process out in the world today, followed by Europe and Oceania. The total contract value of these regions put together is a staggering $115 billion.
What 2020 Holds for BPO Services
The BPO industry is booming now and even has a promising future. Look at the statistics below for insights o BPO industry in 2020.
59% of enterprises recognize the cost-cutting benefits offered by outsourcing as a major advantage.

Almost 80% of enterprises worldwide trust an offshore outsourcing company.




68% of organizations say data security is a priority and advanced security measures are the essential features of data-based BPO services.




Almost 85% of deals found in the BPO services industry originate in the U.S.




65% enterprises are likely to make more investments in the field of BPO services in 2020.




Companies are saving at least 18% by outsourcing a few process to third party providers.



So, that was about the BPO services industry and what the future holds. Want to explore how the Business Process Outsourcing services of T/DG can help your business experience the benefits of cost savings and higher efficiency?