Cloud VPS Hosting - The Solution for High Traffic Websites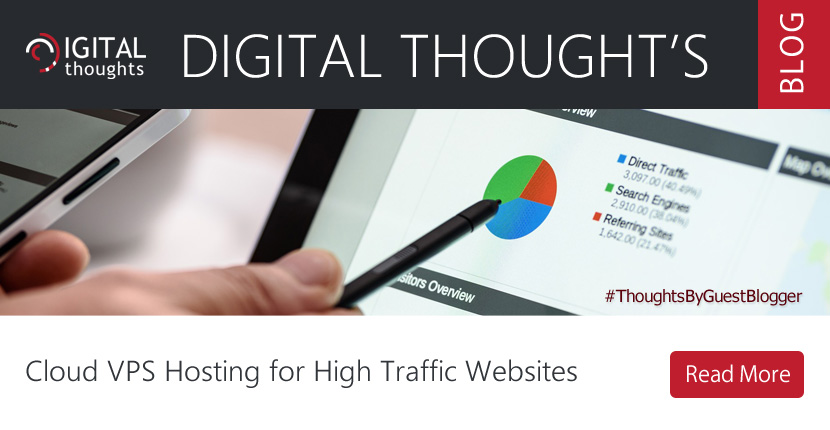 11 Oct 2018
Pallavi Godse
2263
Everyone wants freedom in the work they are doing. It's a fact that no one likes someone telling them how, when or why in terms of work. But, freedom is actually dependant on the way a business is managed.

Today, all want to work on their own terms. What if you dream of a business which can be done without the restriction of time as well as location? Sounds interesting! All you need to do is opt for a Cloud VPS hosting plan.

Be it a startup or a medium-to-large business,
virtual private servers (VPS)
are one of the best solutions that boost the performance of your website as well as that of your company. Leading
providers
of this technology can guide you with the process of its implementation. But when VPS is combined with Cloud, one can't even imagine the benefits you can get with it. Let's first understand the meaning of Cloud VPS.
In Cloud VPS hosting, your virtual servers are hosted on the cloud. This means you get benefits of both VPS as well as Cloud. Businesses that have outgrown the shared server, find VPS as an alternate affordable solution. In VPS hosting, a dedicated server itself is partitioned into multiple virtual servers. But cloud VPS is entirely different when compared to the traditional hosting.

Since Cloud virtual private servers are dynamic hosting servers, they can be provided in few minutes and comprise a pre-loaded operating system and other services offered by the hosting company you choose. Cloud VPS is a part of a parent server and so, can be re-sized, re-configured and re-imaged for several different requirements instantly. The re-sizing function of Cloud VPS helps to increase the capacity and power of your server without the need to migrate completely to another server. It is possible to add extra CPUs, RAM or hard drive space without any downtime or physical re- configuration.
Benefits of Cloud VPS Hosting
• Security and Privacy
Nowadays, cyber crimes are increasingly affecting the businesses and so privacy protection is very important. While the other hosting options offer you the basic security features, the security options provided by Cloud VPS hosting is something that they can't defeat. A virtual private server is similar to an isolated container for your data and resources. This means that the server resources are completely dedicated to you and there is less interference and threat which is observed in shared hosting.

• Reliable and Flexible
Cloud networks are redundant and this is something that makes them different from the traditional hosting plans. Didn't get it? This means if some of the servers are down, there are other servers that can handle your website and serve as backup, still keeping your site safe till the time your original server is up and running. So, sites that experience fluctuating traffic several times can opt for cloud VPS.

A Cloud VPS has another feature that makes it stand unique from other hosting options and that is scalability. As the companies are growing today, they are facing the problem of more and more traffic landing on their website and a point comes when it is hard to accommodate the traffic. Ultimately, this results in website crashing.

A Cloud VPS surely won't disappoint you and will save your website from crashing. Though your website receives heavy traffic at random, there won't be any problems. With Cloud VPS hosting, you will get the right resources required and you will be able to adjust them as per the requirements.

• More Time Savings
Since Cloud VPS comes with SSD hosting, the response time is approximately 20 times faster as compared to shared environments. This indicates there won't be delays any time in your website loading.

The working of this process is very simple. Your virtual server will be completely remote from other accounts. Resources are allocated as per your requirements. Therefore, you can have total control on your website and this allows you to install software you need without the assistance of the customer support.

• Reduced Costs
The Cloud VPS costs are reducing every year and it has become the affordable option for small businesses too. Additionally, as it uses an enhanced computing technology, all possible services needed are already included such as software, hardware, and infrastructure. You don't need to spend extra on computer applications that are required to be installed on your devices with Cloud VPS.

• Better Collaboration with Team Members
Whatever data you will use is safe at one location on the Cloud. This makes collaboration easy and other members of the team are able to work together.

• Self-Healing Hardware
The fault tolerance offered by Cloud VPS is similar to the backup of power supply provided by electrical generators to the building when there's power failure. It is possible to proactively handle the failures or reduce the failure impact on the system with Cloud VPS.

How is this possible? This is because Cloud VPS is designed in such a manner that if one node or component fails then virtual machine moves automatically to another node. This indicates that you won't experience any downtime and so, no loss of service.

• Load balancing
When your business will expand slowly, it will lead to increase in traffic on your website but this might sometimes overload your VPS and affect your website's performance.

You have already upgraded your server plan. But don't worry! The increased workload due to SSL requests, traffic spikes or database queries are taken and distributed by Cloud VPS across the nodes/resources/servers in such a way that each resource offers improved performance.

What Do People Use a VPS for?
• Hosting a Few Websites
Are you having a website with small amount of visitors? Or do you have 5-10 small websites that receive only a bit of traffic? For either scenario, make it a point that you opt for Cloud VPS as it is the best and right choice for you. Undoubtedly, Cloud VPS can host quite large websites including those sites that receive heavy traffic and handles them quite well.

• File Storage
There are some people that use VPS for hosting files that are required to be accessed from anywhere in the world. Be it personal documents or business documents, backups or images, Cloud VPS allows you to store all these files and keep them in the Cloud.

• Document Sharing and Collaboration
Many times businesses have a Cloud VPS for sharing documents or collaborating with several users at one place. There are businesses that host Apache Subversion and Git for their employees to access their own versions of the company files so that the users can work together in a spontaneous manner. Cloud VPS is the best option to replace these platforms.

A Cloud
VPS hosting
will instantly scale the resources you use. They are monitored by bandwidth, CPU usage and memory utilization. All time resource availability is a strong asset of Cloud VPS as the resources are distributed to many machines. This distribution of resources makes it flexible and easy to use. Ultimately, you can't deny that Cloud VPS is an ideal hosting solution for unpredictable traffic and resource usage.