CMMS vs Cloud-Based Construction Software: What Makes a Better Buy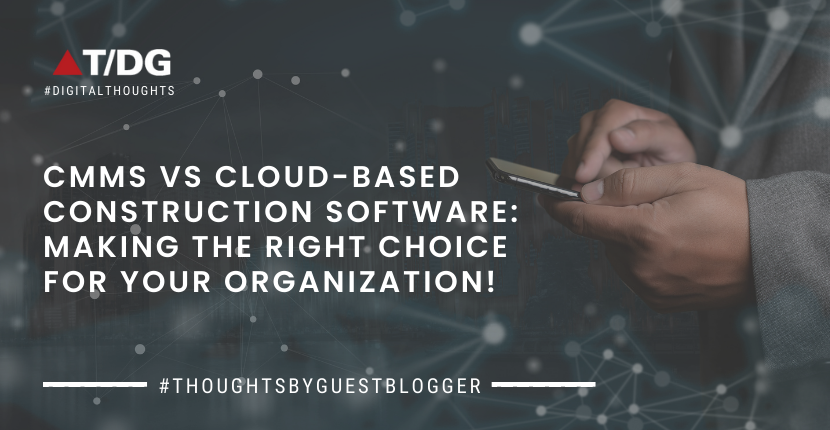 29 Jun 2023
Lindsy walker
241
When comparing cloud-based construction software and Computerized Maintenance Management Systems (CMMS), it's important to consider the specific needs and requirements of your organization. Both solutions serve different purposes and cater to different aspects of the construction industry. Let's explore the key features and benefits of each to help you make a better buying decision:
Cloud-Based Construction Software:
1. Project Management: Cloud-based construction software offers robust project management features, including tools for planning, resource allocation, budgeting, document management, and collaboration. It helps to streamline project processes, track progress, and improve overall project efficiency.
2. BIM Integration: Building Information Modeling (BIM) integration is a common feature of cloud-based construction software. BIM allows detailed 3D modeling, visualization, collision detection and coordination between project participants. This integration helps improve design accuracy, reduce errors and improve communication.
3. Cost Control: Construction software often includes functions for cost estimation, procurement management, tracking change orders, and financial reporting. These functions allow better cost control, budget tracking, and a real-time overview of project finances.
4. Field Mobility: Many cloud-based software solutions for construction offer mobile applications that enable data collection, reporting and on-site communication. Field teams can access project information, update progress and collaborate in real-time, increasing productivity and reducing delays.
CMMS (Computerized Maintenance Management System):
1. Equipment and Asset Management: The CMMS focuses on the maintenance and management of equipment, machines and equipment. It helps to keep track of maintenance plans, work orders, plant history and inventory management. This is especially useful for companies with a large number of assets or complex maintenance requirements.
2. Preventive Maintenance: The CMMS allows you to plan and automate preventive maintenance tasks, reducing unplanned equipment downtime and improving overall operational efficiency. It helps to track maintenance history, set reminders and optimize maintenance plans.
3. Work Order Management: The CMMS streamlines the creation, assignment and monitoring of work orders. It allows maintenance technicians to access work orders, update progress and document completed tasks. This helps to improve communication, prioritize tasks and ensure the timely completion of maintenance work.
4. Reporting and Analytics: The CMMS provides data-based information on device performance, maintenance costs, and resource utilization. It helps identify trends, optimize maintenance strategies, and make informed decisions to improve operational efficiency and reduce costs.
Let's see the table for a better understanding:
Cloud-Based Construction Software vs CMMS
Sr No

Cloud-Based Construction Management Software

Computerized Maintenance Management Software

1

Helps in Adopting a Systematic Approach


Construction management software facilitates the creation of RFIs, change requests, transmittals, business letters, and submittals. The software also allows project managers to share vital information with contractors and consultants to ensure that every project is executed just as planned.


Makes Work Order Management Fast and Easy


A CMMS is designed to streamline construction workflow by allowing project managers to schedule, assign, and close work orders using desired fields. The software automatically tracks every work order till completion.


2

Offers Easy Access to Information


With construction management software, all the documents are stored in a single location and can be easily accessed on any device by multiple users. Documents can also be modified and shared at any given time to facilitate faster execution of work. The software also makes it easy to track work progress, the amount spent on materials, and the payments made to contractors.

Facilitates Informed Decision Making At All Levels


A CMMS increases the project manager's understanding of the project through intelligent dashboards and real-time reports. It gives a clear view of the big picture by analyzing data and trends like construction cost, materials purchased, productivity, and work progress so decision-makers stay updated and informed at all times.
3

Identifies Risk for Improving Safety


Construction paperwork is often scattered across files and folders which makes it very difficult to identify risk and mitigate it. Integrated construction management software makes this task easy with a centralized platform where every document is easily accessible around the clock.

Ensures Compliance with Safety Regulations to Reduce Risk


A CMMS keeps a constant check on management systems to ensure that processes and procedures comply with all applicable regulatory standards. This avoids any hazards on the field and ensures worker safety.
4

Streamlines Operation for Efficient Service Delivery


Construction planning and management software help you complete tasks on time while constantly tracking your budget. It keeps every engineer, architect, designer, contractor, and consultant updated at every stage to streamline processes, promote efficiency and boost productivity.

Saves Time, Effort, and Resources


When a structure is regularly maintained it is much less prone to repairs and replacements which is a direct and measurable saving. Implementing CMMS software also decreases downtime with advanced planning, accurate estimates, and precise scheduling of labor and equipment use.

5

Boosts Business Growth


Leveraging integrated construction management software to keep the project team connected at all times will increase accountability and transparency for a successful outcome and increased business.

Enhances Productivity


Since a CMMS link with mobile devices, field workers can access data in real-time and check inventory levels without returning to the office. Every single detail from blueprints and parts to tools and procedures can be easily accessed on a mobile device to prevent delays and disruptions.
The Clear Winner
While construction
management software
helps streamline processes and improves work quality, a CMMS helps construction companies achieve complete operational efficiency while driving down maintenance costs with an all-encompassing solution that is designed to take a construction project from conception to completion with a wealth of new capabilities that were previously out of reach.