Employee Information Management with Digital HRMS: Features of Highly Effective Information Management System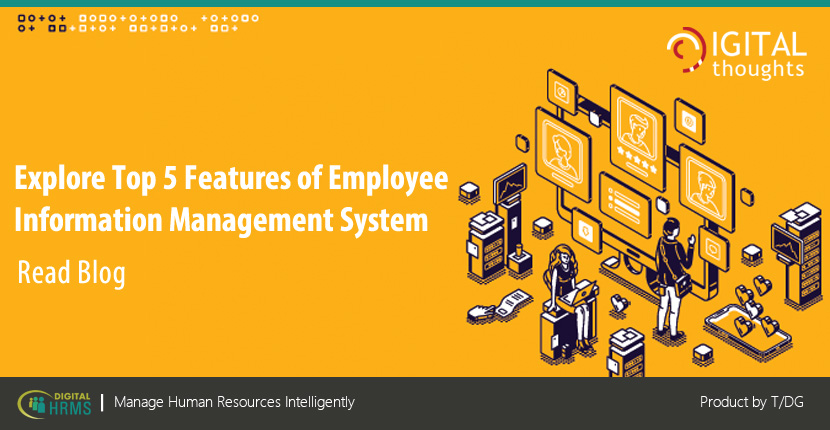 Data is one of the key driving forces behind the industries today. When it comes to HR functions and employee management, data plays a key role because analysis of employee data can provide several key insights on employees which can be used for informed decision making. However, one of the biggest challenges faced by enterprises when it comes to employee data, is its maintenance. Data is generated from multiple processes across departments and business units and this data is scattered. Hence, analyzing this data as part of a bigger picture becomes next to impossible.
The solution to the challenge, as faced by enterprises today, is an HR software with advanced data management capabilities. It is designed to streamline, automate and optimise HR functions and maintain a centralized database of employee information. Digital HRMS is an example of an HR software platform that makes management of employee information an easy process for the HR team. Here we shall look into the key features to look for in an employee information management system.
1] A Centralized Database
One of the primary purposes of an information management system is to ensure that all of the data across departments and processes, is available in a centralised location. Digital HRMS collects, stores and maintains data from different HR processes into a centralized database, which makes data analysis effective, easy and accurate. Also, the system ensures there is no redundancy of data and promotes Data integrity. Real-time updates to the database is another key feature to look for.
2] Streamlined Recruitment Process
The process of recruitment is data intensive and involves hundreds of resumes. The data from the resumes as well as the feedback for each candidate, is essential for making recruitment decisions. Manually sifting through all of this data is time consuming and next to impossible and this is exactly where the information management system of Digital HRMS comes into the picture.
The platform integrates information from multiple job portals as well as the company website, to help the HR team identify patterns and take decisions accordingly.
3] Information for Employee Onboarding
Information required for recruitment is just one of the features of the information management system of Digital HRMS. Another data intensive process executed by the HR is employee onboarding and today enterprises are realizing the significance of employee onboarding for increased employee engagement right from day one. Employee information management system contributes towards reducing the paperwork and also creates a transparent onboarding process that is consistent for all new hires.
The employee information management system of Digital HRMS is designed to help enterprises get the bigger picture about the organization and its workforce. In other words, when the data of all the employees across departments is maintained and updated, it is always ready for quick reports and analytics that showcase the trends in employee engagement, employee activities, and other factors related to employees.
5] Employee Working Hours
One of the most significant parameters concerning employee data is the attendance, leave and working hours of employees. In other words, tracking these parameters is instrumental in the performance management process for the employees. Digital HRMS allows the HR team to generate quick reports to analyze these parameters on a regular basis so that there are no discrepancies in the payroll processing of the employees.
Want to discover more about how Digital HRMS can help you create reports for HR data? Now, get Full access to Digital HRMS Free for 90 Days. Available for Limited Period only.
Visit our website
www.digitalhrms.com
or drop us an email on
marketing@digitalhrms.com
and our team will get in touch with you. Now, get Full access to Digital HRMS Free for 90 Days. Available for Limited Period only.
Discover the Digital HRMS Mobile App for Android and iOS users.