Expense Management with Digital HRMS: Explore Must Have Features for Managing Employee Expenses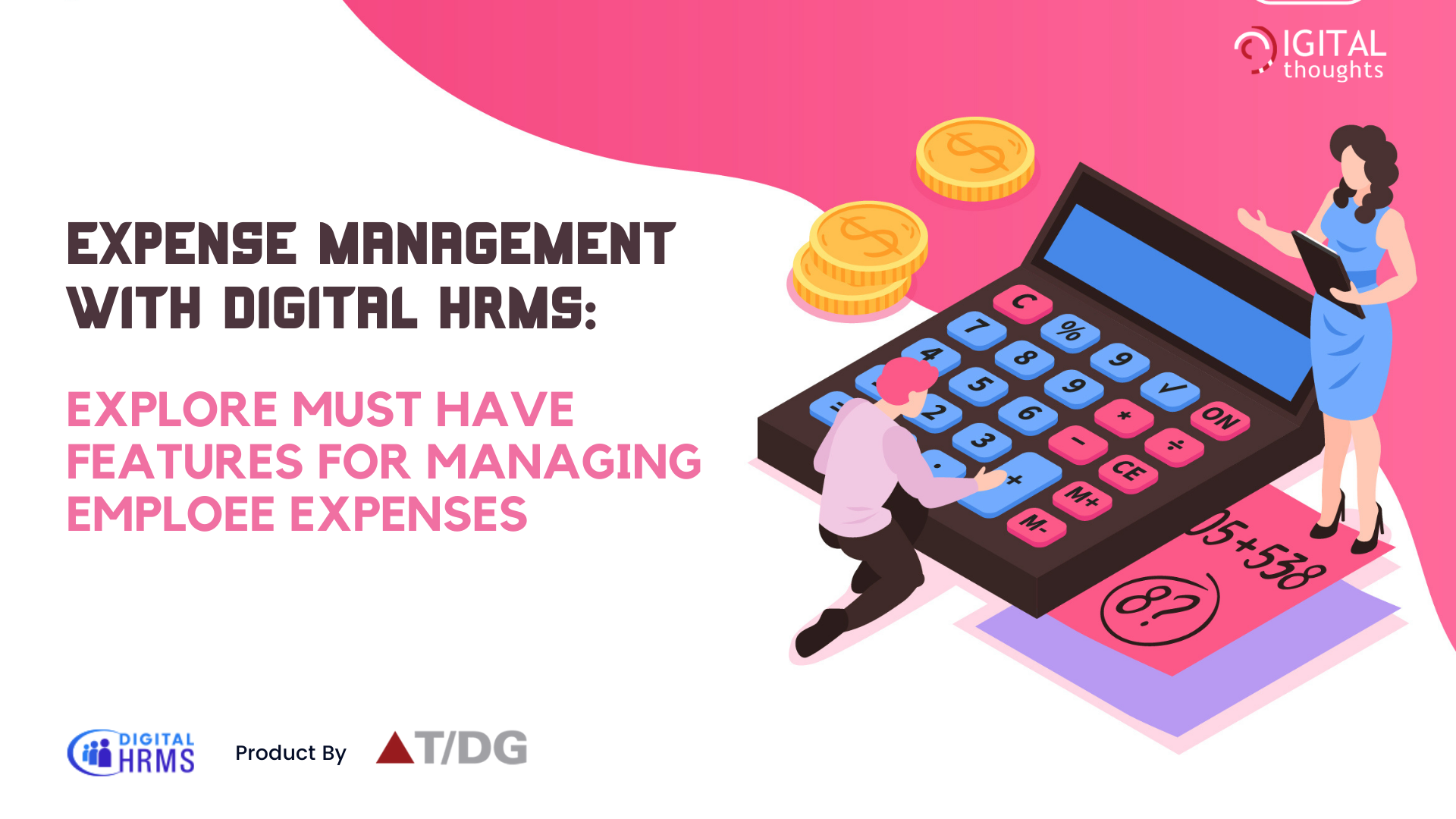 The days of using a paper-based manual expense management system are a thing of the past. As businesses become more global, monitoring expenses becomes more important as workers travel for business and client visits.

The fact that even a minor discrepancy in cost control can throw whole estimates off, adds to the difficulty. It is important for a successful business to have its finances organised in a logical manner. This allows management and decision-makers to gain important insights into major areas of spending, such as how much money is expended on different overheads, money spent on business travel, and so on.

This is where a fully integrated expense management system, such as Digital HRMS, becomes the perfect solution.
Digital HRMS
is a modular, customizable HR platform that includes a dedicated application for businesses to efficiently handle employee and company expenditures and reimbursements. Here we shall explore what are the must-have features for an effective expense management platform.
Features to Look for in an Expense Management Platform
Here we shall look at the key features of Expense Management module of Digital HRMS, to understand what to look for in an expense management platform.

1] Reports and Analytics
The expenses and reimbursement module of Digital HRMS includes advanced reporting and analytics capabilities, making it easy to produce automated reports on the organization's expenses with only a few clicks. These reports provide the information that the management requires to learn about the company's expenses and, if necessary, make adjustments to the plan.
2] Automated Notifications
Expense management is a comprehensive procedure that begins with the employee submitting a request and ends with the reimbursement being credited to the employee's account. It could be difficult for the employee to keep track of the request's status as a result of this.

This is simplified by Digital HRMS, which sends automated alerts to all stakeholders at each point of the reimbursement request's processing. This is a basic function implemented to ensure that everyone is on the same page when it comes to the request's processing.

3] Seamless Integrations
The Digital HRMS expense management system is not a stand-alone module since other departments are involved in expense management, such as the accounts department, which credits reimbursements. As a result, the device works smoothly with the company's accounting and payroll software, as well as its ERP software.

It aids in the efficient monitoring and management of business expenses as required. Integration with accounting software makes it simple to obtain the information needed to process the refund to the employee's account.

4] Easy Accessibility from Mobile Devices
One of the most important things to look for in an expense control system is mobility. Since business trips account for a large portion of employee expenditures, the Digital HRMS expense management system allows resources to submit requests and monitor their status on their mobile devices. The Digital HRMS app ensures that the employees may use their cell phones or other smart devices to use the system when on the go. The mobile app, which is available for Android and iOS, allows users to access any and all modules from any smart device and from any place.

5] Expense Split across Organization
This feature allows employees to split the expenses with members of the team. It is useful when there are employees travelling with their team members, and everyone has contributed to the expenses. Each member can raise a reimbursement request for the respective amounts, which adds to the convenience.

6] Creation of Expense Request against Project
This is another feature that you find in Digital HRMS, which allows the mapping of the expense requests against the projects. This provision makes it easy to track expenses for the respective cost centers.

Advantages of Expense Management with Digital HRMS
Now, here we look into some of the benefits of the Expense & Reimbursements platform of Digital HRMS.
Employees can raise expense requests in just a few clicks
Easy to monitor expense requests effectively
Multiple expense types in single request
Option to select from multiple currencies for the amount spent
Multilevel approval process for Expense request
Easy tracking of details and request status
Streamlined expense management process
Faster reimbursements
Want to discover more about how Digital HRMS can help your HR team ensure data security and data privacy effectively?
Stay connected with us on Social Media for all the latest updates.