Explore the Capabilities of the 3RDi Search Platform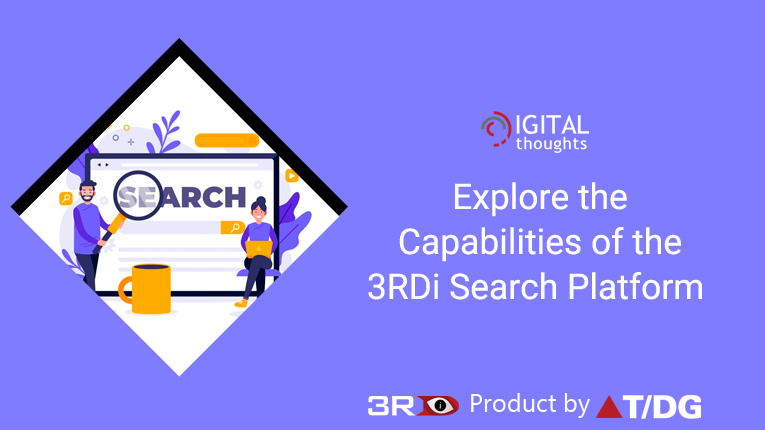 Every business relies on the ability to find the correct information precisely and promptly. In the enterprise, a lack of good search solutions has resulted in poor decision making, information fragmentation, and reinventions. However, the introduction of enterprise search tools has permanently changed things, as these tools are backed by cutting-edge text analysis technology that makes even the most sophisticated unstructured data processing simple.
It's no surprise that enterprise search tools are dubbed "Intelligent Search Platforms" because they offer the next level of intelligence in terms of text analysis.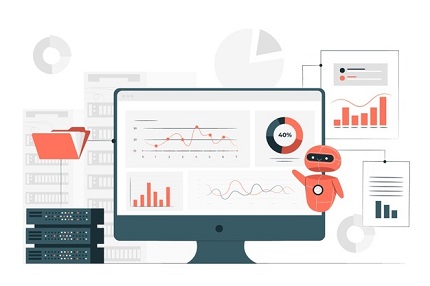 3RDi Search is the "intelligent search platform" your company requires to take action, increase income, and save costs! The enterprise search tool is developed for multidimensional information analysis and easy search relevancy management, and it is powered by NLP and semantic search. Discover a comprehensive, scalable platform for every search and text mining difficulty with the 3RDi Search enterprise search tool, from managing and exploiting unstructured content to deriving deeper, actionable insights that help your organization grow.
Overview of the Capabilities of 3RDi Search
Here we shall look at the capabilities of the 3RDi Search enterprise search tool and what makes it the ideal platform for your enterprise to leverage the power of data.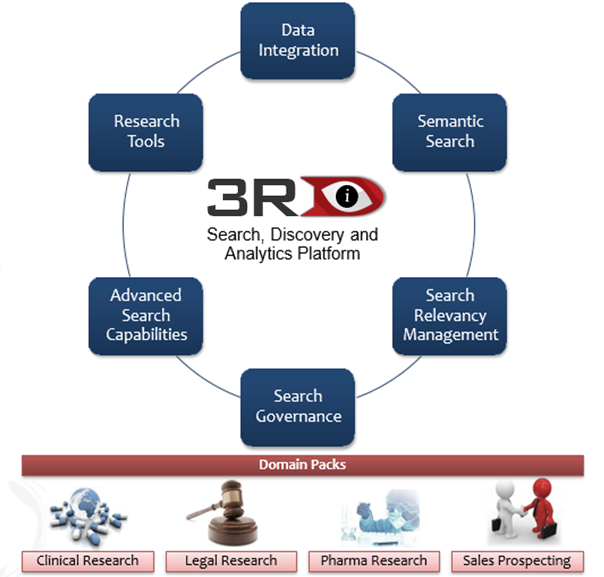 Adapters for various data sources

High Speed Data Ingestion
Ontology, Taxonomy, Controlled Vocabularies and Concepts Enrichment

People, Places, Organizations, and Custom Object Semantic Extraction

Context, Content and Information Classification, Near Duplicate Analysis

Understanding the emotions of Documents through Sentiment analysis

Provides rich and engaging user experience through most intuitive interfaces
Declarative ways of defining business rules and controlling the quality of searches

Integrated visual relevancy management to address customer needs

Comprehensive and Advanced automated test suite to baseline and improve experience in structured manner
Enterprise Search Studio which is a tool to manage all enterprise search needs

Alerts and Notifications

Search Log and Audit Analysis, Single-sign-on, Security, and Monitoring
5] Advanced Search Capabilities
Smart Search with user intent mining capabilities

Automatic recommendation

Image Search
Reusable Rich UI components, in any applications: Facets, Knowledge graphs, Heat maps, Cluster Analysis, trend charts

Machine Learning and Artificial Neural Network based trainings

Search Federation
The following are the reasons you should choose the 3RDi Search enterprise search tool for leveraging Enterprise data.
Developing Enterprise Search implementations that are high-quality and predictable.

Mentoring, consulting, and training in the areas of search, discovery, and analytics for businesses.

Array of tools, solutions, and services offered by the enterprise search platform enable rapid search.

Solve complicated business challenges, conduct research, and develop reusable tools. Make a contribution to the open-source community.

Migrate enterprises with minimal downtime from legacy search systems to high-performance, scalable state-of-the-art search implementations with 3RDi Search enterprise search platform.
Want to implement the next level of enterprise search with the 3RDi Search enterprise search tool? The text analysis platform of 3RDi Enterprise Search platform and its advanced text mining capabilities is what you need. Visit www.3rdisearch.com or drop us an email at info@3rdisearch.com and our team will get in touch with you.