Features of Digital HRMS that help Enterprises Excel in Business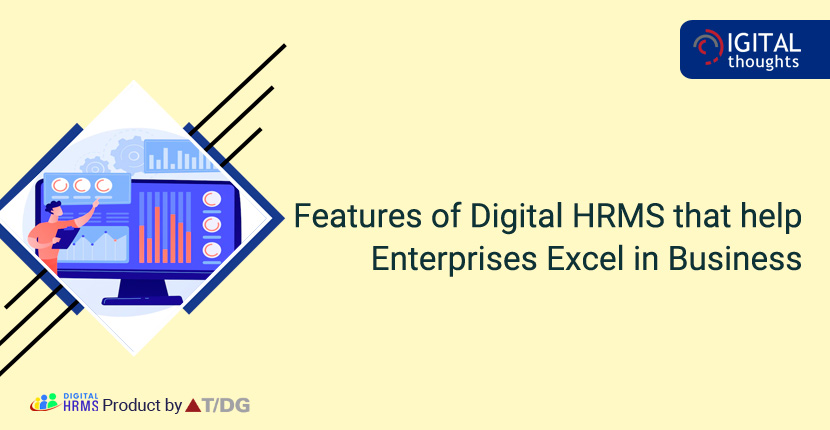 The Digital Group developed Digital HRMS, an end-to-end employee management solution that can be tailored to match the demands of any company. It's the ultimate HR partner for empowering your workers, streamlining operations, and achieving your business objectives. Digital HRMS is a New Age HR Management platform that will automate your HR processes and elevate HR efficiency. The following are its key features -
Automated Report Generation through Digital HRMS just by clicking a button
For evaluating the information generated and saved within the various modules of Digital HRMS, reports are necessary. Digital HRMS allows users to make tailored reports during a type of formats and save them for future use. By just clicking a button, the user can view/download updated reports. the choice to manage report access supported various roles and permissions is provided by Digital HRMS. In Digital HRMS, a licensed user can create global reports.
Customized reports for all of the Digital HRMS modules, may be developed by users. Users can design a report by dragging and dropping accessible fields and selecting report criteria like employees, office location, and date of joining, among others, then following the on-screen instructions.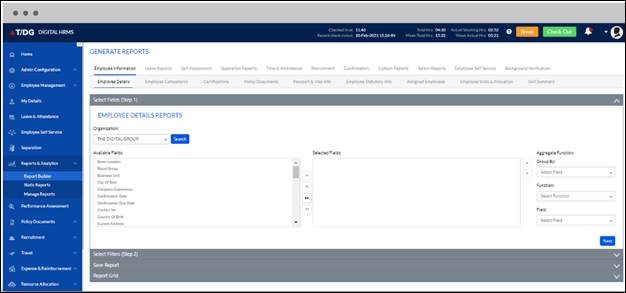 The reports which may be viewed but not modified by users who are granted access to them are static reports. Users can export these files to Excel, PDF, and Word with one click. Users can additionally filter reports for more precise findings. Users can edit the details of the chosen reports using the manage reports option.
Dynamic Workflow
The Dynamic Workflow feature of Digital HRMS allows your HR department to customize the workflow for every module. The key benefits of Digital HRMS' Dynamic Workflow functionality are listed below.
Multiple Departments on one Platform
The Dynamic Workflow feature of Digital HRMS enables several departments to use the identical application to manage their operations.
Automated Features are Customizable
Once your HR department has the capacity to redefine workflows, features automated emails and automatic sharing of critical information and policy updates with all or a choose set of employees.
Dynamic workflows are a component of recent HR software platforms like Digital HRMS that help to get rid of human errors from every HR procedure.
Advanced Data Security
Due to the sheer increasing risk to company data, the phrases data security and data privacy have become increasingly important. The threat to data security is increasing, consistent with 68 percent of corporate leaders.
Despite the very fact that company executives round the world have become more awake to the threats to corporate data, many businesses haven't implemented the required data security procedures to safeguard their data. Because the speed of knowledge breaches is increasing by the day, this can be a potentially dangerous situation.
The human resources department is that the most vulnerable when it involves organizational data, as HR data contains personal information and essential details about personnel. The threat to data security is at an all-time high within the current scenario, because of functioning from home. To safeguard HR data from risks and illegal access, improvement of knowledge security are often done through the integrated HR Management platform, Digital HRMS.
The Digital HRMS software includes variety of advanced safety features that protect user data both on-premise and within the cloud. the safety features cover every area of knowledge protection, including user encryption, physical data security, controlled data access to stop unauthorized access, internal security controls, and more.
The application is barely available over secure https protocol, of the Digital HRMS. For user data safety, the software includes antivirus software, and also the Azure Security Center monitors and tracks threats and vulnerabilities.
The 256-bit AES encryption technique ensures encrypted user credentials (Username and Password) in Digital HRMS. GDPRS application ensures increased security of user data and prevents threats and weaknesses.
Security which is User Based
For the protection of user accounts, Digital HRMS has created a tailored password policy, similarly as a knowledge deleting policy for inactive users. The Access Right management module also allows for defined application access. the applying also uses IP-based restrictions to limit remote server login access to specified IP addresses.
Other Features
Single Login with Syncing with MS Outlook is automated.
HR in Motion - with on-premise, cloud, and mobile app access, you'll be able to work from anywhere at any time.
Highly Customizable Modules.
Digital Resume Parser automates the information extraction of resumes within the recruitment module.
Seamless Integration with 3

rd

party tools.
Remote employee attendance tracking using geofencing through mobile app.
HR functions that are streamlined and automatic for full employee lifecycle management.
Smart Links - without the requirement for application login.
Access the Help File from anywhere during a single click.
and many more….
Would you prefer to find out more about how the Digital HRMS HR Software platform may assist your HR staff in increasing HR efficiency and productivity? Visit our website at www.digitalhrms.com or send us an email at marketing@digitalhrms.com, and one among our representatives will contact you.