Few FAQs that Pop in Mind on Encountering Project Management or PMP Certification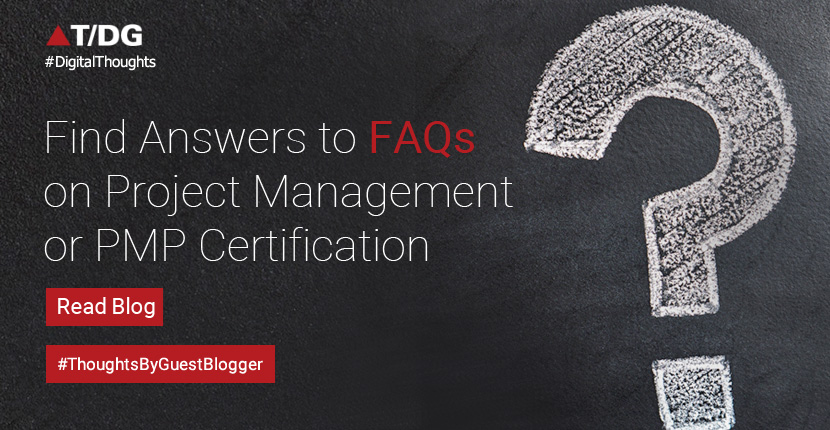 04 Apr 2019
Mohsin Ali Khan
1664
Project Management is a well-known career that has taken its shape in recent years. However, not many of the professionals who are in IT or Non-IT field for a long duration of time, tend to have the right idea about who is a Project Manager, what are the roles and responsibilities of a project manager and how one can become a Project Manager. Keep on reading to clear your mind of the doubts on project management.
Is Project Management a good choice for Career Growth?
Having been in the field of
software development
services for a very long duration of time, we can say that the role of Project Managers is very important to any company or an organization today. Since a Project Manager is responsible to take a project from the scratch till the end, we can say that these professionals will be in great demand over the coming years.
What are the qualifications that are required to be a Project Manager?
The set of education qualifications that are required to become a project manager are, he/she must be holding a bachelor's degree in a management field or a related one, along with a Project Management Certification and must possess a vast experience in the related field.
Why PMP Certification is required?
PMP certification will provide you with the knowledge of how to improve your skills in real life so that you can reach a new level in your professional career. A person who has PMP certification is considered highly skilled since he/she would have gained a lot of hard and soft skills that are required in several project management tools, services, and techniques.
Who needs a PMP Certification?
PMP certification is required by professionals who are well into their profession for more than 4-5 years and require a push to move to a whole new level. We can say that anyone who has expertise in the relevant field for more than half a decade should take up PMP certification training either online or through classrooms.
What is the passing score for PMP Certification as prescribed by PMI?
The current passing score for a professional to clear the PMP Certification Exam is 80.6% i.e. a total of 141 multiple choice questions has to be correct out of 200.
What is the advantage of PMP Certification?
The advantages of having a PMP Certification are many, but here are the most important ones:
• It rates you high above others in having Project Management Knowledge and experience at a global level
• It increases your market value
• Offers you increased credibility with higher pay than others without PMP Certification.

What are the different Jobs that a person with Project Management Certification can get?
A professional who has attained Project Management Certification can land himself into the designated jobs like:
• Project Manager
• Operations Manager
• Construction Project Manager
• Healthcare Project Manager
• Project Engineer
• Senior Project Engineer, IT and so on...

Which industries require most Project Managers?
Some of the major industries that require Project Managers are:
• Information Technology
• Finance
• Health Care
• Energy
• Construction and the list can go on...

What is CAPM and What is the major difference between CAPM and PMP?
CAPM refers to Certified Associate in Project Management and the major difference between CAPM and PMP is that CAPM is an entry-level certification for project management whereas PMP is only for professionals who have multiple years of experience in the relative field.

How do I get PMP Certification?
Few steps to be followed to get a PMP certification is as follows:
• Register to become a member of Project Management Institute i.e. PMI (https://www.pmi.org/)
• Take PMP Certification course via various Online Portals
• Once the course is completed, submit your application to PMI via online
• Schedule the exam as per your convenient timing and pass the exam

Above mentioned are few of the most popular questions that professionals with and without
Project Management
Certification tend to have in their minds. If there are any more questions that you feel should be included here and you would like to share and enlighten our readers, you are most welcome to leave a comment down below.