Find how T/DG's application maintenance services can assist your business excel and rise above competitors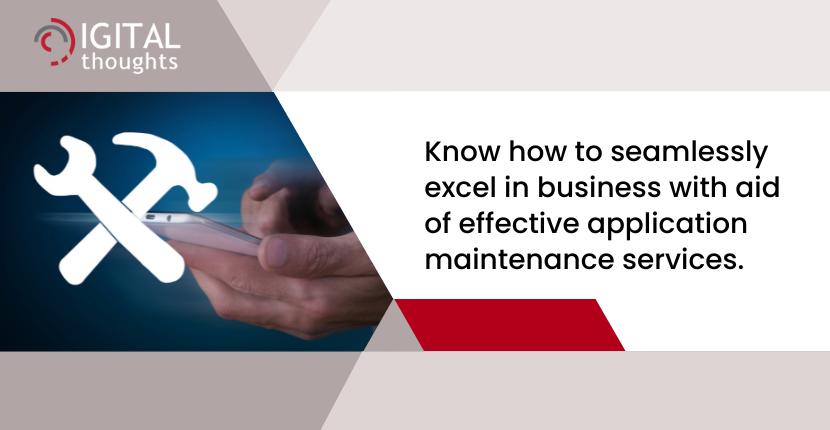 Application upkeep services improve an organization's software systems' functionality while also lowering costs by freeing up human resources. Organizations frequently lack the funds they would like to spend in strategic projects and cutting-edge technologies because of the substantial costs associated with keeping and supporting their current IT systems.
This ongoing maintenance necessitates a lot of people and financial resources, adding to the strain on the company's balance sheet. A support service for applications is a preferable course of action in this situation which is known as application support services.
Here are some of the challenges that businesses encounter when it comes to providing software application maintenance services.
Creating a strategy to reduce support expenses and total cost of ownership (TCO) for long-term cost savings.
Application customization to satisfy the needs of changing corporate environments.
Reducing the use of venerable mainframes for legacy programme support.
Talent with the necessary knowledge in both evolving application technology and legacy systems is available.
When it comes to application creation and upkeep, we adhere to the greatest quality standards.
Modify apps successfully to meet the needs of shifting business procedures and operational strategies.
What are Application Maintenance Services?
The majority of businesses use specialized applications and software to improve productivity and streamline operations. The expenditure required to maintain these apps and software solutions functioning as intended does not stop with their initial development, though.
Actually, these devices need regular upkeep. Application maintenance is crucial, whether it's for resolving any issues, improving current powers, or introducing new functionality.
Organizations must also be flexible because changes in their business can happen fast. This implies that they must be equipped with the tools necessary to take the necessary risks and stay ahead of the competition.
Application upkeep therefore goes beyond merely resolving any bugs that the software may have. Additionally, it involves constantly enhancing the functionality and efficiency of current apps as needed.
Advantages of application maintenance services?
• Encourage Innovation
The fact that an organization's resources are no longer required to maintain and update its software and applications is one of the primary benefits of using an application management service.
By giving this responsibility to a specialized service provider, you can be confident that all of the applications are correctly managed, cared for, and occasionally even enhanced. The company is no longer required to use all of the tools from its internal development team to complete these duties. The internal crew is thus freed up to work on other initiatives, develop new products, and work more productively as a whole.
• Intensifying Production
Increased efficiency may result from preemptive application administration. The IT team is not split between maintaining the system and working on new initiatives. There is a good possibility that their productivity on each task will decline if they are forced to juggle multiple duties at once.
Depending on the support infrastructure in place, the in-house team may receive assistance from a user support team that responds to questions, a technical support team that offers troubleshooting, or even a full-fledged development team that can assist in resolving bugs and other issues to free up more resources for the in-house team.
• Greater Talent Pool Access
Retaining their IT personnel is one of the greatest issues CIOs have to deal with. People are constantly looking for improved chances, and should one present itself, they are likely to seize it. An IT team may be placed under extra stress if a key IT resource is lost, and CIOs are frequently left scrambling to find substitutes.
With program administration in the hands of a dependable third party, they don't need to be concerned about that. They won't have to stress about finding qualified personnel for application upkeep. The service provider will have a sizable collection of resources at their disposal, enabling them to respond to your requirements as a customer right away.
• Simple Scalability
Scalability is also made simple by a controlled application support service. Once your resources have been freed up to concentrate more on new developments, current goods and services will eventually need to be expanded up.
Scalability can be managed for you by the service provider by adding more capability and assigning more employees to work on your services. This also works in the opposite direction; if you need to scale down, the service provider can adapt appropriately.
What T/DG application maintenance services offer?
• Application Re-engineering Services
Legacy programs are advantageous to any organization, but they pose a challenge to coders and support workers. T/DG's application re-engineering services help businesses change older programs in a variety of ways to make them more pertinent to today's technological environments while keeping their worth.
• Application Migration & Integration Services
T/DG's Application Migration and Integration services help companies improve the output and efficacy of their IT settings. Our best-in-class solutions ensure the seamless integration of your company apps, infrastructure, data, and systems.
• Application Support Services
T/DG's application support services help companies find and resolve issues in the various components of complex business systems. We work hard to ensure that your world-class systems continually produce value and enhance your company's efficiency.
To explore about the Application Maintenance Services domain offered by T/DG contact us today. Alternatively, you can email us at
tdg-marketing@thedigitalgroup.com
with requirement details. Our team will connect with you to help you get started on your journey towards effective maintenance of business applications to help you attain your business goals.