How Application Maintenance Services by T/DG Can Help Your Enterprise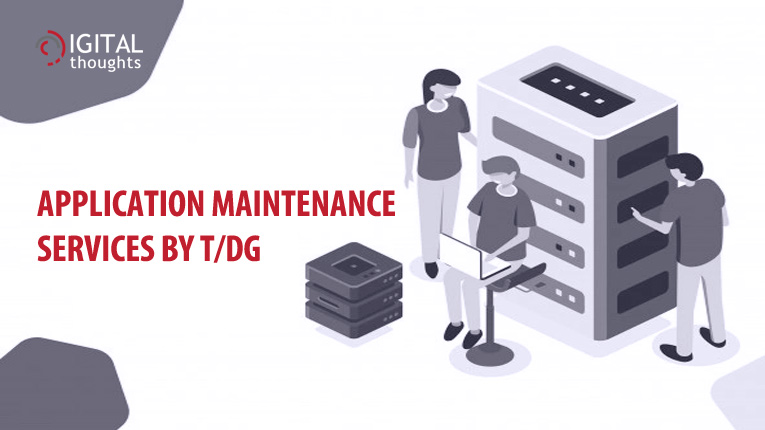 Applications drive the businesses today, with the new age enterprise executing almost every business operation with the help of the most advanced enterprise applications. Because of the fast-changing market dynamics, firms must keep their apps up to date in order to obtain a competitive advantage and experience commercial growth. Organizations nowadays are application-driven, which necessitates the use of seamless applications to ensure that business operations run smoothly. Because of the continually changing market dynamics, businesses must maintain their apps up to date in order to obtain a competitive advantage and see commercial growth. As a result, as applications must be constantly redesigned to meet evolving business goals, novel approaches to application administration are essential.
Application Maintenance Challenges for Enterprises Today
Here are a few of the issues that businesses encounter when it comes to providing effective application support and maintenance.
Designing a solution to reduce support expenses and total cost of ownership (TCO) in order to save money in the long run.

Application customization to satisfy the needs of ever-changing corporate contexts.

Reducing the use of traditional mainframes for legacy application maintenance.

Talent with the needed experience in both evolving application technology and legacy systems is available.

When it comes to application creation, application technology and maintenance, we adhere to the highest quality standards.

Modify applications and application technology successfully to meet the needs of evolving corporate processes and operational strategies.
Application Maintenance Services by The Digital Group
With the support of skilled maintenance services, The Digital Group (T/DG) has the expertise and competencies to ensure that the client's applications are working efficiently. Application Maintenance, we discovered, is a critical component in increasing productivity and streamlining company processes. The following domains are the focus of our application maintenance services.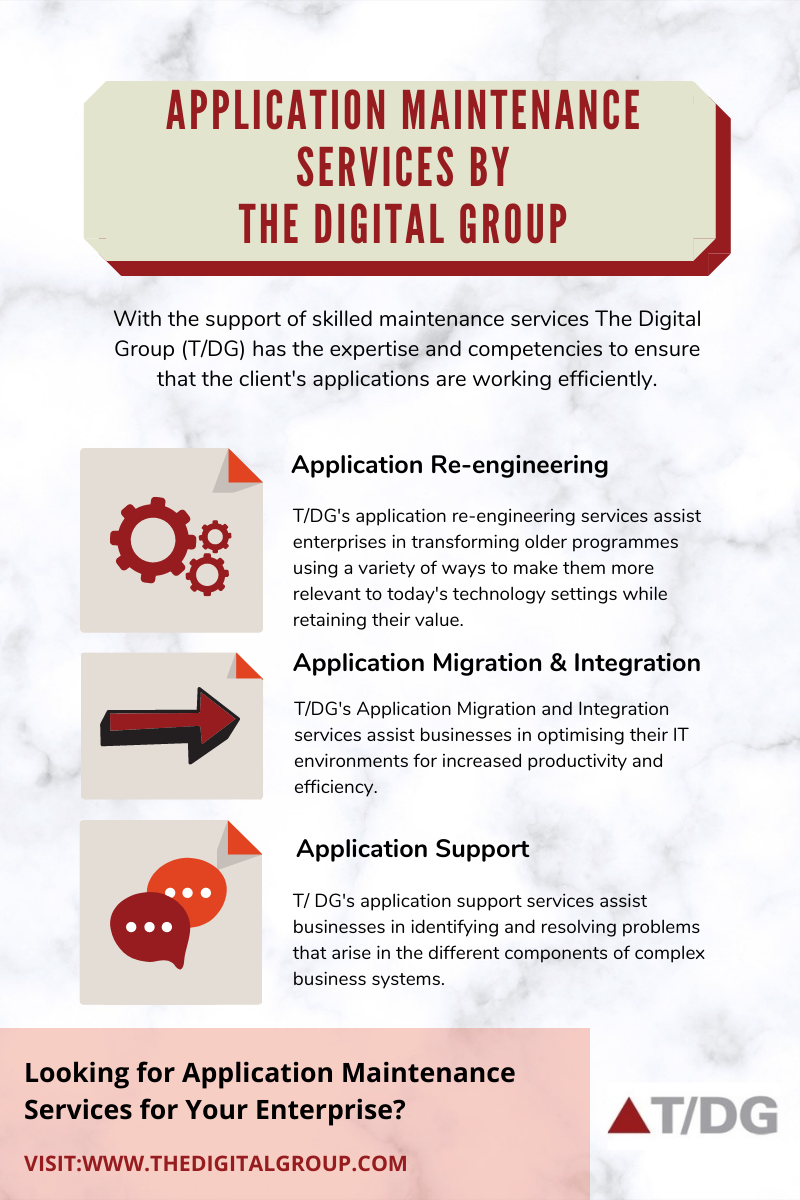 Application Re-engineering Services
Legacy programmes are beneficial to any company, but they provide a challenge to programmers and maintenance engineers. T/DG's application re-engineering services assist enterprises in transforming older programmes using a variety of ways to make them more relevant to today's technology settings while retaining their value.
Application Migration & Integration Services
T/DG's Application Migration and Integration services assist businesses in optimising their IT environments for increased productivity and efficiency. Our best-in-class solutions aid in the smooth integration of your business applications, infrastructure, data, and systems, ensuring that they all work in harmony.
Application Support Services
T/DG's application support services assist businesses in identifying and resolving problems that arise in the different components of complex business systems. We endeavour to ensure that your world-class systems consistently deliver value and improve the efficiency of your business.
Why Partner with T/DG for Application Maintenance Services
The following are the benefits of associating with The Digital Group (T/DG) for Application Maintenance Services.
From package evaluation and installation through upgrades and migration, our comprehensive services cover the whole enterprise application lifetime.

Problem management, bug repairing, debugging, troubleshooting, and other technical services are provided by T/DG experts.

Our services represent our dedication to providing excellent customer service.

Our team of specialists provides a variety of solutions to assist corporations in improving their applications.

Our professionals assist businesses with cutting-edge application maintenance strategies and solutions.

We provide highly skilled alternatives to prominent U.S.-based application integration organisations' application maintenance services.

Our clients have access to onsite experts as well as our offshore resources, thanks to the Hybrid Global Delivery Model.

We use our comprehensive ERP product knowledge to help our customers realise real-world business benefits.
To find out more about our offerings in the Application Maintenance services domain, please contact us today. You can also send us your requirements at
tdg-marketing@thedigitalgroup.com
and our team will connect with you to help you get started on your journey towards effective maintenance of business applications to help you attain your business goals.