How Digital HRMS is the Solution to Challenges in Employee Information Management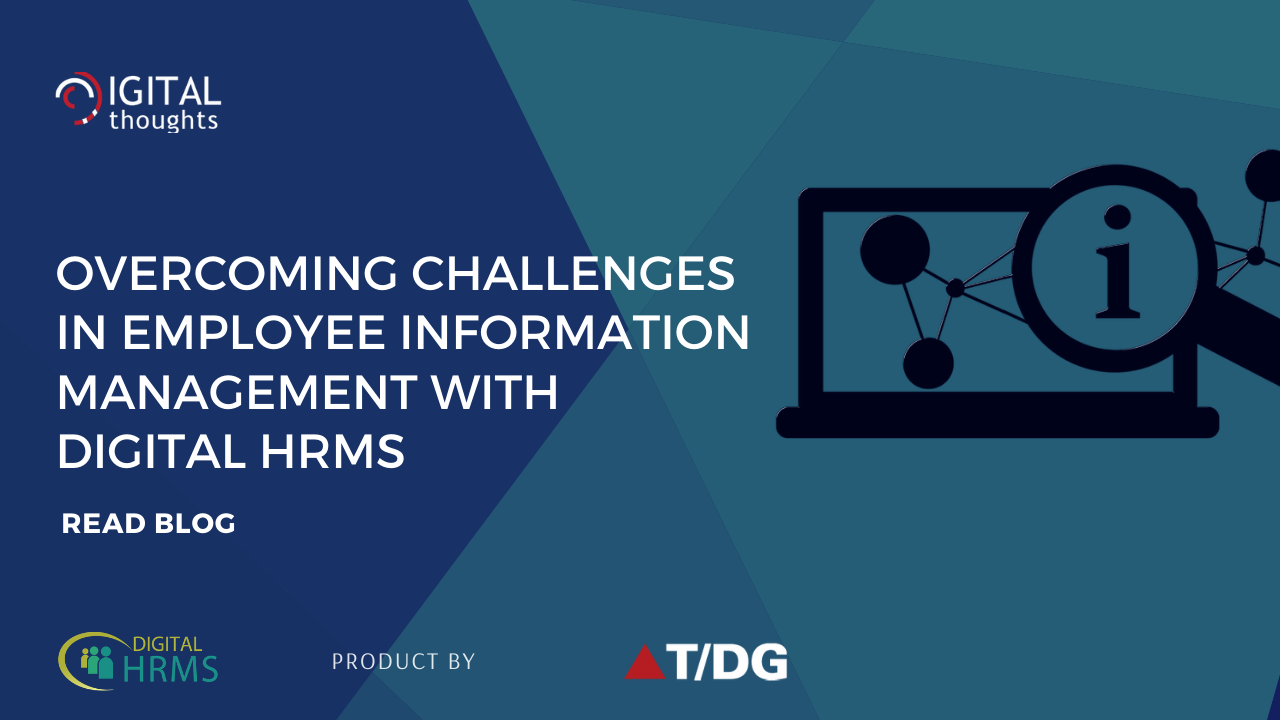 In today's age, when information is key, it is very important for enterprises to acknowledge the fact that effective information management is essential for successful business operations. Data is the biggest asset of enterprises today and so it becomes all the more important to ensure the enterprise data is managed well. It is also important that the data is accessible and at the same time, does not end up in the wrong hands.
When it comes to the HR department of an enterprise, this department is responsible for managing employee data. It can be of enormous volume because it consists of the information about all the employees in the organisation. Moreover, this data is sensitive and confidential and so when it comes to HR data, security and privacy are of utmost importance.
Here are some of the key challenges faced by enterprises when it comes to the management of employee information.
Challenges of Employee Information Management
Use of paper-based information management systems
Scattered information stored on multiple databases
Retrieving relevant information when required takes time and effort
No systematic approach to organisation of data
Lack of access to employee information as and when required
No provision for extracting analytics from the data
Lack of an efficient search tool to find the information required, on the basis of plate filters.
Unauthorised access to sensitive information
So, that was a quick look at the most common challenges that HR departments face when it comes to employee information management. Now, let us try to get an understanding of how an advanced
employee information management system
like
Digital HRMS
can help Enterprises manage employee information effectively.
Effective Employee Information Management with Digital HRMS
Digital HRMS is a modular HR software platform that offers multiple modules that cater to every key HR function. In other words, whether it is leave management of the employees or monitoring their productivity, Digital HRMS has a module for every HR function. The My Details module of Digital HRMS is designed for employee information management and it offers the following key features.
Central repository of employee information – personal, academic and employment
Easy search tool to lookup employee information
Provision to view Quick Links to Employee Manual, HR Helpdesk, HR Contact Details, Holiday List, Newsletter, and more. This is customizable.
Provision for employees to download documents from the system, which are uploaded by HR/Admin
Time-saving bulk information update feature
Configurable role-based access to information
Detailed reports and email notifications
Dynamic workflows
Want to explore how Digital HRMS
employee information management system
can help your business manage and streamline employee information?
Visit our website
www.digitalhrms.com
or drop us an email on
marketing@digitalhrms.com
and our team will get in touch with you.