How Digital HRMS is the Solution to Challenges in HR Data Analytics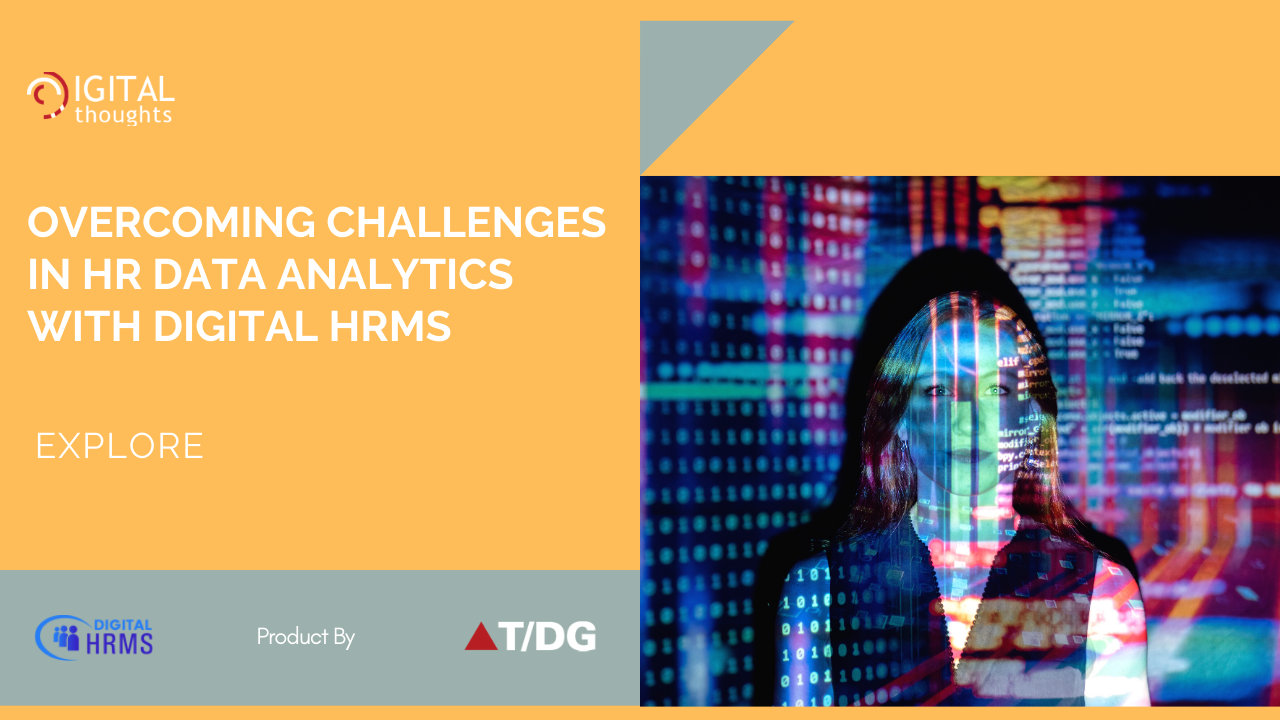 Data, as we know, is one of the key assets of organisations today and ironically, also one of the biggest challenges. The reason is that while the data has enormous potential, analysing the data to extract the insights within, is easier said than done. Wondering why? Well, it's simply because the data available with enterprises is nothing like the optimised and organised information we see on the Web. In fact, a major share of enterprise data is far from it – it is unstructured data that cannot be analysed using the traditional methods.
The HR data is no different as it comes from varied sources and comprises multiple formats, like emails, PDF documents, images, date from social media, numbers, charts, etc. With such a variety of data to consider, analysing it all can be a challenge for HR departments of enterprises. Given below are the key challenges faced by the HR when it comes to the analysis of HR data.
Collection of data from multiple sources means a lack of data management
No provision to bring all the data from multiple sources to a single centralised location
Many organisations still stuck with a paper-based system for managing HR functions
Lack of professionals with expertise in Data Analytics
Compliance with necessary regulations regarding the collection, storage and usage of HR data
No technology to tap into the potential of data that is with HR department
Too quick to rely on technology for major hiring decisions that prevents the best talent to come on board
Figuring out the right set of data to analyse in order to get the desired insights
With so many challenges that come up during HR Data Analytics, what HR departments really need today is a powerful Data Analytics platform.
Digital HRMS
is an example of an HR software platform that comes with powerful Data Analytics capabilities.
The
Reports and Analytics module
of Digital HRMS helps the HR as well as the employees to generate automated reports at the click of a button. Also, in addition to that, every module of Digital HRMS includes a section that is dedicated to generating relevant reports on different aspects of HR functions and employee management, as and when required.
With the advanced reporting capabilities of Digital HRMS, it becomes easy for the HR Teams to generate meaningful and insightful reports. What's more, Digital HRMS even allows creation of custom reports, based on any set of data or parameters as required. There is also the provision to archive the reports once generated, for future reference and download them at the click of a button.
What makes Digital HRMS a truly secure platform is the focus on advanced security features by the virtue of which the reports are secured through role-based access. This means only the employees who have been assigned the required permissions can access the data or the reports.
Multiple filters make it easy to filter out the desired data for creating very specific reports when required. The fact that the HR can export the reports to any standard document or spreadsheet format, adds to the convenience.
Want to discover more about how Digital HRMS can help you analyze HR data more effectively? Now, get Full access to Digital HRMS Free for 90 Days. Available for Limited Period only.

Visit our website
www.digitalhrms.com
or drop us an email on
marketing@digitalhrms.com
and our team will get in touch with you.Now, get Full access to Digital HRMS Free for 90 Days. Available for Limited Period only.
Discover the Digital HRMS Mobile App for
Android
and
iOS
users.