How Digital HRMS is the Solution to Challenges in Resource Allocation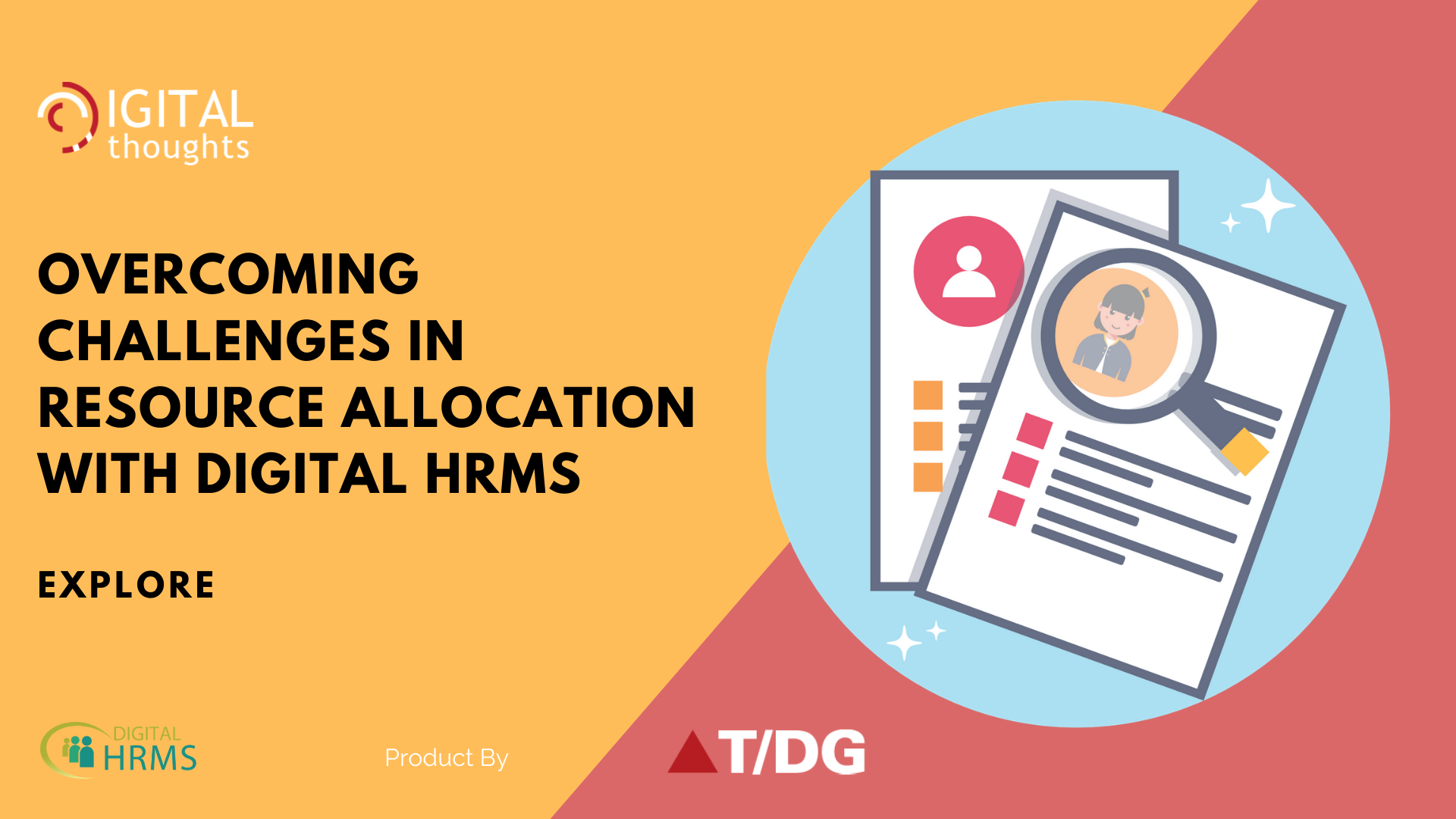 What is resource allocation? Well, to put it in simple terms, location is the process of managing the resources available in an organisation on the basis of the skill set, no resource is either underutilized or over utilised.
However, studies indicate that only 36% of organisations are implementing resource allocation in the most effective way possible.
So, one cannot deny that most organisations today are facing a handful of challenges when it comes to resource allocation m
anagement
.
Challenges of Resource Allocation Management
Managing resources seamlessly on the event of changes in the project deadline or scope of the project.

Monitoring resources and their availability at all times to prevent delay in project delivery due to unavailability of resources.

Distributing resources to various projects based on the skill sets.

Ability to respond to uncertainties in one or more areas of the project without hampering the progress.

Sharing resources between two or more projects to ensure no project is affected.

Now, we see that the challenges are many and the role of a resource allocation manager is more complex than you think. However, the process of resource allocation
m
anagement
can be simplified with the help of a new age HR software and Digital HRMS is one such example.
If you are wondering how an HR software can help, the answer is automation of the entire process, making it much simpler to manage.
Digital HRMS
offers a dedicated resource allocation
m
anagement
module that comes with advanced built-in features to simplify the process of resource allocation and management.
Digital HRMS for Streamlined Resource Allocation
Management
If your HR team is struggling with optimal resource allocation management, Digital HRMS is the platform you need.
The management of resource allocation process with Digital HRMS ensures that every project gets allocation of resources that match the required skillsets for the project. There is a RAS Provider in every organization who looks after the allocation of resources for various projects within the organization. The Resource Allocation M
anagement
module is designed to automate the process of resource allocation, to allow for transparency and to ensure optimum utilization of resources within the organization. Even new employees are assigned to the respective teams this way by the Admin.
Allows Admin to manage access and permissions for the Resource Allocation Management process in a few clicks.

Provision for the RAS provider to end previous allocation and add new allocation to a resource from a single interface.

Employee Search option makes searching for an employee quick and easy.

Provision of RAS reports for details of allocation.

Allows RAS providers to view the allocation details of resources for seamless allocation.

Provision for complete as well as partial resource allocation.

Want to explore how
the Digital HRMS HR software platform
can help your business manage resources more effectively? Visit our website www.digitalhrms.com or drop us an email on marketing@digitalhrms.com and our team will get in touch with you.