How Digital HRMS is the Solution to Challenges of Multiple Tools for HR Function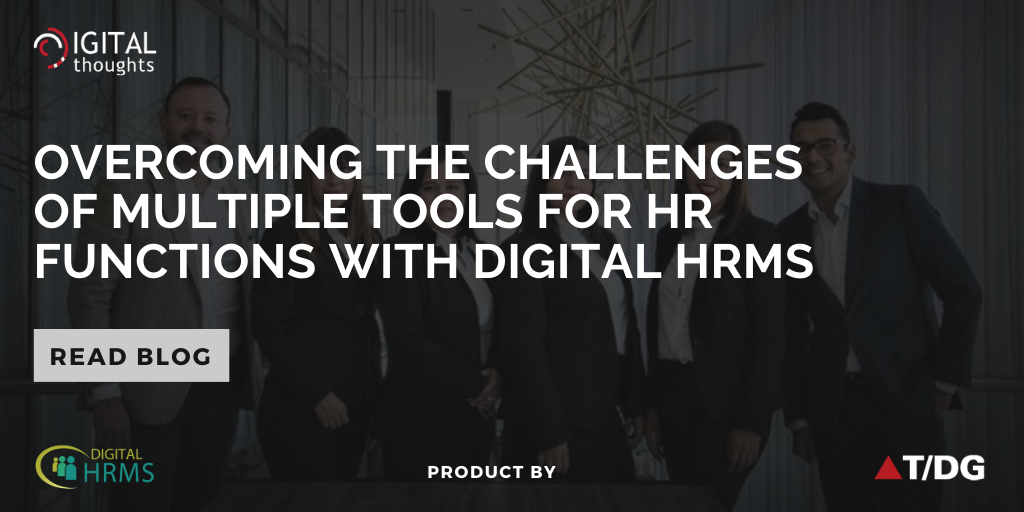 The HR department is one of the key departments in every organisation and there are multiple responsibilities that rest with the HR. Right on the very first day an employee walks into the workplace as a new hire, the first people to interact with him or her are the members of the HR team. Throughout the entire employee lifecycle, it is the HR team that is responsible for every aspect of employee management. Given below are some of the key responsibilities of the HR in an organisation.
Recruiting and onboarding new talent

Managing employee leaves




Selecting and storing employee information security




Recording attendance and working hours of every employee




Distribution of resources to various projects




Tracking and managing employee productivity




Organising training sessions for skill development




Managing the expenses of the organisation




Calculating the payroll for every employee




Making strategic decisions for employee welfare and growth of the organisation



The list of responsibilities of the HR department is practically endless and an extremely diverse. The fact that today Enterprises are going global, with multiple offices in different parts of the world, only makes it more challenging for the HR department. The solution is automation of the HR processes and there are multiple tools and platforms available today that cater to specific functionality of HR, such as payroll, time tracking, recruitment, trainings, attendance management, and so on.
While there are tools available for most functionalities of the HR today, these roles that are designed for single purpose, are not the best option for quite a few reasons.
Integration can be a tough nut to crack.

Lack of scalability is the dedicated tools are mostly suited for small to medium enterprises




The need for multiple sets of login credentials




A different tool for every function adds to the costs




Maintenance of multiple tools takes time and effort




Limited potential for data analysis




Access to data on the go is a challenge



The solution to these challenges is an advanced integrated HR software that brings every functionality of the HR department to a single platform.
Digital HRMS is an example of an HR software that serves as the one stop solution for every challenge of the HR department. It is a modular platform, which means it consists of multiple modules, each one dedicated to a specific HR function. In other words, it allows users or enterprises to pick and choose the modules that are best fit for the requirements of the organisation and its employees.
Digital HRMS Modules at a Glance
Recruitment

Employee Management




Employee Information Management




Policy Documents




Employee Self Service




Leave and Attendance




Resource Allocation




Timeport




Performance Assessment




Training




Conference Room Booking




Travel




Expense & Reimbursements




Survey




Reports & Analytics




Separation



The following diagram shows the complete set of modules offered by Digital HRMS.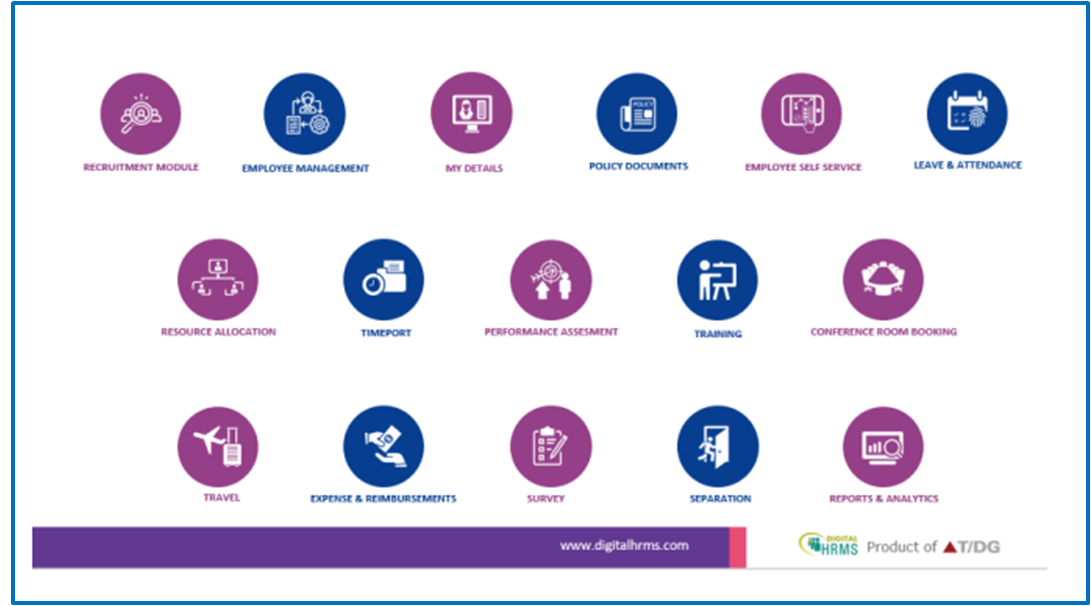 Benefits of a Comprehensive HR Software like Digital HRMS
With its complete set of modules, Digital HRMS brings benefits for employees as well as the employer. Given below are the key benefits of using an integrated HR software that caters to every requirement of the HR department.
Quick links to important information

Quick response queries through simple UI.




Right forum for grievance redressal




Uniform login credentials across all platforms




Effortless planning of work & leaves




Easy accessibility with the mobile app



Reflects your company's core HR policies

Complete confidentiality of organizational data




Secure login & multi-level data security




Access to ready-to-use email templates




Auto-generated runtime reports for increased efficiency




Centrally managed employee repository



Want to explore how Digital HRMS can help your enterprise enhance employee management and boost HR productivity and efficiency?
Visit our website www.digitalhrms.com or drop us an email on
marketing@digitalhrms.com
and our team will get in touch with you.