How Managed Support Services by T/DG Can Help Your Enterprise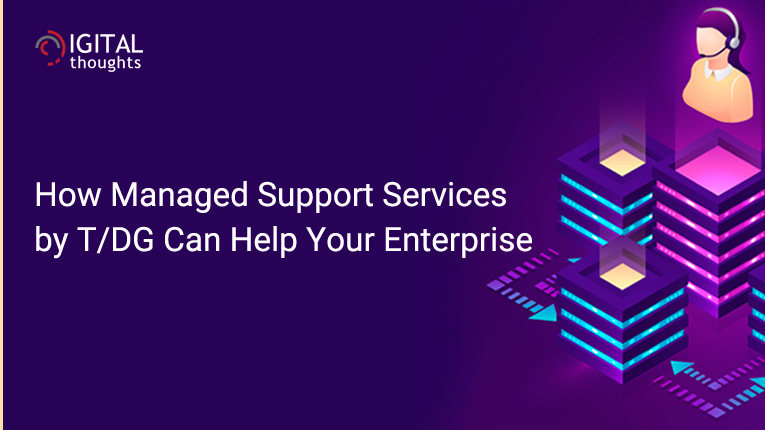 Businesses are increasingly looking for managed support services, with the primary purpose of minimising operational costs, among other things. Managed support services entail entrusting the management of your day-to-day IT operations to a service provider, which increases efficiency and lowers costs. As a leading provider of managed support services, we are known for our flexibility and complete ownership, so you only have to worry about the tiniest risks.
Managed Support Services by T/DG
Through IT managed services, such as Data Maintenance, Application Maintenance, and Legacy Application Migration, experts at The Digital Group (T/DG) focus on properly preserving data and migration of legacy applications to match evolving business needs.
Given below in the infographics are the offerings of The Digital Group in the Managed Support Services Domain.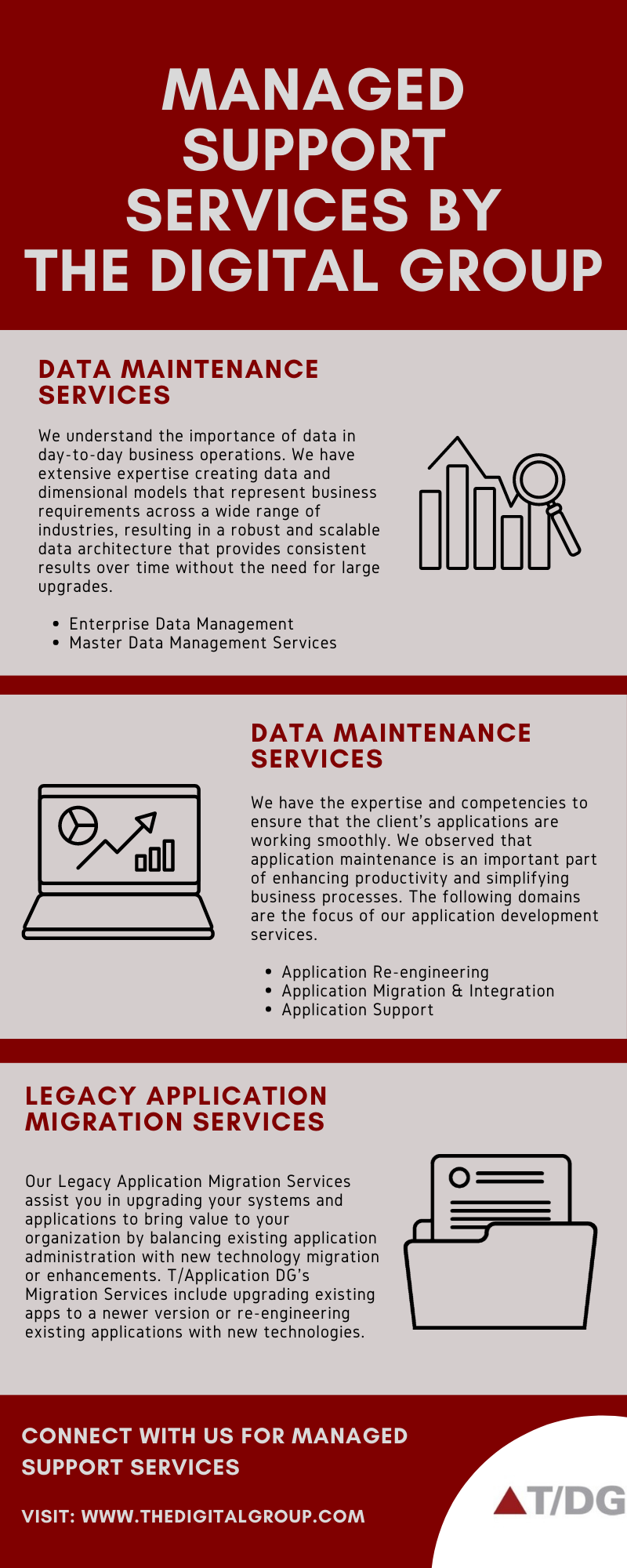 1] Data Maintenance Services
We understand the importance of data in day-to-day business operations. We have extensive expertise creating data and dimensional models that represent business requirements across a wide range of industries, resulting in a robust and scalable data architecture that provides consistent results over time without the need for large upgrades.
a] Enterprise Data Management
Data Architecture

Data Quality Management

Metadata Management

Master Data Management

DATA Security

Data Governance
b] Master Data Management Services
Data Warehousing

Master Data Maintenance

Data Validation

Data Cleansing

Data Help Desk / Support Services

Workflow Management enterprise data management
2] Application Maintenance Services
We have the expertise and competencies to ensure that the client's applications are working smoothly. We observed that application maintenance is an important part of enhancing productivity and simplifying business processes. The following domains are the focus of our application development services.
Application Re-engineering

Application Migration & Integration

Application Support
3] Legacy Application Migration Services
Our Legacy Application Migration Services assist you in upgrading your systems and applications to bring value to your organisation by balancing existing application administration with new technology migration or enhancements. T/Application DG's Migration Services include upgrading existing apps to a newer version or re-engineering existing applications with new technologies.
We assist businesses in making decisions about cloud legacy application migration, or moving legacy applications to the cloud.

Our professionals web-enable legacy applications using cutting-edge technologies like ASP.NET, VB.NET, or C#, as well as databases like MS SQL 2005 or MS SQL 2008.

Our experts provide testing, maintenance, and quality control services for Legacy System Modernization and Migration.
Why Partner with T/DG for Managed Support Services
The following are the advantages of Managed Support Services by T/DG.
Services aimed towards increasing productivity.

Database maintenance at a low cost.

Highly efficient, high-quality, and better-decision-making services and solutions are available.

Reduced time, risk, and resources spent on maintaining a large number of applications and data structures.

End-user satisfaction is achieved through the collaborative maintenance of systems or application portfolios.
To find out more about our offerings in the Managed Support Services domain, please contact us today. You can also send us your requirements at
tdg-marketing@thedigitalgroup.com
and our team will connect with you to help you get started.