How Your QA Team Can Benefit from a Zero Coding Test Automation Platform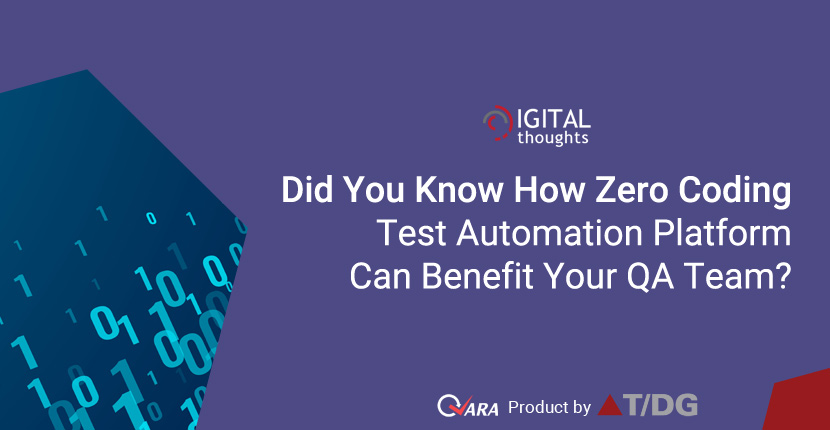 In order to stay relevant to an audience with a short attention span, the highly competitive market calls for frequent upgrades in software applications. Automation is required to speed up the testing process, and automation testing technologies are required to do this. QA teams have gone a long way and have incorporated automation in ways that have never been seen before. The recently introduced Agile and DevOps methodologies have also made automation necessary, as these principles all revolve on a speedier testing method and continuous testing.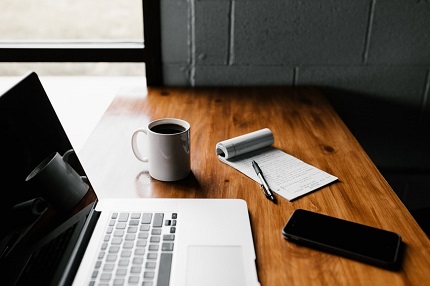 In reality, automation has essentially supplanted manual testing, bringing the testing process' efficiency to new heights. Users can utilize visual tools like model-driven application design with drag-and-drop features to automate business operations rather than depending on sophisticated code.
However, even the most highly trained QA specialists will find writing hundreds of lines of code for test automation to be a time-consuming and arduous job. Learning and perfecting this ability takes more than a few days or hours, and it necessitates a significant amount of time, effort, and hard work, making it impossible for every tier of engineers to work on these technologies. This negates the entire purpose of automation testing, which was to reduce testing timelines and resources.
Zero Coding Test Automation with QARA Enterprise
QARA Enterprise is a test automation tool that requires no coding. It's a zero coding platform designed for the design, management, planning and execution of functional test automation, along with advanced reporting capabilities. The platform is based on the open source Selenium framework and provides great automated test management, tracking, and reporting. The capabilities of QARA Enterprise's Zero Coding test automation framework are listed below.
Object Repository & Explorer:

An Object Repository is defined as the central repository where all objects are recorded and saved with their details. The Object Explorer in QARA Enterprise helps maintain the repository by allowing users to Search, Add, Edit, and Delete objects.
Global Test Data/Local Test Data:

Parameterization is available in two forms in QARA Enterprise: local test data and global test data. Local test data is data that is specific to a test case and is provided when the test case is created. Data from global tests is easily available for use in other test cases. It's data that's been made available globally through QARA Enterprise.
Option to generate Selenium scripts:

For any test scenario, QARA Enterprise users have the provision to develop and save Selenium scripts.
Export Test Case Data to Excel: Users can also export test case data to Excel, as well as the details of automated and manual test steps.
Keyword driven intuitive framework:

Users can easily perform common testing methodologies such as workflow navigation, assertion, and validation of items and content using its straightforward "Keyword-driven framework."
Import Test cases functionality for JIRA, MTM & QARA Enterprise projects:

The user can import data from Spreadsheets (.xls files) into QARA Enterprise using this functionality of the QARA Enterprise zero coding framework.
Benefits of Zero Coding Test Automation
Higher productivity and leaner testing teams, along with a shorter learning curve, are some of the advantages of a zero coding test automation tool.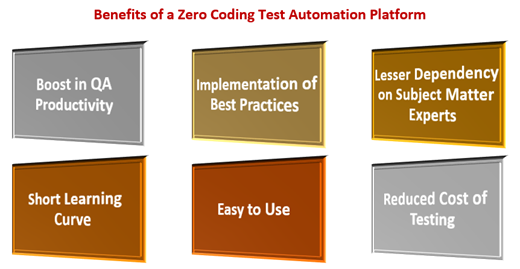 A zero coding platform is simple to grasp and may be used by anyone throughout the organisation without the need for skilled programmers.
The zero coding test automation framework of QARA Enterprise ensures a short learning curve of just a few days before your QA team can successfully implement test automation.
3] Lesser Dependency on Subject Matter Experts
The QARA Enterprise zero coding test automation framework ensures there is very little dependency on expert programmers as they are hard to find.
4] Reduced Cost of Testing
Initial training costs can be reduced, and there is no need to spend money on employing talented engineers who want a high price. Additional cost savings can be observed as a result of the speedier time to market and a strong return on investment.
5] Boost in QA Productivity
Intuitive features such as drag-and-drop menus allow users to develop processes faster and see results sooner.
6] Implementation of Best Practices
Because templates are so important in low-code automation, offering best practices for users to follow when creating and automating processes ensures that they are done correctly.
Want to witness what makes the zero coding test automation platform of QARA Enterprise everything your QA team will ever need? Visit
www.qaratest.com
or drop an email on
info@qaratest.com
and our team will get in touch with you.
Read: Difference Between Recording Test Cases and Zero Coding Automation with QARA Enterprise