Infographics Blog: 5 Key Feature of an Ideal Payroll Management System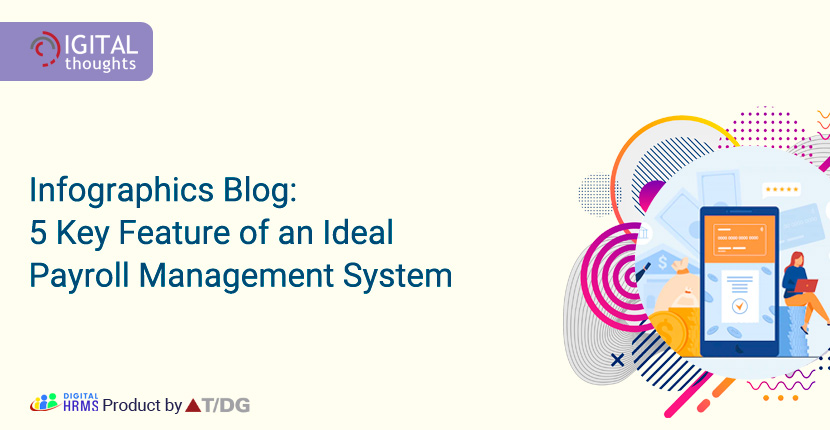 Payroll management is one of the primary functions of the HR department in any organization. Effective payroll processing and management is essential towards ensuring that the employees receive a fair compensation for their efforts. Payroll management is all about management of every financial aspect of employee compensation, including taxation, bonus, incentives, and the likes. While organizations used to manage the employee payroll processing manually on paper and then using spreadsheets, today organizations are largely moving towards an automated payroll management system for employee payroll.
A payroll management system or payroll software is an automated system that takes care of every aspect of payroll processing on a single platform. Digital HRMS is an example of a payroll management system that offers multiple advanced functionalities for taking care of every aspect of employee payroll. Here we shall look into the key features that an advanced payroll management system like Digital HRMS can offer your enterprise in the infographics below.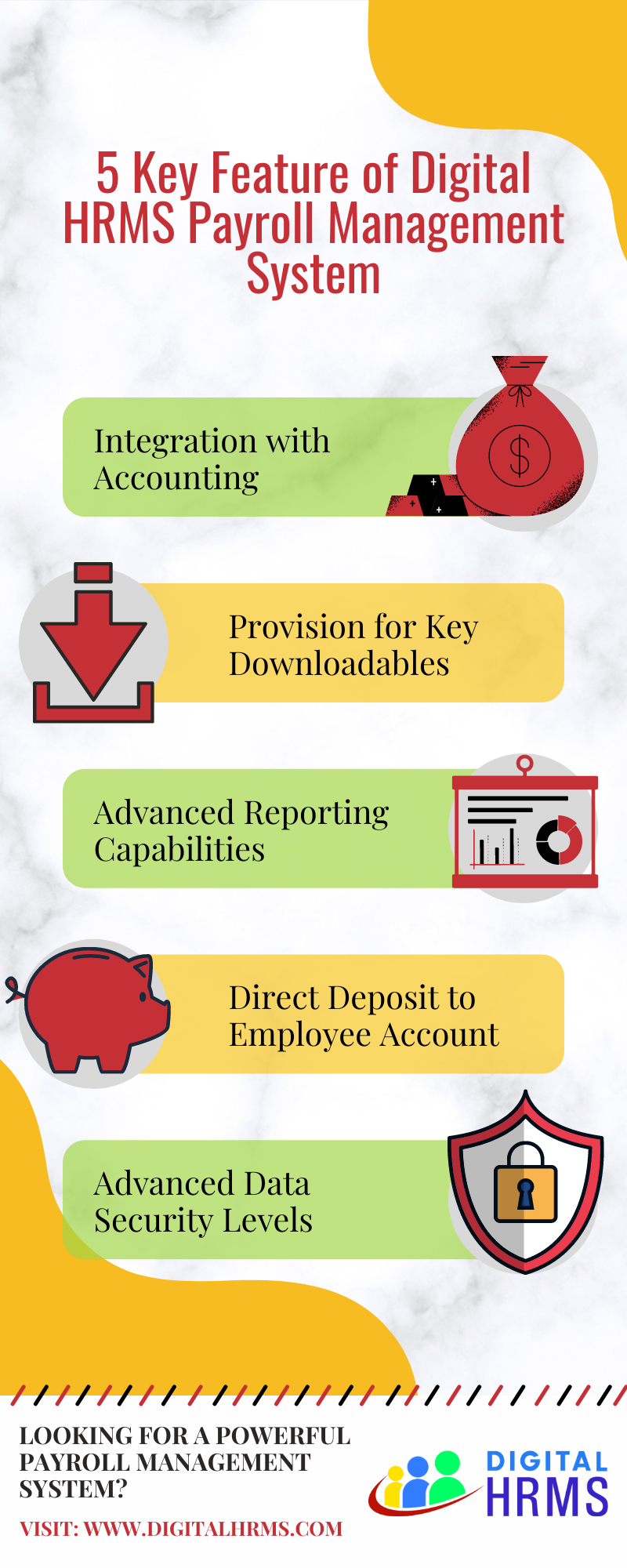 1] Integration with Accounting
Payroll is one of those HR functions that is not just relevant to the HR department alone, but also involves the Accounts department. So, an ideal Payroll Management system should be integrated seamlessly with the Accounts in order to process the payroll of employees faster and with the highest levels of accuracy.
2] Provision for Key Downloadables
The Payroll Management system should serve as the one-stop solution for every requirement pertaining to employee salaries and taxation. One of the key features of an ideal payroll software is that it should make it possible for the employees to download key documents regarding their payroll, such as payslips, taxation documents, employee benefits documents, salary documents, regulatory payroll forms, and more.
3] Advanced Reporting Capabilities
Another essential feature to look for in a payroll software is advanced reporting capabilities. The payroll software should be designed for automated report generation for easy and effective analysis of the payroll structure of the organization and various parameters pertaining to it. Digital HRMS is an example of a payroll management system that generates detailed automated reports for payroll data analysis.
4] Direct Deposit to the Employee Account
Gone are the days when the salary of the employees had to be manually transferred to their respective accounts one by one. Thanks to the new age payroll management system, it is now possible to directly transfer the salaries of each employee in their bank accounts in no time!
5] Advanced Data Security
When you're dealing with highly sensitive information like salary data, taxation details, and more, you need a platform that offers the next level of data security to ensure the data is protected from thefts and unauthorized access. Digital HRMS is an example of a payroll management system that uses 256-bit encryption and other advanced security measures to ensure the data is safe and secure.
Want to explore more about how the Digital HRMS payroll management system can help your HR team in effective management of employee payroll?
Visit our website www.digitalhrms.com or drop us an email on marketing@digitalhrms.com and our team will get in touch with you. Now, get Full access to the Digital HRMS HR software platform Free for 90 Days. Available for Limited Period only!
Stay connected with us on Social Media for all the latest updates.