Infographics Blog: Benefits of Using Employee Asset Mapping with Digital HRMS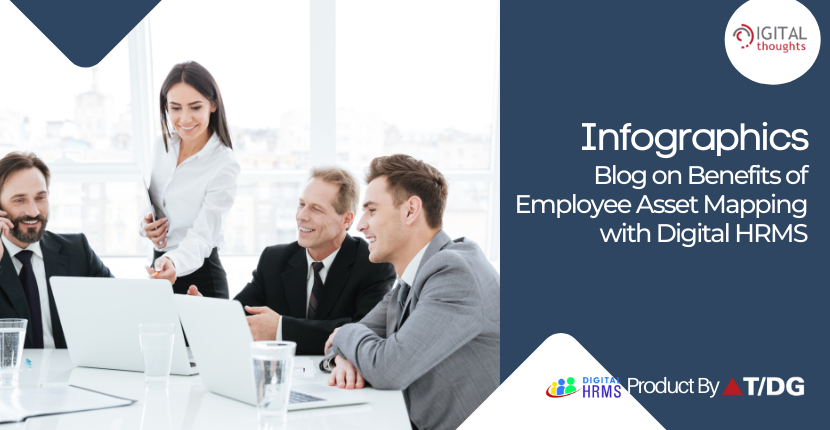 Organizations today allocate a handful of different assets to their employees to help them complete their tasks and boost their productivity. However, with hundreds of employees based in different locations within the country and across the globe, managing the allocation of assets can be tricky. The challenges are many, some of which include delay in allocation of assets due to unavailability and keeping track of assets during separation. The solution to these challenges lies in an asset mapping system that helps the organization keep track of the assets and overcome the challenges of managing employee assets manually
Digital HRMS is an example of an asset mapping system that helps your HR team streamline the asset mapping process with utmost efficiency. Here we shall look at the many benefits of an advanced asset mapping system like Digital HRMS.
Advantages of Employee Asset Mapping Tool
The new age employee asset mapping tool not just helps the HR by showcasing the details of every allocated asset on a single platform, but also brings other advantages as showcased in the infographics below.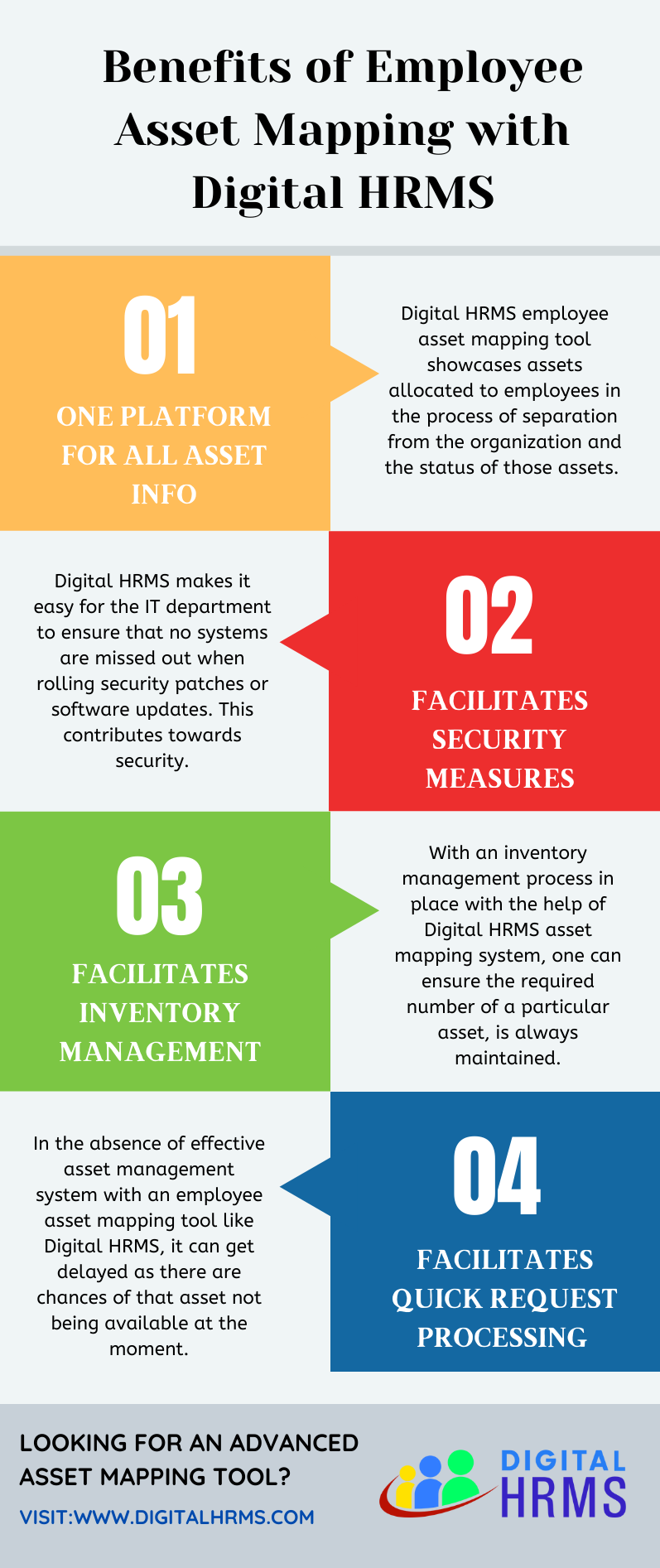 1] One Platform for all Asset Info
One of the biggest advantages of an employee asset mapping tool is that it allows you to get a quick view of all assets at a glance. This ensures easy tracking of assets and also with an asset mapping system in place, it is easier to get the details for each asset, such as who it was allocated to, date of allocation, code of the asset, and more. Also, the Digital HRMS employee asset mapping tool showcases assets allocated to employees in the process of separation from the organization and the status of those assets. This ensures separated employees always return the assets allocated to them before their last day.
2] Facilitates Security Measures
The IT department in organizations today have the responsibility to manage not just the systems or devices within the office premises but also the allocated assets. This applies all the more to the current scenario of remote work. So, an employee asset mapping tool makes it easy for the IT department to know the systems that have been allocated, which ensures no systems are missed out when rolling security patches and software & antivirus updates.
3] Facilitates Inventory Management
Management of an inventory of assets to fall back on is an essential part of employee asset management. Without a real time asset inventory management, there are bound to be last minute ugly surprises! With an inventory management process in place, one can ensure the required number of a particular asset, say laptops or data cards, are always maintained.
4] Facilitates Quick Processing of Allocation Requests
When an employee raises a request for allocating an asset, the role of the IT department is to check the availability of the said asset and manage for its allocation to the employee. This process is not supposed to take a lot of time, but in the absence of effective asset management with an employee asset mapping tool, it can get delayed as there are chances of that asset not being available at the moment.
Want to explore more about how the Digital HRMS asset mapping system can help your HR team in effective employee asset management?
Visit our website www.digitalhrms.com or drop us an email on marketing@digitalhrms.com and our team will get in touch with you. Now, get Full access to the Digital HRMS HR software platform Free for 90 Days. Available for Limited Period only!
Stay connected with us on Social Media for all the latest updates.