Infographics Blog on Benefits of Single Sign On with Digital HRMS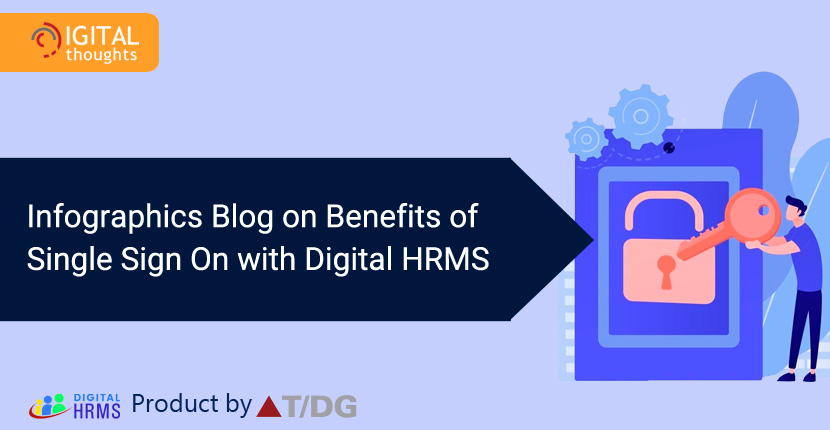 We are in the digital era and today, one of the challenges faced by most of us is to remember multiple set of login credentials, especially passwords. When everything has moved to the digital platform, every app out there has a new set of credentials and remembering them can be tricky. What's more, when you are a professional at your workstation, saving passwords cannot always be a good idea. Thankfully, we have a solution and it is the single sign-on. Applications are implementing the single sign on feature to make it easy for people to login in just one click and say goodbye to multiple passwords for good!
SSO (single sign-on) can be defined as a system that merges multiple application login screens into a single screen. A user just needs to input their login credentials once on a single page with SSO. SSO gives users secure access to numerous company apps by using a single username and password. IT admins, security teams, and end-users will appreciate having one-click access to all On-Premise and Cloud-based apps for their company's security.
Single sign-on minimizes the hassle of having to reset forgotten passwords and eliminates the need to remember and enter numerous passwords. Users can also use a variety of platforms and apps without logging in every time. The concept of federated identification, which is the sharing of identity attributes across trustworthy yet autonomous systems, underpins SSO. When one platform trusts a user, they are provided immediate access to all other platforms with which it has built trust.
Single Sign On (SSO) with Digital HRMS Software
The Digital HRMS login screen offers single sign on for all professionals using the HR software platform through its integration with Office 365 by Microsoft. Since professionals have their work email IDs on MS Outlook, the MS 365 integration can change the way professionals access the Digital HRMS software platform. In fact, instead of entering Digital HRMS login credentials every single time, the users have the provision to click on the 'Sign in with Office 365 Account' button for a single-click, hassle-free HRMS login process.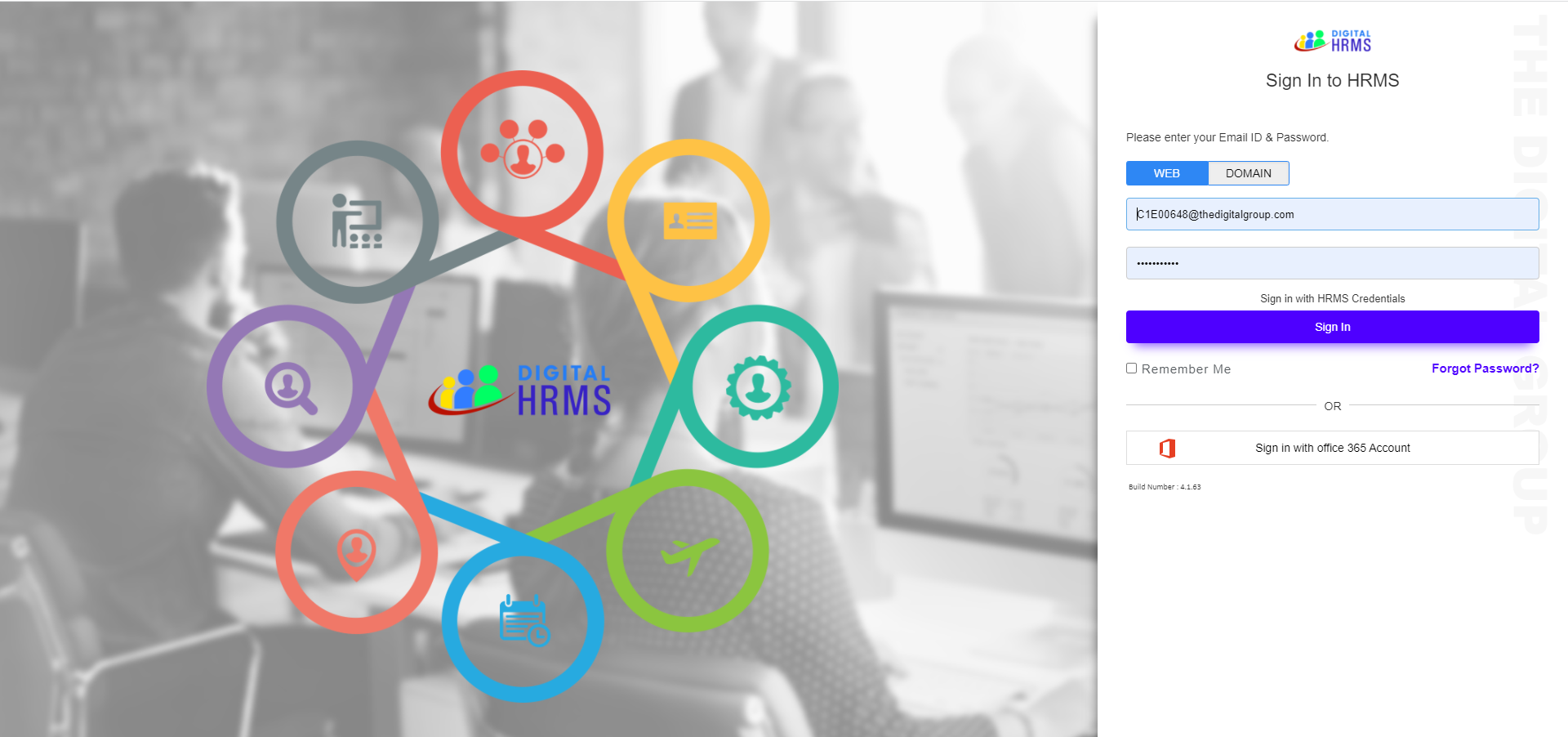 Benefits of Single Sign On with Digital HRMS
Now that we have understood what single sign on is all about, let us look at some of the key benefits of single sign on functionality and how single Sign on feature on a HRMS software can make a difference for the employees.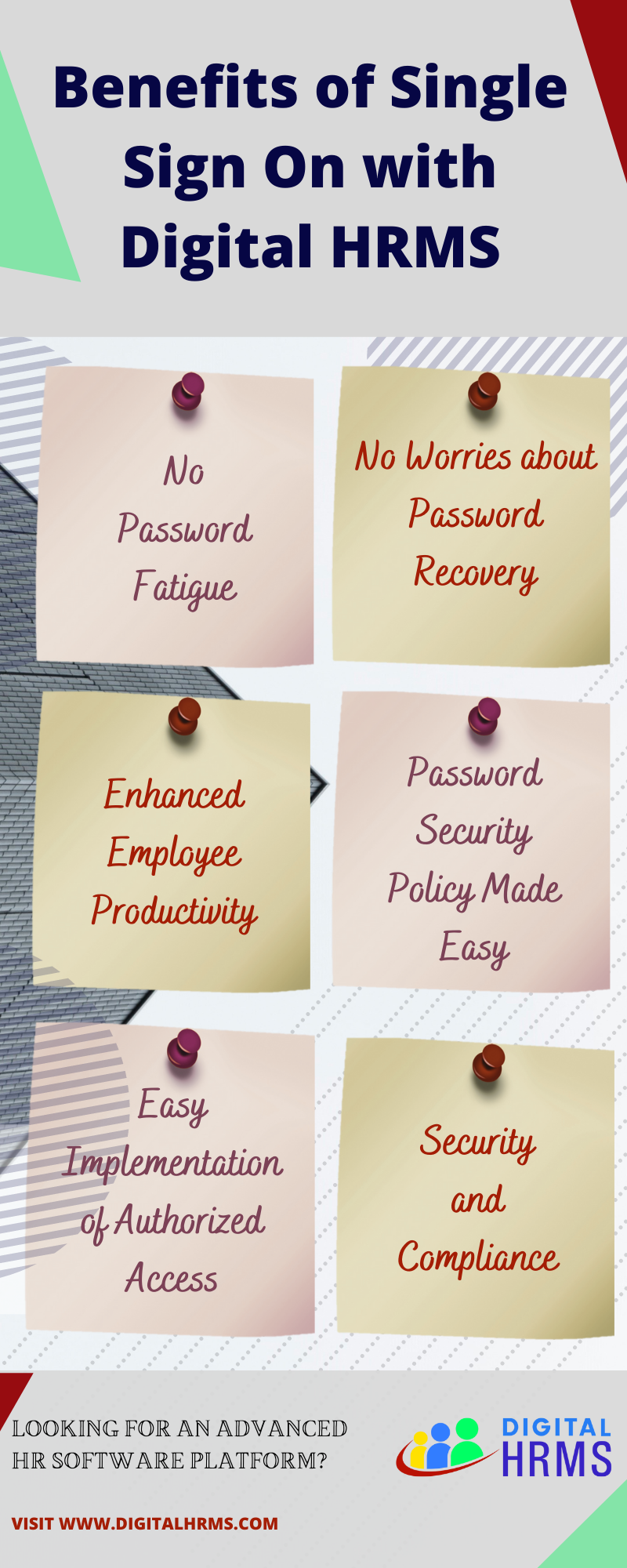 Users will reuse passwords across services when they have to remember passwords for several apps and services. 'Password fatigue' is the term for this. When you use the same password for multiple services, it poses a significant security risk because it means that all services are only as secure as the service with the weakest password protection – if that service's password database is breached, attackers can use the password to hack all of the user's other accounts. SSO eliminates this problem by consolidating all logins into a single account.
2] No Worries about Password Recovery
SSO helps internal teams save time. Users spend less time signing into numerous apps to conduct their work, while IT spends less time helping users recover or reset their passwords for numerous apps. This has the potential to boost productivity in the workplace.
3] Enhanced Employee Productivity
Employees can access their business apps with a single click thanks to SSO. Eliminate the hassle of remembering, managing, and resetting multiple passwords, resulting in increased loyalty and conversion rates.
4] Password Security Policy Made Easy
SSO allows IT teams to simply enforce password security policies by centralising password entry. Despite the fact that the efficacy of routine password resets has been questioned, several IT departments still consider them to be a vital element of their security strategy.
5] Easy Implementation of Authorized Access
In an ever-changing company environment, ensuring the correct individuals have the proper level of access to sensitive data and resources can be difficult. Users' access permissions can be configured using SSO solutions based on their role, department, and level of seniority. This ensures that access levels are always transparent and visible.
One of the most important issues to consider regarding security is compliance. Organizations must demonstrate that they have taken proper security steps to secure sensitive data. Single Sign-On (SSO) aids regulatory compliance by ensuring that data access and security risk protection are met.
Want to explore more about how the Digital HRMS platform can help your HR team streamline employee management effectively?
Visit our website www.digitalhrms.com or drop us an email on marketing@digitalhrms.com and our team will get in touch with you. Now, get Full access to the Digital HRMS data security platform Free for 90 Days. Available for Limited Period only!
Stay connected with us on Social Media for all the latest updates.