Infographics Blog on Corporate Training Services by T/DG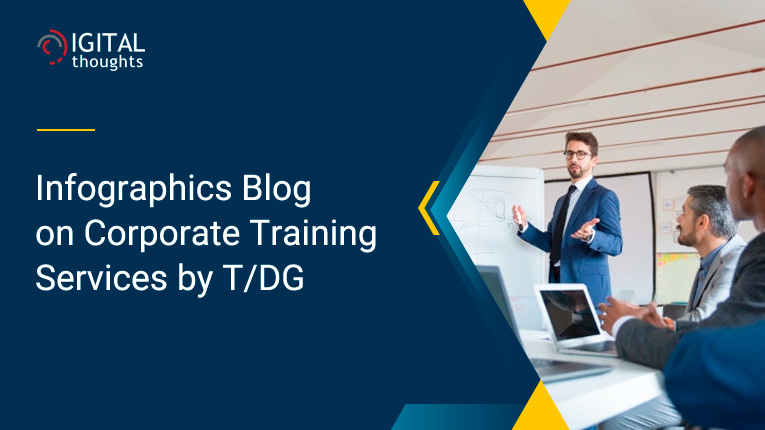 Did you know that corporate training is one of the essential elements to boost employee engagement in organizations today?
60% employees say that effective employee training programs give them an opportunity to add to their skillsets, motivating them to continue with an organization.
The statistics showcase the significance of employee training for employee welfare and motivation in the new age workplace. No wonder that the HR department in organizations today are making efforts to take their corporate training initiatives to an all new level. However, following are the challenges that enterprises face when it comes to corporate training for employees.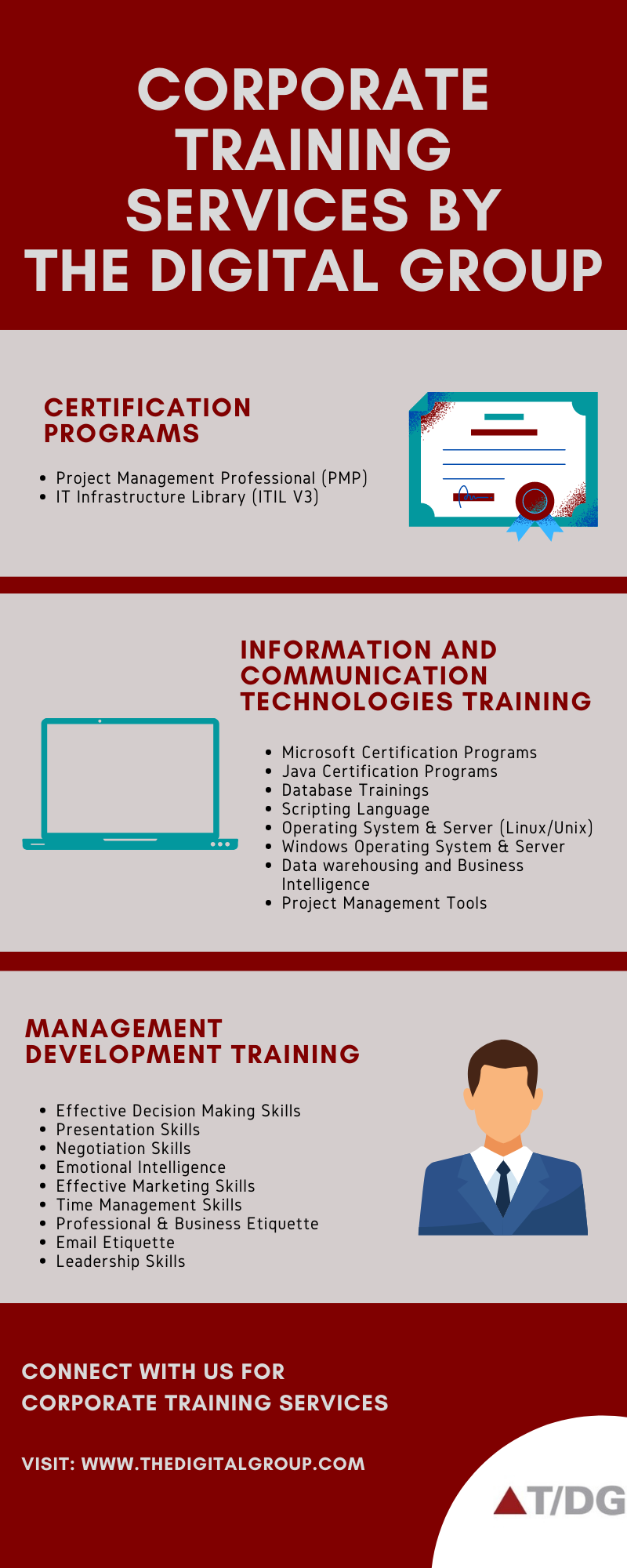 Training programme scheduling that is well-planned and consistent.

Keeping the participants' attention and engaging them throughout the training programme.

Updating the content and training materials.

Implementing personalized evaluation systems.

Effective participation tracking and post-survey evaluations.

Assuring that skills learned during the training programme are put to good use.
Explore Corporate Training Services by T/DG
T/DG, a CMMi Level 5 and ISO 9001, 20000, 27001, and 22301 certified organisation, is making significant progress in the sector of Training and Consulting. The Digital Group is a prominent corporate training company with the goal of establishing itself as a worldwide recognised Corporate Training Specialist. Our learning partners are some of the most well-known names in the industry, and our in-house IT and HR teams support these trainers and learning partners with all of their technical and non-technical needs.
T/DG's Corporate Training Model is outlined below, and it describes the various phases of our corporate training services.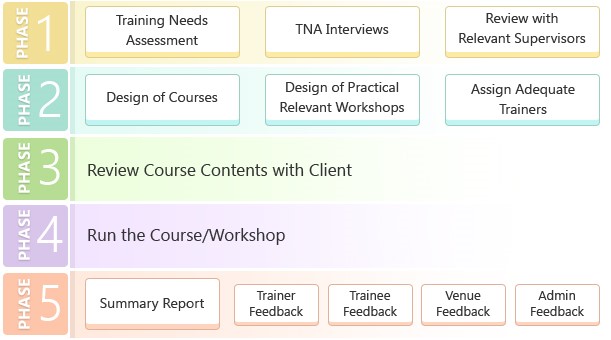 T/DG offers a variety of IT corporate training programs as well as training programs for organizations across industries, that can be tailored to match your organization's specific needs. Certification Programs, IT corporate training programs, and management development are just a few of the specialised training programmes we provide.
Benefits of T/DG Corporate Training Services
Here's why your enterprise should partner with T/DG for Corporate Training Services
We provide training consultancy services and a detailed training requirement analysis.

We'll take a collaborative approach while coaching and advising you and/or your employees for all of your learning and development needs

Learning and development programmes tailored to your company's goals, as well as the needs of your employees, project managers, and line managers.

Our training solutions provide in-depth information exchange and engagement to help you improve your abilities and encourage your company talent.

Customized training programmes that are tailored to your company's specific requirements.

Training programmes led by bilingual/bicultural trainers who are highly skilled, professional, and bilingual/bicultural.

From the standpoint of the industry, the course structure is extensive and well-planned.

Training services targeted to increase and widen your workforce's skills and ability.
To find out more about our offerings in the Corporate Training Programs, please contact us today. You can also send us your requirements at
tdg-marketing@thedigitalgroup.com
and our team will connect with you to help you get started on your journey towards powerful and highly effective corporate training initiatives for your workforce.