Infographics Blog on Customization with Digital Resume Parser and Other Advantages
A resume parsing software is an artificial intelligence-powered platform that detects and extracts relevant information from various types of resumes and provides it in an orderly fashion for easy review.
Digital Resume Parser
(DRP), for example, is a powerful AI-based resume parsing software. It's a product developed by
The Digital Group
(T/DG) that provides an automated solution for extracting intelligent data from applicant resumes, enabling your recruitment department to skip the time-consuming manual data extraction process. With automated data extraction, processing, and storage processes, the team saves time and effort. The data is extracted and converted into machine-readable formats like JSON and XML.
Customized Experience with Digital Resume Parser
You'll be glad to learn that Digital Resume Parser is a customizable platform for resume Data Extraction that allows you to customize the aspects such as schemas and taxonomies, to make it easy for your recruitment team to witness the highest level of accuracy with the desired skillsets and other key terminology in your domain.
Also, the resume parsing platform supports multiple output formats when it comes to resume Data Extraction, but if required, you can configure the platform to your own specific requirements.
What's more, the Digital Resume Parser offers flexibility to adapt to the needs of every industry, and given below are only some of them…
IT/ITES
Banking & Finance
Law & Insurance
Healthcare & Pharmacy
Sales & Marketing
Media & Communications
More Advantages of Digital Resume Parser
In addition to the benefit of customization, here's a resume parsing software that offers other significant benefits to the recruitment team. The infographics below showcases these pointers.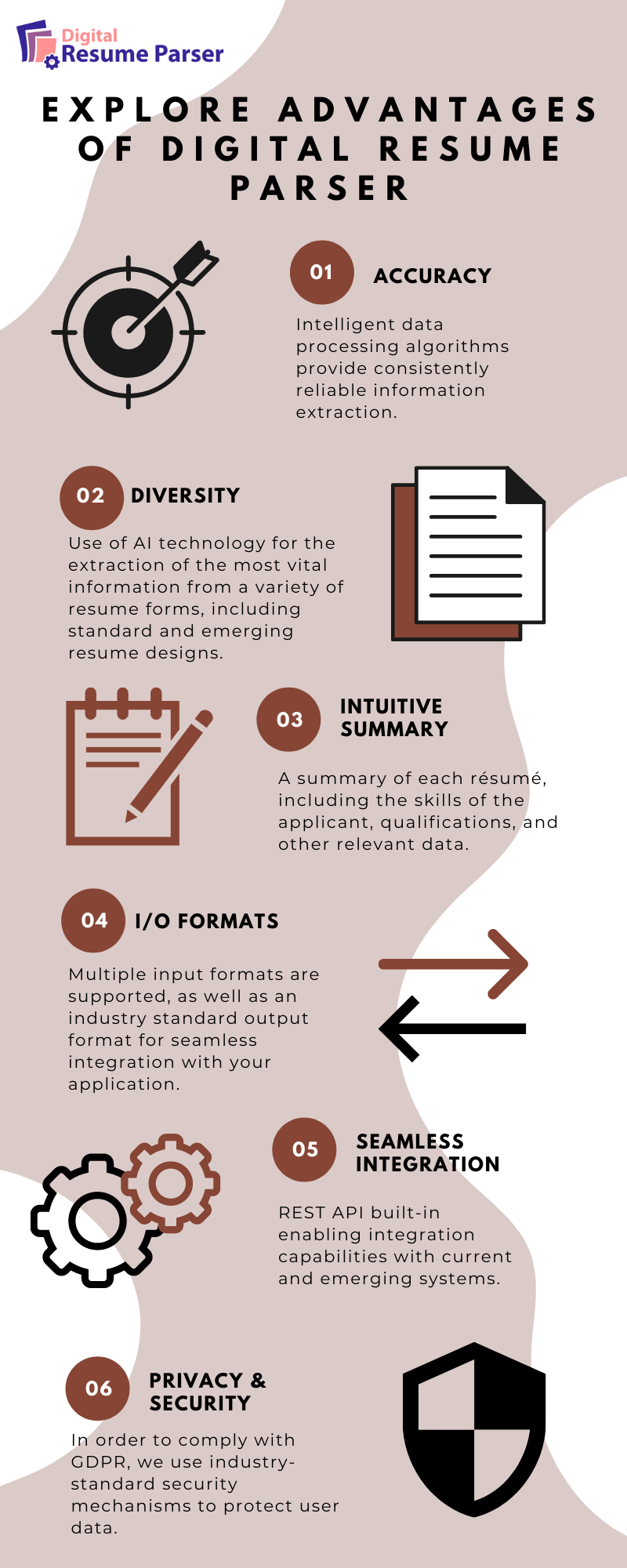 Intelligent data processing algorithms provide consistently reliable information extraction.
Use of AI technology for the extraction of the most vital information from a variety of resume forms, including standard and emerging resume designs.
A summary of each résumé, including the skills of the applicant, qualifications, and other relevant data.
Multiple input formats are supported, as well as an industry standard output format for seamless integration with your application.
REST API built-in enabling integration capabilities with current and emerging systems, regardless of programming language.
In order to comply with GDPR, we use industry-standard security mechanisms to protect user data.
Want to travel through the AI Powered resume Data Extraction Process of Digital Resume Parser to extract insights from resumes? Visit the
website
or drop us an email on
tdg-marketing@thedigitalgroup.com
and our team will help you with your queries.