Infographics Blog on HR Data Security Statistics in 2020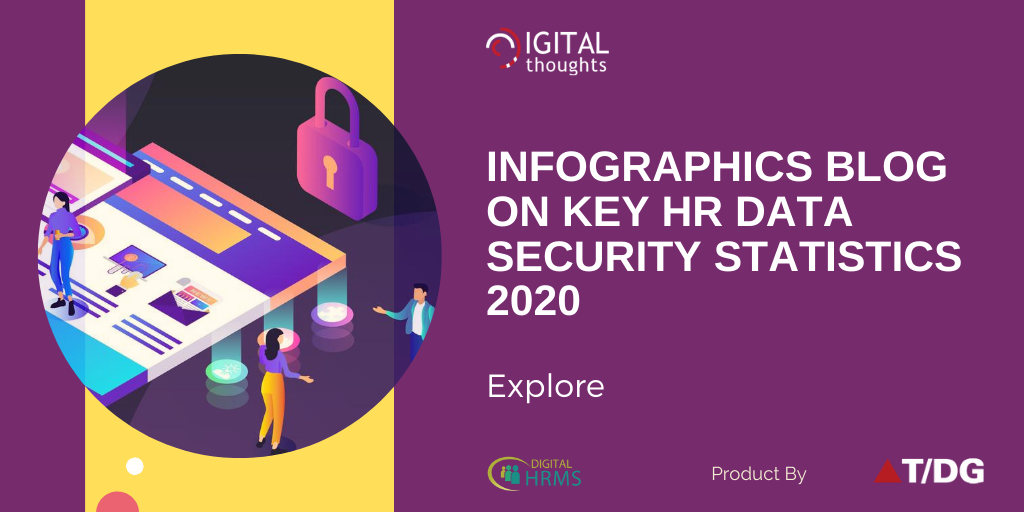 The HR department is responsible for the management of highly sensitive and confidential data. HR data management is all about HR data, which consists of the personal data of employees as well as the data of the applicants that is stored in the resume banks of the HR software that enterprises use today. This makes the HR data highly susceptible to data breaches and security threats of all kinds, if the right measures to data security are not implemented.
The following infographics showcases some statistics that depict the scenario of HR data security in 2020.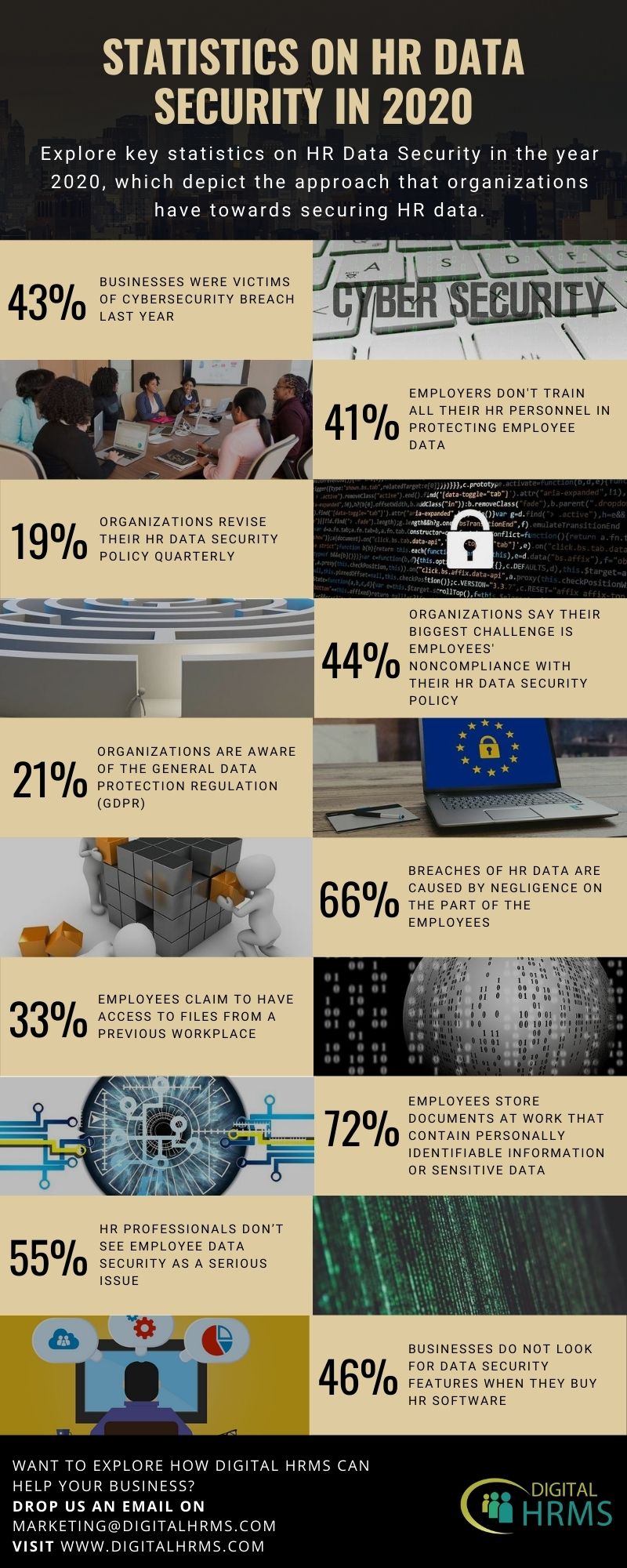 Ensuring HR Data Security with an Advanced HR Software
The infographics above shows that enterprise data, as a whole, is very vulnerable to threats and attacks today, and it applies to HR data as well.
However, the solution to the HR data security issue comes in the form of the new age HR software that has built-in features for advanced HR data security as well as HR data management. Digital HRMS is an example of today's advanced HR software platform that comes with powerful features for enhanced security of HR data.
Given below are the key features offered by Digital HRMS for maximum security of HR data.
1] Server Security:

Information is hosted on Microsoft Azure Cloud, monitored 24×7 by world-class professionals.
2] Data Encryption:

256-bit SSL encryption software – a high-end encryption technology which is used in BFSI industry.
3] Security Protocols:

Stringent IP and Port based restrictions with communication over SSL protocol under ISO 20001, GDPR & Country specific security standards.
4] Information Availability:

Reliable disaster recovery and continuous information flow with 99.9% cloud uptime availability.
5] Multi-Layered Data Backup:

Systematic backup of data in multiple locations and backup updates throughout the day.
So, we see that even today, when HR data security is such a huge concern, statistics indicate that most enterprises are yet to take it seriously. However, contrary to popular belief, implementing data security is not as difficult as it seems. All that an enterprise needs to do is invest in a new age HR software platform that offers advanced data security features.
Want to explore more about how the Digital HRMS HR Software platform can help your HR team implement HR data security and HR data management?
Visit our
www.digitalhrms.com
or drop us an email on
marketing@digitalhrms.com
and our team will get in touch with you. Now, get Full access to the Digital HRMS HR software platform Free for 90 Days. Available for Limited Period only!
Stay connected with us on Social Media for all the latest updates.