Infographics Blog on the Types of HR Reports Your Enterprise Needs Right Now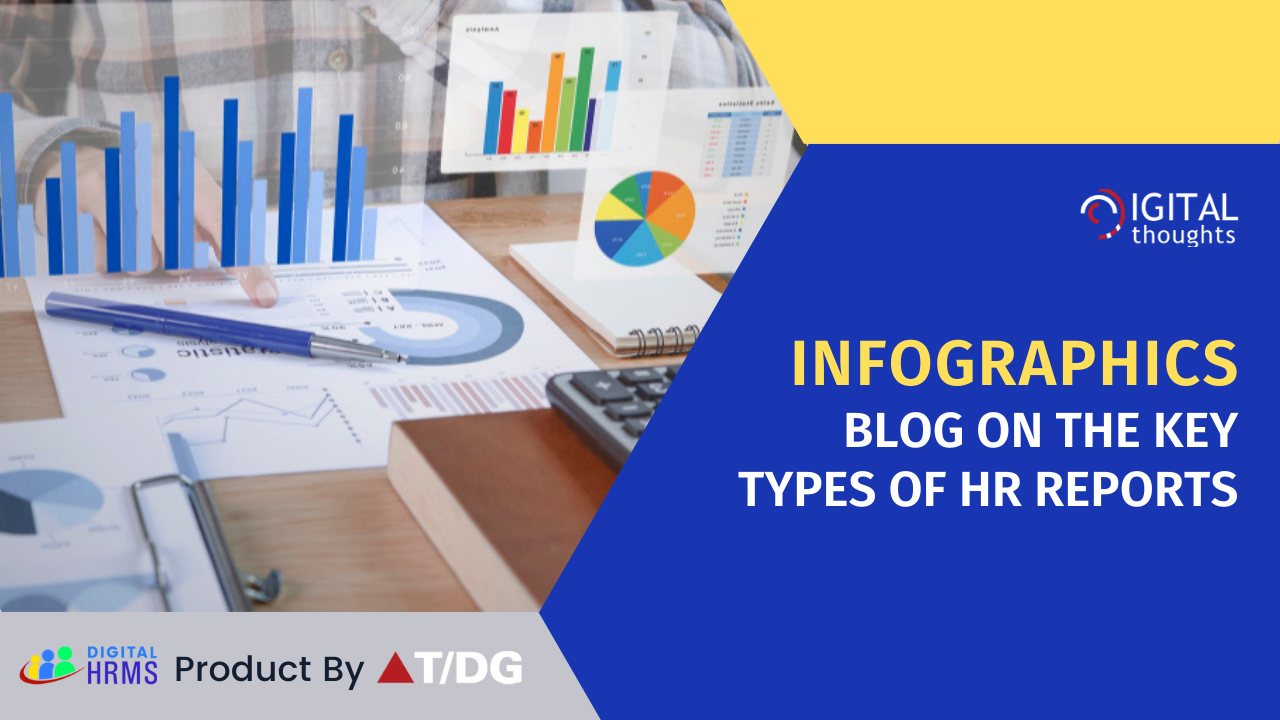 HR management can be difficult, especially when the company has hundreds of employees. Most people would say that a paper-based system is feasible for small-scale business operations, but the fact is that there are several elements that a manual process simply cannot address. For starters, an automated HR Software is required to generate reports and analyze data.
Analysis of HR Data is critical since HR data contains critical insights that can assist the HR and help the business in informed decision making. This is where the next generation HR software's reporting capabilities come into play. Here we shall look at some of the key reports generated by the new age advanced HR reports platforms.
Key HR Reports that Your Enterprise Needs Right Now
For practically every HR function, the HR department will require several types of reports from time to time. An advanced HR Reports platform will help your HR team in this direction. However, not all of them are equally important, as some have a greater influence on decision-making when compared to the others. Have you invested in an HR Reports platform yet?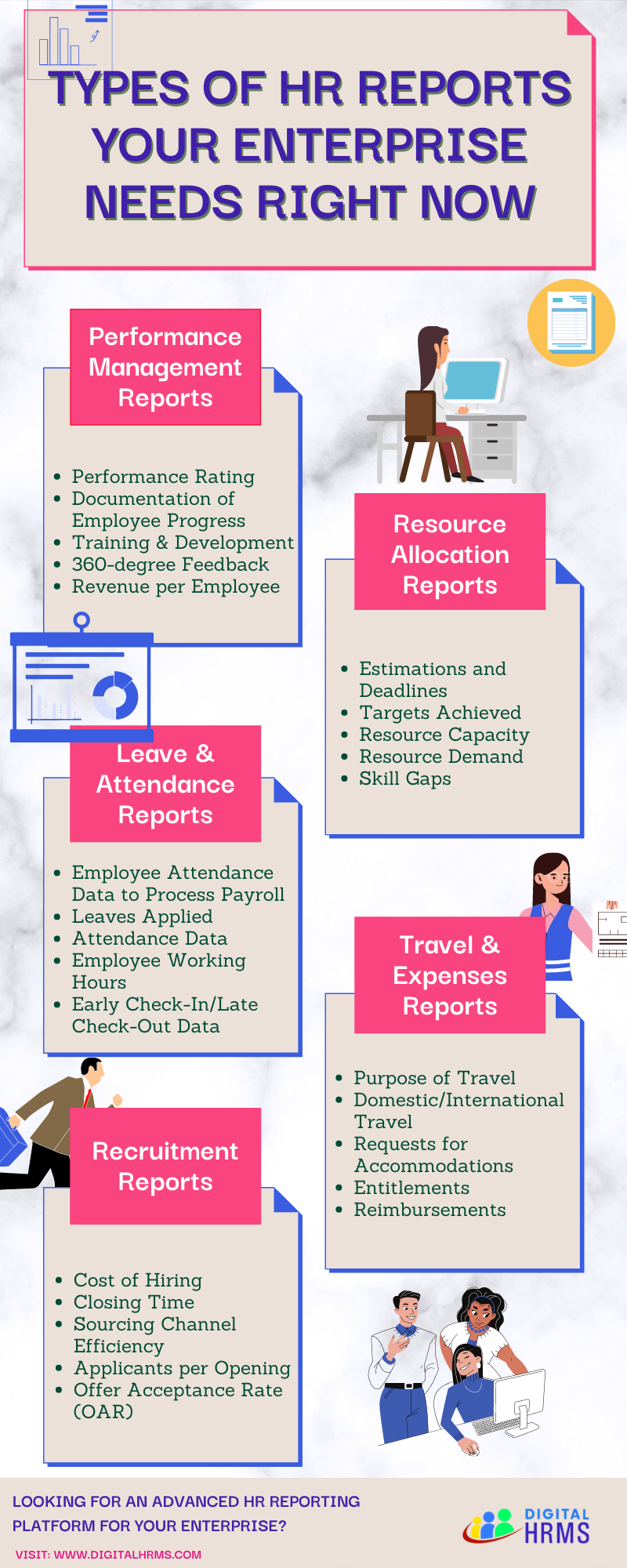 1] Performance Management Reports
Performance Management reports are of great significance because they help the organization gauge the performance levels of the employees, and identify the top performers. This data can be instrumental in defining the appraisals and raises for the employees. Performance reports with an advanced HR Reports platform like Digital HRMS HR ensure the employees get a fair appraisal and recognition for their efforts. The following are the key parameters of performance reports.
Performance Rating and Measurement

Documentation of Employee Progress

Training And Development

360-degree Feedback

Revenue per Employee

Human Capital ROI

Overtime per Employee
2] Resource Allocation Reports
Resource Allocation refers to the process of allocating resources to the different departments and/or projects. An effective resource allocation process can go a long way to boost the efficiency of the employees and add to the profits of the company. The parameters of a resource allocation report that are important are as given below:
Start & End Date of Projects

Estimations and Deadlines

Targets Achieved

Resource Capacity

Resource Demand

Skill Gaps

Resources Utilized
3] Leave & Attendance Reports
Leave & Attendance reports generated by an automated HR reports platform, are the reports that throw light on the attendance of the employees and if there are employees that are taking too many leaves. There are leave and attendance reports available to employees as well, which help them to analyze their leave history and leave patterns. Here are some of the common parameters for Leave & Attendance Reports.
Employee Attendance Data to Process Payroll

Types of Leaves Applied for

Attendance Data on Daily Basis/Monthly Basis

Employee Working Hours

Early Check-In/Late Check-Out Data

Work From Home Data
4] Travel & Expenses Reports
While the pandemic has put a pause on business travel, travelling is an essential part of business and it takes accurate Travel & Expenses reports to help the HR analyze the challenges the employees are likely facing, among other insights. It is one of the key HR Reports your enterprise needs and an advanced HR Reports platform like Digital HRMS offers insights based on the following parameters:
Purpose of Travel

Mode of Travel

Domestic/International Travel

Requests for Accommodations

Client Sites Travelled to

Entitlements

Reimbursements
These are the reports that capture data on the various aspects of the recruitment process, and helps the organization identify the gaps in the hiring process and also figure out the approaches and techniques that work. Some of the key parameters of recruitment reports offered by HR software include the following:
Cost of Hiring

Time Required for Closing

Sourcing Channel Efficiency

Applicants per Opening

Offer Acceptance Rate (OAR)

Effectiveness of Recruitment Funnel
Want to explore the advanced HR Reporting capabilities of the Digital HRMS advanced HR Reports platform?
Stay connected with us on Social Media for all the latest updates.