Infographics Blog on Tips to Help You Make Automated Test Management More Effective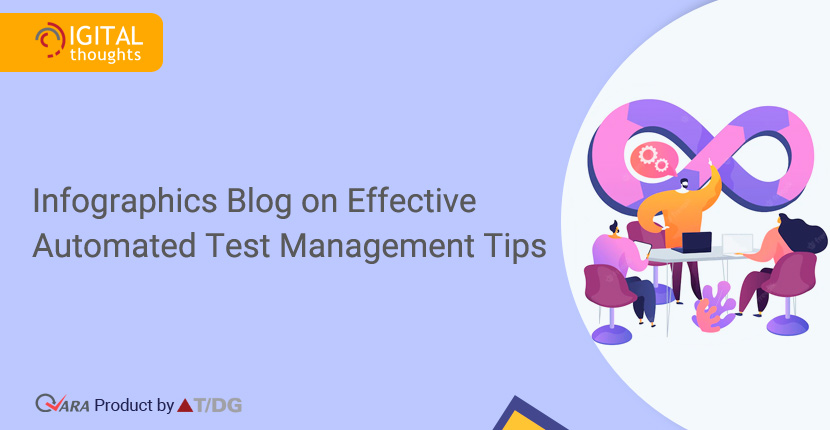 The usage of automation testing is growing in popularity all around the world. Do you understand why automation is so crucial? There are several causes for this, the most apparent of which is that software programmes are always evolving, and the applications available now are vastly different from those formerly available. The market's call for applications to constantly reinvent themselves and expand to their capabilities through regular app updates is growing.
More advanced testing methodologies will be required when apps with extremely broad functionalities become more widespread. Our approach to software testing has changed dramatically with the advent of test automation software.
Instead of just test automation, we now have solutions that are designed for end-to-end test management. QARA Enterprise is an example of a comprehensive test management system that is customised to the testing needs of each QA team. It's a test automation software with a set of tools designed to aid QA teams in speeding up the process of test automation and getting the best results with the automation setup.
Key Tips for Effective Test Management
QA teams can no longer rely only on manual testing, and it is the need of the hour to switch to automation. In today's fast-paced world, it's difficult for software products to keep up with market demands without integrating automated test management with the help of test management systems like QARA Enterprise. If you want to improve your test case management, there are a few recommended test management best practises to follow. Here's an infographics with a few key tips.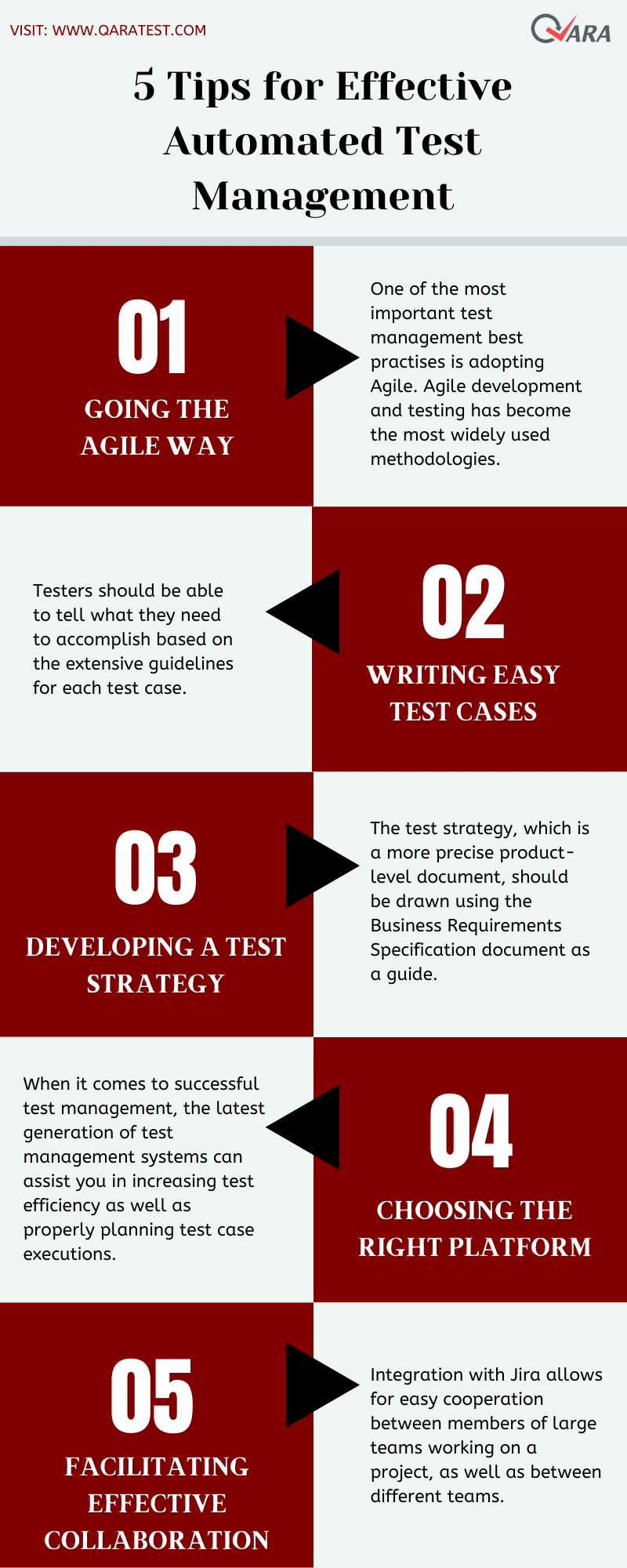 1] Going the Agile Way
One of the most important test management best practises is adopting Agile. Agile development and testing has become the most widely used methodologies. The demand for continuous testing, as advocated by Agile, is not attainable with manual testing, hence this approach has helped automation become the norm in the world of software testing, with ever increasing demand for test management systems.
2] Writing Test Cases for Easy Understanding
Even though every test case must have a distinct purpose, one of the most important test management best practises is to make sure that your test case suite is coherent. Its level of complexity should be determined by the scope of your project. Testers should be able to tell what they need to accomplish based on the extensive guidelines for each test case. You can save time and get better results by providing test cases, guidelines, and tutorials that are clear and do not give rise to instances of misinterpretation.
3] Developing a Strong Test Strategy
The test plan, which is a more precise product-level document, should be drawn using the Business Requirements Specification document as a guide. A project manager or a business analyst typically creates a test plan to outline the software testing approaches that will be used to accomplish the testing objectives. A test strategy is driven by a project's business needs, which is why it corresponds with the roles and responsibilities of a project manager. Once you have the test strategy in place, an advanced test management system does the rest.
4] Choosing the Right Test Management Platform
When it comes to successful test management, the latest generation of test management systems can assist you in increasing test efficiency as well as properly planning test case executions. To put it another way, test case management solutions are high on the list of best practises for test management because they are meant to handle all aspects of test management so you can relax. QARA Enterprise is an example of a comprehensive test management system that covers every aspect of the test automation process and even includes capabilities such as parametrization to cut down on testing time.
5] Facilitating Effective Collaboration
Jira is a project management and problem tracking application used by developers and QA teams across the globe. Jira's widespread use is due to a number of features that make project management easier and allow for easy cooperation between members of large teams working on a project, as well as between different teams. The adoption of a Jira add-on is one of the most widely suggested test management best practises.
Want to witness what makes the QARA Enterprise the ideal test automation software your QA team needs to attain the testing goals? Visit www.qaratest.com, contact us or drop an email on info@qaratest.com and our team will get in touch with you.