Infographics Blog on What QARA Enterprise Has to Offer for Test Management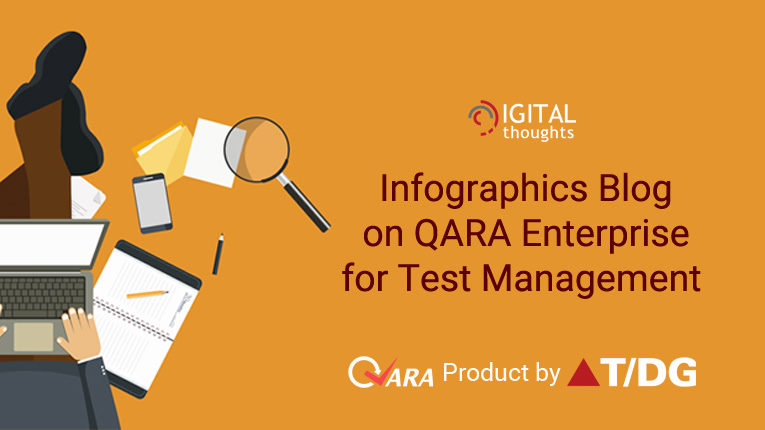 Quality Assurance with Rapid Automation (QARA) from The Digital Group is an integrated platform that allows for declarative, zero-coding functional test automation design, management, planning, and execution, as well as built-in reporting. The test automation platform is based on the open source Selenium framework and provides great automated test management, tracking, and reporting. This allows for centralised and version-controlled test catalogues for a variety of external interfaces, yields, and licencing, as well as significant cost reductions in an agile-iterative product development lifecycle.
However, QARA is more than just a test automation tool. The QARA Enterprise Suite also consists of add-ons and extensions that are designed to simplify the task of the QA teams. The infographics below showcases them all.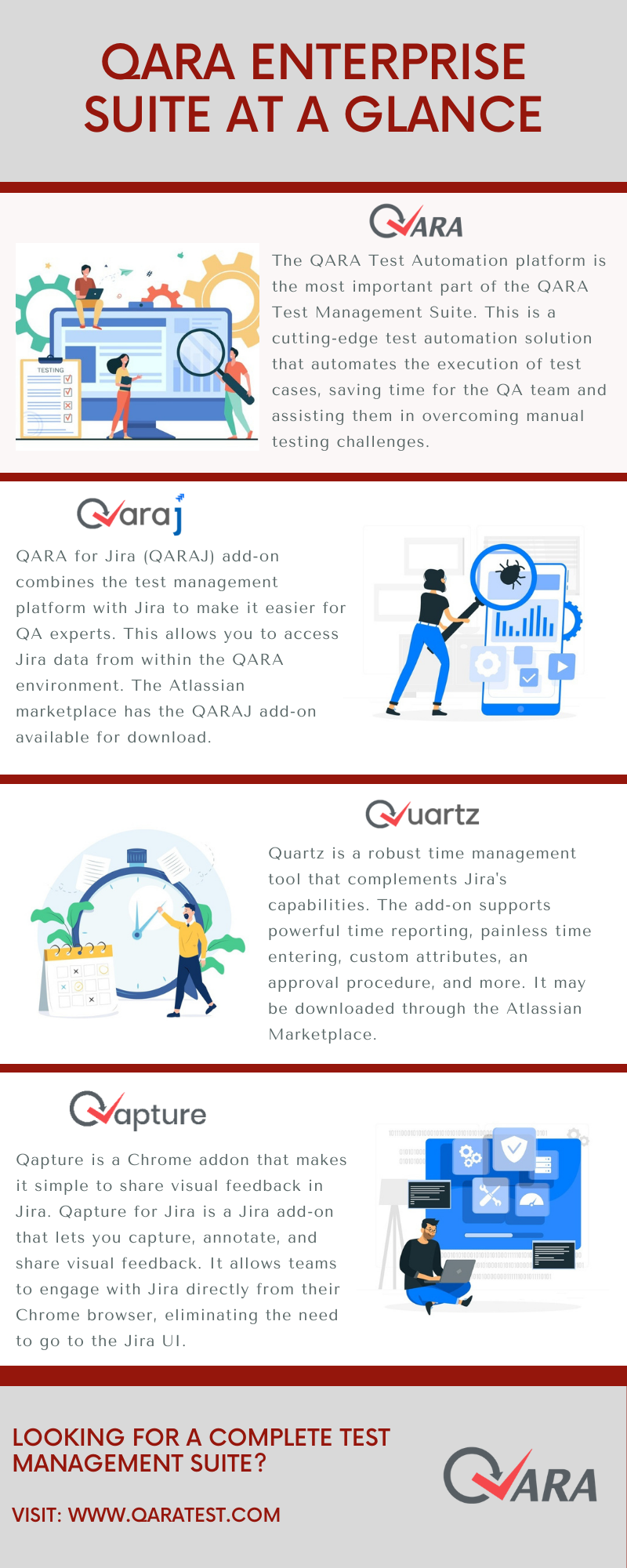 The QARA Test Automation platform is the most important part of the QARA Test Management Suite. This is a cutting-edge test automation solution that automates the execution of test cases, saving time for the QA team and assisting them in overcoming manual testing issues. It's a full-featured test automation solution that covers everything from test design through management, planning, execution, and reporting. However, because QARA Test is a zero-coding test automation solution, it has a short learning curve, allowing manual testers to smoothly transition to automation. The platform's primary features are listed below.
Cross-browser and cross-platform support

Zero-coding framework

Record n Playback functionality.

Detailed Reporting capability for Test Case Management

Integration with JIRA

Parallel test case execution

Parametrization of test cases
We all know that Atlassian's Jira is the most popular project management tool among developers and QA specialists. As a result, the QARA Enterprise Test Management suite includes the QARA for Jira (QARAJ) add-on, which combines the test management platform with Jira to make it easier for QA experts. This allows you to access Jira data from within the QARA environment. The Atlassian marketplace has the QARAJ add-on available for download.
The QARA Enterprise test management suite includes a Jira add-on that offers time management capabilities to the Jira platform, in addition to the Jira add-on for test management. Quartz – Jira Time Tracking is a robust time management tool that complements Jira's capabilities. The add-on supports powerful time reporting, painless time entering, custom attributes, an approval procedure, and more. It may be downloaded through the Atlassian Marketplace.
Explore more about the Quartz add-on here: QUARTZ
4] Qapture Chrome Extension
Qapture is a Chrome addon for the QARA Enterprise test management suite that makes it simple to share visual feedback in Jira. Qapture for Jira is a Jira add-on that lets you capture, annotate, and share visual feedback. It allows teams to engage with Jira directly from their Chrome browser, eliminating the need to go to the Jira UI. The add-on allows you to quickly take screenshots, annotate them, and share them. It also ensures that the feedback report is prioritised and followed up on.
Explore more about the Qapture extension here: QAPTURE
Want to witness what makes QARA Enterprise the test automation platform your QA team will ever need? Visit
www.qaratest.com
or drop an email on
info@qaratest.com
and our team will get in touch with you.