Infographics Blog on Why HR Data Analytics is Important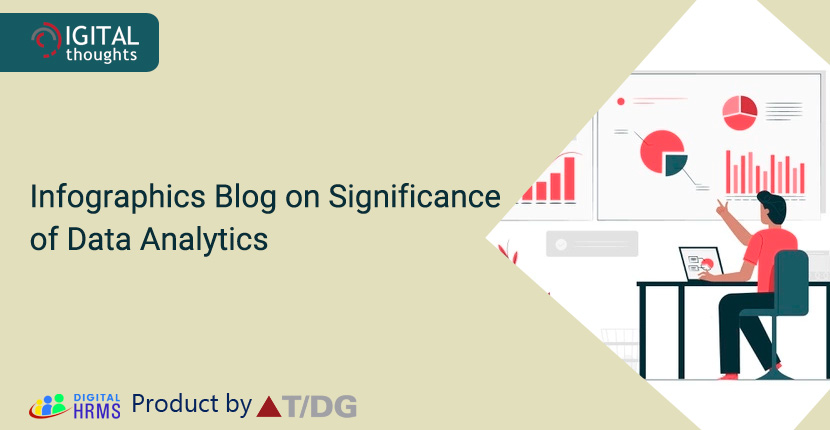 Despite the fact that data is a key driving factor behind today's corporate performance, many firms are still using the manual approach of business operations. While many may claim that a paper-based system is manageable for small-scale business operations, there are several elements that a manual method simply cannot handle. For starters, an automated system is required to generate reports and analyze data.
HR Data Analytics is critical when it comes to HR data since is the only way to extract important insights from HR data that can be used to make strategic business decisions. This is one of the primary reasons why businesses are investing in automated human resource management solutions today that offer advanced HR Data Analytics capabilities. For example, a platform like Digital HRMS, which is a comprehensive HR management platform, includes a specific module that can analyze HR data and generate detailed reports in only a few clicks. The infographics below showcases a few significant reasons why businesses today need a platform like Digital HRMS to provide detailed HR Data analytics.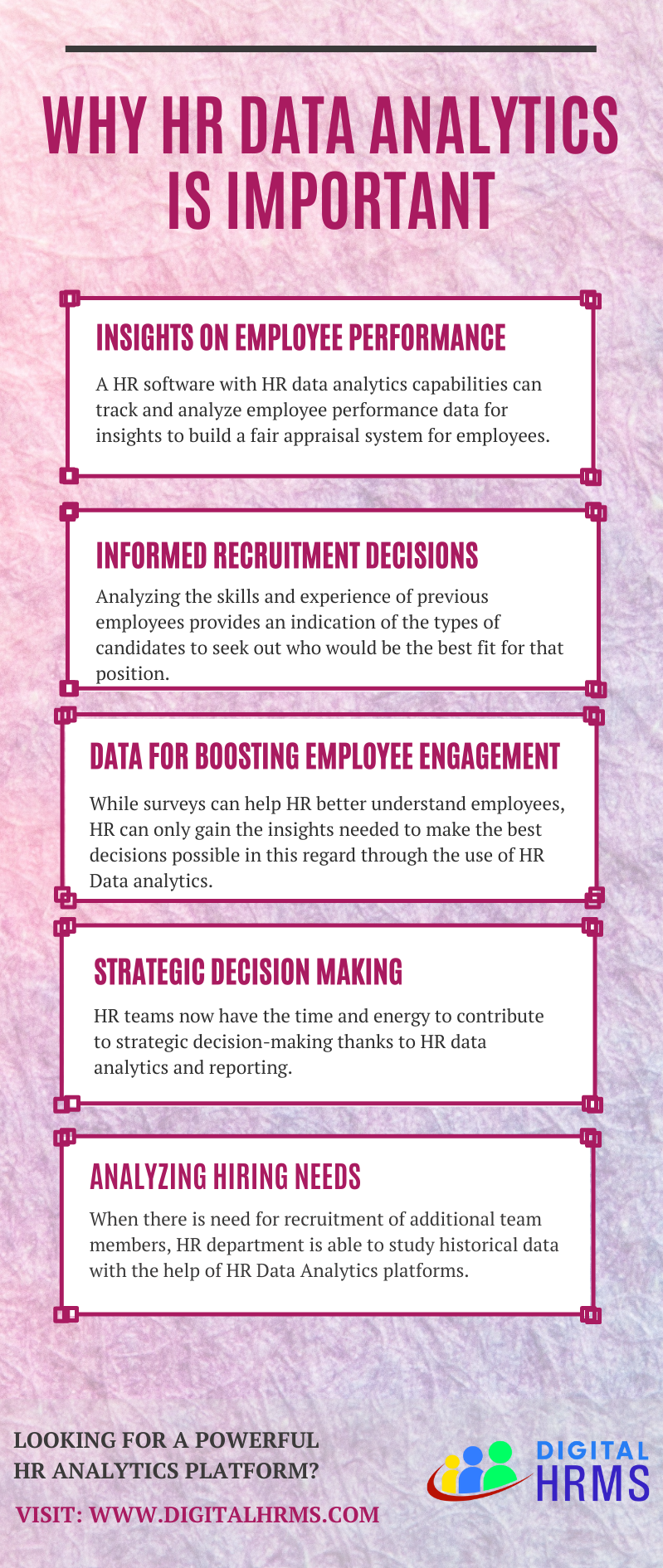 1] Insights on Employee Performance
Without access to a platform that makes performance evaluation of employees a methodical process, tracking the performance of hundreds of people in an organization can be difficult. A HR software with HR data analytics capabilities, such as Digital HRMS, can track and analyze employee performance data to give the HR staff the information they need to build a fair appraisal system for all of the company's employees.
2] Informed Recruitment Decisions
Any organization's recruitment staff has access to a massive amount of data, and the good news is that a HR Data Analytics platform can perform wonders with it. Analyzing the skills and experience of previous employees in a certain capacity, for example, may provide the recruiting team an indication of the types of candidates to seek out who would be the best fit for that position.
3] Data for Boosting Employee Engagement
Employee engagement is one of the most pressing concerns in today's organizations, with about 75% of employees allegedly disengaged at work. This emphasizes the importance of HR taking the appropriate actions to improve employee engagement. It's important to understand that a range of factors influence employee engagement. While surveys can help HR better understand employees and reveal issues that concern them, HR can only gain the insights needed to make the best decisions possible in this regard through the use of HR Data analytics.
4] Strategic Decision Making
HR teams now have the time and energy to contribute to strategic decision-making thanks to new age HR software systems that automate routine HR duties. The good news is that they can now contribute to decision-making thanks to HR data analytics and reporting.
5] Analyzing Hiring Needs
Certain circumstances or types of tasks need the recruitment of additional team members. These are the scenarios that need the hiring of new employees, and they can be identified when the HR department is able to study historical data. In the event that the team requires new hires, the recruitment team will be prepared with a list of promising candidates.
Want to explore more about how the Digital HRMS HR Data Analytics platform can help your HR team derive key HR insights?
Visit our website
www.digitalhrms.com
or drop us an email on
marketing@digitalhrms.com
and our team will get in touch with you. Now, get Full access to the Digital HRMS HR software platform Free for 90 Days. Available for Limited Period only!
Stay connected with us on Social Media for all the latest updates.