Insights on the Significance of Custom Software Development Services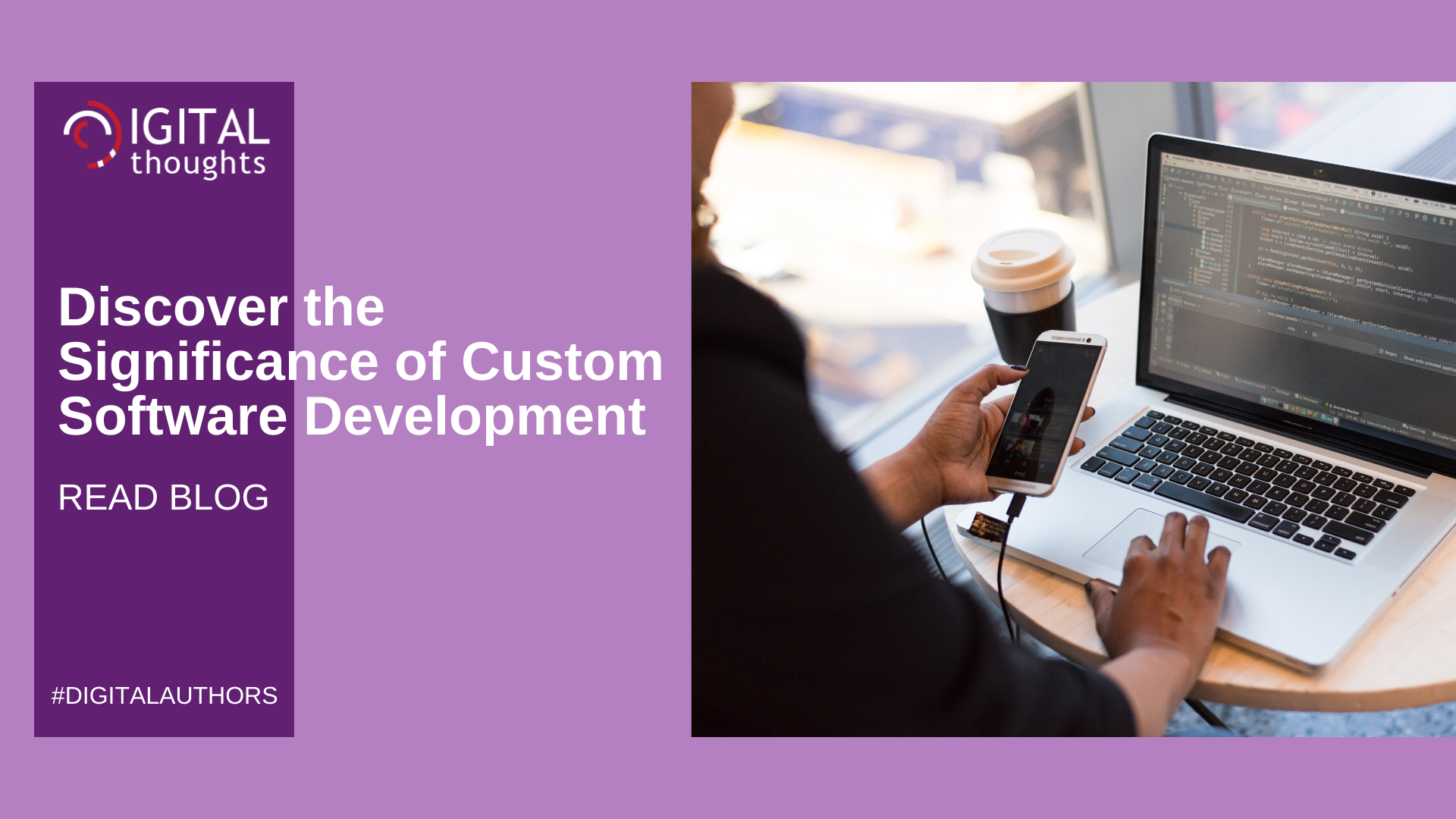 Software is at the very core of our existence today, as we depend on software applications for most of our day to day activities, right from calling a cab to our doorstep to booking tickets to our dream holiday destination. However, it's not just us consumers who are using software applications. Enterprises today are also investing big time in software applications in order to embrace digitalization in every aspect of their business process and operations.
Among all software development projects in the world, 86% are Enterprise Applications. - Forbes
Talking about the enterprise software landscape, there are countless ready to use software available in the market today. These are similar in concept to the applications that we use on our mobile phones – all one needs to do is get the software application and start using it right away. These are referred to as off-the-shelf software and there are countless firms that develop readymade software for various needs of enterprises. However, there are many challenges that businesses face when it comes to software, and not all of them can be tackled by an off-the-shelf software.
54% of organizations have reported that adapting to changing requirements is the primary challenge for software developers.
Challenges of Software Development
Bringing in constant innovation to meet the changing market requirements

Integration with different systems and technology

Continuous support and maintenance of software

Advanced protection against threats and malware

Alignment with business goals
78% of IT Professionals reported that businesses are often out-of-sync with the market requirements of a software. - Forbes
How Custom Software is the Solution to these Challenges
Custom Software is a term used for software applications that are tailor-made to meet the specific business requirements of an enterprise. This element of customization opens the door for new possibilities and helps the enterprises to overcome the challenges and limitations set forth by off-the-shelf software.
The following are the key benefits of investing in custom software development services, as provided by leading IT Solutions firms.
Tailor-made to meet the specifi business requirements of the enterprise, which makes it easy to achieve goals.

Boost in productivity and efficiency of the organization.

Fetches high ROI on the initial investment.

Continuous and reliable support and maintenance for the software.

Highly scalable to cater to the changing needs of the enterprise.

Access to a technical support team for quick troubleshooting.
Discover T/DG's Custom Software Development Services
The Digital Group (T/DG) has the relevant capabilities and expertise to provide enterprises with end to end custom software development services and solutions, including product initialization/prototyping, product development, product re-engineering services, product testing and round-the-clock global support.
On an average, large software projects run 66% over budget and 33% over time, while delivering 17% less value than predicted. - McKinsey
T/DG combines its expertise and process maturity with low cost services, to provide with high quality onshore and offshore software development services at excellent prices to overcome all enterprise challenges.
The average time taken for developing a custom software is 4.5 months. - Statista
Why Partner with T/DG for Custom Software Development
Here are the key reasons you should choose Custom Software Development Services by T/DG:
1] Enhanced Customer Satisfaction
T/DG delivers world-class outcomes to help you retain customers by utilizing customer data to align expectations with products and services and understanding customer values.
2] Reduced Cost of Software Development
T/DG helps enterprises reduce costs significantly through the outsourcing of non-core, labor-intensive processes to a trusted software product development service provider with worldwide reach.
3] Enhanced Value Delivery
Onsite and Offshore models offered by T/DG facilitates price performance advantage over the life cycle of the customer's application.
4] Solutions Tailored for Specific Business Needs
T/DG delivers custom fit solutions that meet varied aspects of Customer requirements within deadlines.
63% of all software development firms have implemented the Agile methodology. - QAT
So, that was all about the significance of custom software development services and the role it plays in making it easy for businesses to achieve their goals. The future is all about custom software as businesses across the globe are waking up to its benefits. The rise of concepts like Internet of Things (IoT) are only going to add to the its significance in the years to come.