Recruitment with Digital HRMS: Explore a Platform to Overcome the Challenges of Finding the Best Talent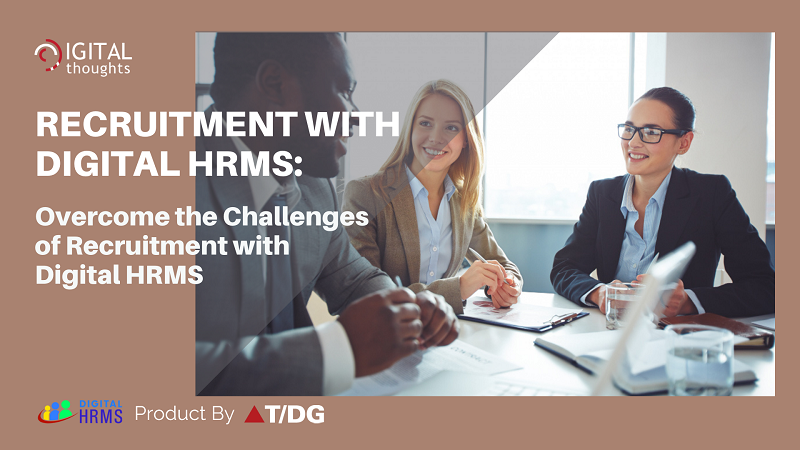 Hiring can be difficult for businesses these days, with so much competition for the best talent. One of the main causes for this is the employment market's ever-changing characteristics, combined with the fact that truly skilled people are very few. Enterprises require a strategy to overcome the frequent recruitment challenges in order to obtain an advantage in the hunt for the best personnel.
Catching the attention of qualified candidates

Keeping a record of the interview process of candidates

No process to track resource requisitions

Need for streamlining the process for candidate selection

Analysis of candidate data for insights

Manual data entry of sourced candidate details
Overcoming Recruitment Challenges with Digital HRMS
While there are multiple challenges that the HR team faces when it comes to finding, connecting with and hiring top talent, a new generation HR software is the solution your HR team needs. An advanced HR software like Digital HRMS offers a dedicated recruitment management system to take care of the multi-faceted requirements of every organization. The following are the key features of the Digital HRMS Recruitment module:
Creation, approval and allocation of RRS

Provision for candidate referral on the recruitment management system

Editing, adding & deleting job postings in a few clicks

Provision for Admin to define questions for interviews

Easy monitoring of candidate and interview status

Provision for candidate shortlisting by recruiters and managers

Tracking shortlisted candidates on the recruitment management system for further interview

Resume bank for future reference

External & Internal Job Posting

Automated resume parsing on the recruitment management system itself

Streamlined pre-onboarding through candidate log in

Provision for scheduling Interviews on multiple meeting platforms through the recruitment management system

Multi-entities & multi-locations in one application

General Data Protection Regulation (GDPR) compliant recruitment management system

On-Cloud (Azure), on-premise & mobile application (Android & iOS)

Multi-Level graphical dashboards
Automated Bulk Resume Parsing with Digital HRMS
An automated resume parsing platform like the one that the Digital HRMS recruitment management system offers, brings a wide set of features to help your recruitment teams to extract the most relevant data from hundreds of resumes in one go. Given below are some of the key features of the Resume Parsing platform offered by the Digital HRMS HR software, powered by advanced Artificial Intelligence (AI) technology.
Consistently reliable information extraction

Support for a variety of resume forms, including standard and emerging resume designs

A summary of each résumé, including the candidate's abilities, qualifications, personal, organisational, and other relevant information

Support for multiple input formats as well as an industry standard output format

REST API built-in enabling easy integration with existing and new systems

NLP and Semantic Analysis technology used in the resume parsing platform enable the extraction of exact data in seconds

Industry-standard security mechanisms to protect user data

Easily adaptable to your individual needs and specifications
Want to explore more on how the recruitment management platform of Digital HRMS can help your organization connect with and find the best talent?
Stay connected with us on Social Media for all the latest updates.