Reports with Digital HRMS: Discover the Reporting Capabilities of HR Software Today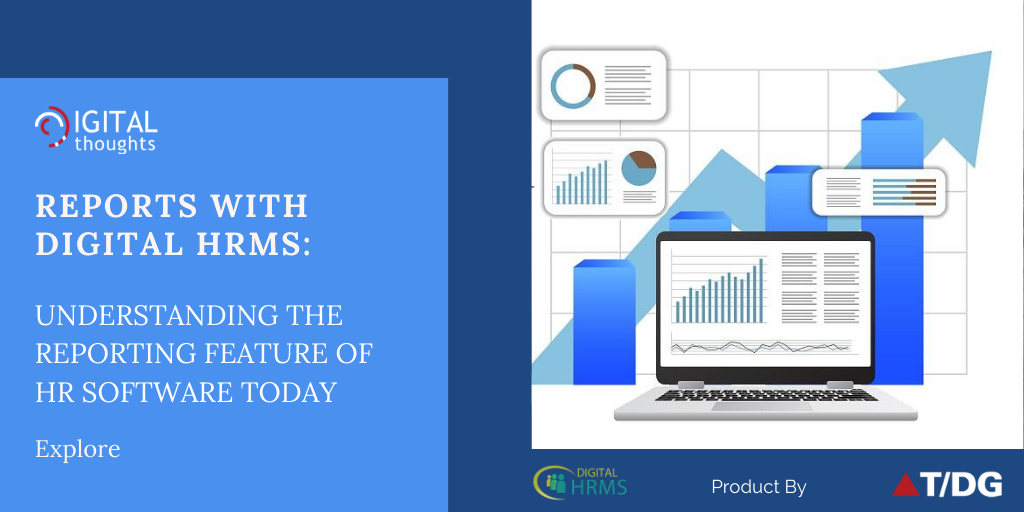 Data as we know it today, has emerged as the biggest determining factor for enterprises. Every business is investing in the right software to get insights from data and use the insights to make well-informed business decisions. The HR data holds the key to relevant deep insights and to analyze this data effectively, enterprises need an advanced tool with in-built data analytics capabilities. The new age HR platform is the solution to this as it is focused on data analytics and generating detailed and accurate reports from large volumes of organizational as well as employee data.
Generating Quick & Detailed Reports with Digital HRMS
Digital HRMS is an integrated HR software platform that is customizable and allows the business to pick and choose modules that cater to the specific business requirements. It is a comprehensive platform that automates every HR function and eliminates manual HR processes completely to boost HR efficiency. Here we shall learn about the data analysis and reporting capabilities of Digital HRMS that makes it easy for the HR department to generate quick and detailed reports for analyzing data on different aspects of the responsibilities of the HR department in an organization.
Digital HRMS has a facility to build various custom reports in various formats and memorise them for the future reference. User can view/download updated reports by click of a button. Digital HRMS has the ability to manage the access for reports based on the various roles and permissions. In Digital HRMS authorized user can generate global reports which will contain the data of all the group entities and share the same with various users of other group entities.
Report Builder for Quick Reports
Users have the option to create various custom reports for all the modules that are available in the Digital HRMS such as Employee management, Leave and Attendance, Separation, Performance Assessment, Training (LMS), Travel, Expense and Reimbursement, Timesheets etc. To create a report, users simply have to drag and drop available fields and select the report criteria such as employees, office location, and date of joining, etc. and follow required steps to build the report. User can memorise/save the report and provide the access to required roles.
Digital HRMS generates static reports that can be viewed by users who have been given access to these reports. However, these reports cannot be edited. User can apply multiple filters within the report grid to view the required information only. Users can also export these files to Excel, PDF and Word at the click of a button. Users can also filter the reports as per the required period or for list of employees for better, more accurate results. The Administrator/HR personnel can determine who gets access to these reports. For instance, only individual records will be accessible by employees, whereas a manager will be able to access his/her individual reports and reports of those reporting to him/her.
Digital HRMS also allows management of reports, wherein the Admin can edit the details of the selected reports. Users can update the name of the report, change who can access it, also change its category from among recruitment, time and attendance, employee information or leave.
Want to explore how Digital HRMS can help your business generate automated reports for HR insights that help in decision making?
Visit our website
www.digitalhrms.com
or drop us an email on
marketing@digitalhrms.com
and our team will get in touch with you.