Survey Management with Digital HRMS: Significance of Employee Surveys During Remote Work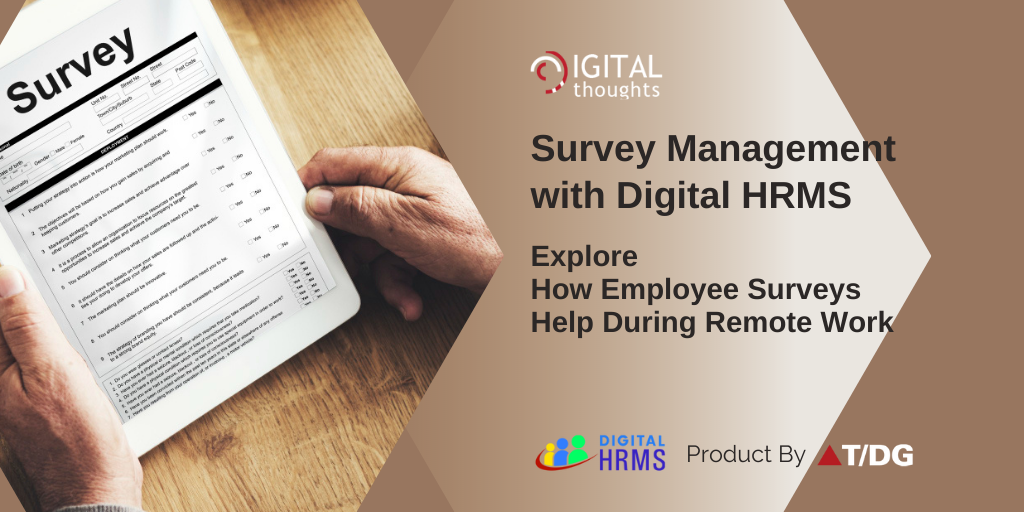 Ever since remote work has become the new norm, things have been different at the workplace. While it has been more than a year and employees across the globe have adjusted to the new way of work, one cannot deny the fact that remote work does come with its own set of challenges for the employees as well as the HR department in enterprises today. The feeling of isolation and the monotony of working from home that remote work brings, is translating to lower levels of employee motivation and affecting the employee morale. This is because employees are increasingly feeling disconnected from the workplace and their colleagues, and this is affecting their motivation levels.
So, what is the solution? Well, the HR departments across the globe believe that this is the time when you need employee engagement exercises more than ever. Since surveys are a significant element of enhancing employee engagement levels, an online Survey Management platform is what enterprises need today to connect with their employees on a virtual platform. Here are some advantages that an online Survey Management software like Digital HRMS can bring to your organization.
Managing Remote Employee Surveys with Digital HRMS
Employee engagement surveys serve a vital purpose: they assist the HR department in having constructive interactions with employees. Digital HRMS is an example of a survey management software that comes with a dedicated module for planning and executing surveys, and when used in times of remote work, can bring the following benefits.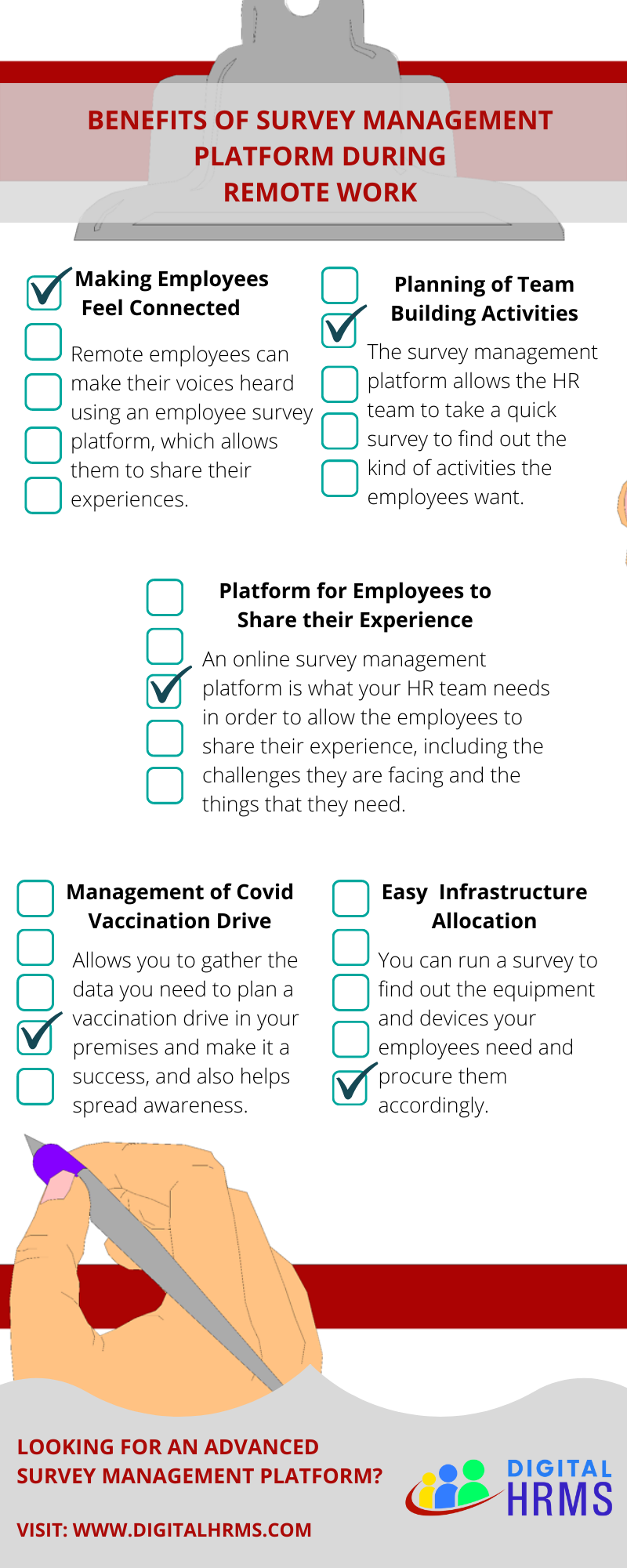 1] Making Employees Feel Connected
Employees who work from home frequently feel out of sync with the rest of the team. They may work in a different time zone, making it difficult for them to feel involved or have an equal say in team decisions. Remote employees can make their voices heard using a company-wide employee survey platform, which allows them to share their experiences. Surveys can help them express their problems, provide feedback to their superiors, and make suggestions that can benefit the organization in the long run.
2] Effective Planning of Team Building Activities
Team building activities are an essential part of employee engagement as they allow employees to take a much-needed break from the daily routine and spend time connecting with their team mates and colleagues. But what kind of team building activities do your teams look forward to? The survey management platform of Digital HRMS allows the HR team to take a quick survey to find out what the employees want.
3] Providing a Platform for Employees to Share their Experience
When we venture out on something new, we are bound to face challenges, and the same applies to the employees who are trying to be their productive best in times of remote work. So, an online survey management platform like Digital HRMS is what your HR team needs in order to allow the employees to share their experience, including the challenges they are facing and the things they need to enhance their productivity during remote work. The provision for anonymous surveys allows the employees to share their thoughts without any hesitation.
4] Effective Management of a Covid Vaccination Drive
Yes, a Survey Management platform like Digital HRMS can be a great way to manage a successful Covid vaccination drive in your organization. You can use the survey platform to gather important information, such as the vaccination status, current location of the employees, number of members in their family, and more. With this information, you can easily plan a vaccination drive in your premises, and since all of your employees are aware of it, it is sure to be a success.
5] Streamlined Approach towards Infrastructure Allocation
When you have employees working from home, one of the major challenges that your employees are likely to face is the lack of infrastructure. Are your employees struggling with desktops and laptops? Are they in need of high-speed broadband for seamless access to MS Teams meetings? Do they need a RAM upgrade on their system? With the help of the Digital HRMS Survey Management platform, you can run a survey to find out the equipment and devices your employees need and procure them accordingly.
So, that was about the ways in which survey management software can help your enterprise. Want to explore more on how the survey management platform of Digital HRMS can help your organization connect with your employees better?
Stay connected with us on Social Media for all the latest updates.