The Significance of Mobile Apps in 2019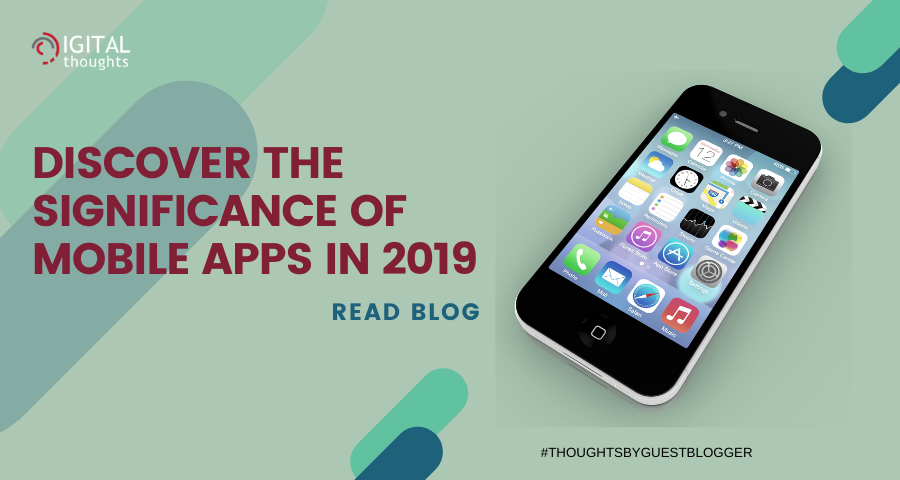 24 Oct 2019
Naman Modi
1755
Today, technological advancements in the communication sector have improved significantly all thanks to smartphones. These babies have become a part of our livelihood and it's almost impossible to manage without them. But behind these fancy gadgets, there is what we call mobile applications which make them "smart". In the past mobile phones were purposely made for communication but today with the help of mobile applications, they do more than that. Leading
mobile app
development firms are coming up with new apps almost everyday. Let's find out the importance of mobile apps in the modern world.
Significance of Mobile Apps
Online Shopping
Today, making trips to the grocery store for supplies is reduced significantly, thanks to mobile apps that allow us to shop online with ease and in the comfort of our homes. Using your smartphone, you can buy clothes, groceries, gadgets, accessories and raw materials online by tapping and swapping. You can search, compare prices, choose brands, and purchase any commodity online. You can find both buyers and sellers using e-commerce apps. This is a lucrative business nowadays.
Food Delivery and Taxi Service Apps
Due to our busy schedules, it has become hard to cook for ourselves at home. But this doesn't mean we should starve ourselves to death. With your smartphone, you can order online for your favorite food and have it delivered to your home or workplace in minutes. All you need to do is download an app of your favorite restaurant that offers food delivery and the rest is tapping and swiping to get your hot meal. Getting cabs is also easy and convenient thanks to these apps.
Financial Apps
Access to your banking services and credit facilities is now easy and fast. No need to make long tiresome queues at banks trying to deposit, withdraw or send cash to your loved ones. All you need is a banking app and you are all sorted financially. You can view the debits and credits of their account, transfer money without the barrier of time and distance, view current account balance and do much more. We are about to attain a cashless economy thanks to government authorities and these financial institutions. Paying our bills is also made easier due to mobile apps.
E-tickets
Previously, the norm was making long queues to check for the availability of seats and book tickets. Not any more thanks to e-ticketing apps. You can now book for your movie, bus, train, and airplane in the comfort of your office or home. Numerous apps offer these services and the best thing is that you don't need to carry a hard copy of your ticket.
Entertainment apps
With the tensions and causes for stress that life keeps throwing at us every day, we need entertainment apps to soothe our tired minds. It is now easy to download your favorite music, stream videos, or play online games thanks to entertainment apps. If your day was hectic and you're feeling cheerful, just use one of your entertainment apps like YouTube to listen to soothing music to relax your nerves. This helps to relieve stress for better health.
Final Sentiments
As you can see, mobile
apps
have simplified things for us. However, this does not mean lying down and doing nothing while our apps do all the heavy lifting, as doing so can have dangerous repercussions on our health. We should get out more often for exercising and staying fit for a healthy living.