Top 7 Benefits of Enterprise Mobility Solutions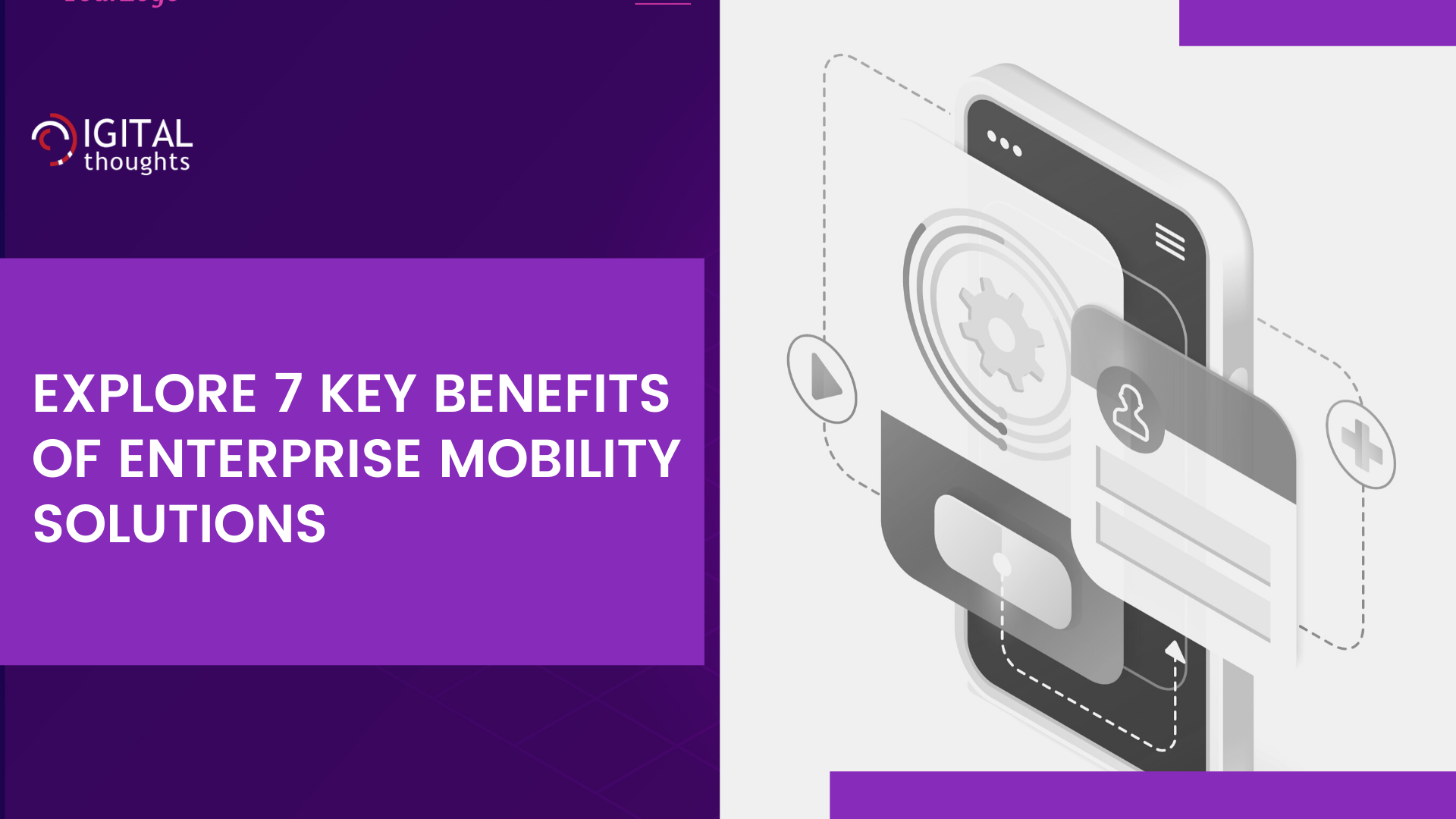 Enterprise Mobility is a term that is used to refer to the approach of enterprises to allow their employees to work remotely from any location, using their own devices. It has been a growing trend in the last decade or so, due to the flexibility it brings that contributes to higher productivity and efficiency. Several leading IT firms are offering enterprise mobility solutions to help organizations develop a sound mobility strategy.

The global enterprise mobility market accounted for $206.13 billion in 2017 and is expected to reach $1225.78 billion by 2026 growing at a CAGR of 21.9% during the forecast period. -Business Insider
However, after the advent of the pandemic, enterprise mobility has become more of a necessity than an option, as enterprises across the globe switched to a remote mode of working over a few weeks.
Interestingly enough, even as we witness the effects of the pandemic subside gradually, most enterprises are very keen to continue with the remote work model, because of the many benefits it brings. So, what are the benefits of enterprise mobility, you may ask? Well, there are many and here we shall look at few of the key benefits.

1] Higher Efficiency of Data Collection
Any corporate model's most critical component is data. Mobility solutions can help your business collect data efficiently through many data touchpoints on a mobile app. Also, an Enterprise Mobility Solution allows you to manage big amounts of data to deliver more value to your customers.

Because workplace mobility solutions make it easier to keep track of data, they also make it easier to make data-driven business decisions for business growth.

2] Higher Levels of Employee Productivity
Flexibility in business is a must in this day and age. Flexible offices, such as co-working spaces, are thriving as a result. Many businesses are also allowing employees to work from home. This has been reported to increase productivity. However, firms that employ proprietary internal software or keep networks accessible only on-site will be unable to provide these configurations. You'll be able to allow remote work without jeopardizing any business processes if you use an enterprise mobility
solution
.
3] Fast Access to Information
It will be simple for employees to obtain vital information with a solution that allows for remote connectivity to information. Businesses would have uninterrupted processes as a result, increasing overall productivity. This is better than the need to be physically present on-site every time something from the network is required.
4] Enhanced Customer Satisfaction Levels
Some of the primary qualities of an Enterprise Mobility Solution are speed, agility, and customization, all of which contribute to client satisfaction and loyalty. An Enterprise Mobility Solution offers for effective product tracking and delivery, quick payment confirmations, and on-the-go assistance, all of which contribute to a better end-user experience.
5] Reduced Cost of Operations
Enterprise mobility enables employees to have simple access to business data faster and through a safer exchange of information through an integrated and streamlined single window operating platform. It also improves the system's efficiency by allowing for real-time updates. It saves time by allowing employees to access critical data, and it saves money by synchronizing data storage and retrieval with entire system access control. The speed and efficacy also aid to reduce resource usage, making the overall process more cost-effective.
6] Enhanced Levels of Collaboration among Employees
When multiple resources are working on the same project, it is vital for them to communicate with one another on a frequent basis. Employees may easily update their job progress and collaborate in real time with enterprise mobility solutions. As a result, corporate mobility is critical for effective communication among your employees, particularly while they are travelling or working outside the office premises.

7] Improved Data Security
Secure data transfer is one of the most important features of Enterprise Mobility Solutions, since it is one of the most important needs of digitally empowered enterprises. An Enterprise Mobility Solution provides businesses with the data security and risk management layers they need to provide enterprise-grade security solutions, ranging from Mobile Device Management (MDM), Identity and Access Management (IAM), and Mobile Application Management (MAM).

Apart from preventing unauthorized access from known and unknown devices, the Enterprise Mobility Solution technology also assists devices and networks in avoiding malicious programs.

Want to explore how The Digital Group can help you build an Enterprise Mobility strategy to cater to your business requirements? Explore our capabilities in the
Enterprise Mobile Solutions
domain and drop us an email at
tdg-marketing@thedigitalgroup.com
and our team will get in touch with you.