Top 8 Facts You Should Know About Software Development Services in 2023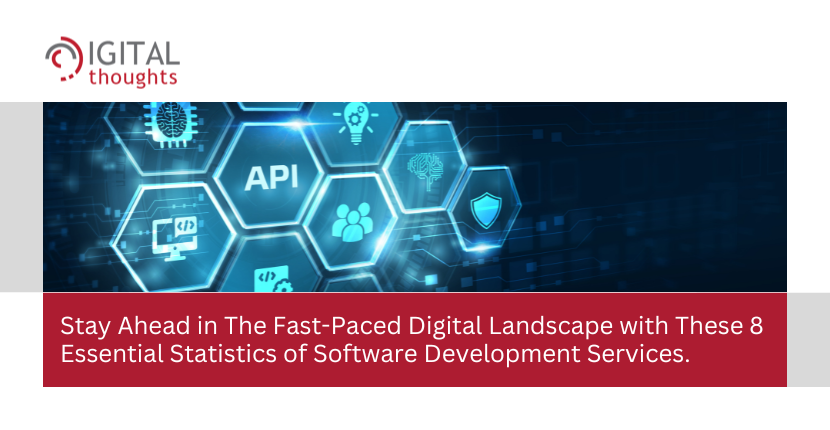 The need for software development services has become increasingly clear as the globe races towards the technologically sophisticated future of 2023. Businesses and sectors significantly rely on cutting-edge software solutions to simplify operations, improve customer experiences, and remain ahead of the competition in this quickly expanding digital world. The market for software development services is always developing due to breakthrough developments in artificial intelligence and the rising demand for cybersecurity of IT Services. Here, we'll examine the top 8 facts that everyone using software development services in 2023 should be aware of. Understanding these important statistics will provide you with invaluable advice for navigating the changing world of software development services, whether you're a business owner looking to reinvent your company or a tech enthusiast.

8 Latest Software Development Solution Facts
The global software development market size was valued at 429.59 billion in 2021 and is expected to expand at a CAGR of 11.7% from 2022 to 2030. (Grand View Research)
There are 26.9 million software developers worldwide. (Future Processing, BLS)
There are approximately 26.9 million software developers in the world. (Future Processing, BLS)
69% of developers use Javascript as their primary programming language. (Statista, Developer Tech)
24% of executives outsource software development. (Datamart, The Codest)
Asia has the highest number of app developers (32.9%). (Treinetic)
61% of software developers use Windows OS and 47% use Linux. (Statista)
The most-used software development management tool is Jira. (The Codest)
The Digital Group is equipped with the necessary skills and knowledge to offer businesses complete custom software development services and solutions, including product initialization/prototyping, product development, product reengineering services, product testing, and round-the-clock global support. The Digital Group provides its clients with total transparency while bringing a variety of vertical domain skills, and extensive technological platform competencies, including Cloud, Mobile, and SAAS, as well as best practices and rigorous QA standards with its software development solution.