Travel Management with Digital HRMS: Debunking Myths about Corporate Travel Management with HR Software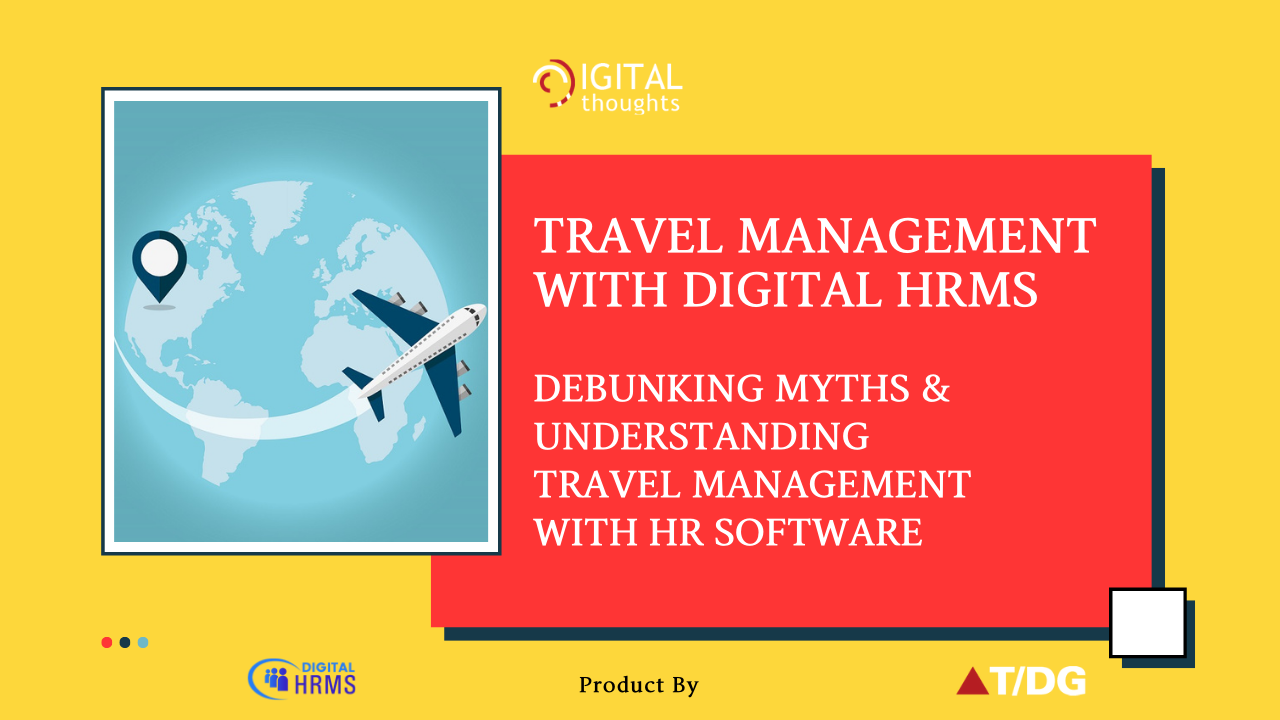 Business travel or corporate travel is an essential part of business operations. As enterprises go global with offices in multiple locations across the globe, the need for business travel is only set to witness a rise. While the onset of the dreaded Covid-19 has pulled the brakes on corporate travel for a while now, one cannot deny the fact that interacting through technology can never replace the "real" face to face interaction.
Talking about corporate travel, there are quite a few misconceptions in the minds of working professionals. The outlook varies widely between the ones who travel more often and the ones who don't. Here we shall look into some of the most common myths about corporate travel and try to uncover the truth behind them. Also, as we debunk the myths one by one, we shall also have a look at how an advanced new age HR software like
Digital HRMS
can help enterprises overcome the challenges of corporate travel management.
Myth 1: Managing Business Travel is Easy
There is a very common misconception among employees that business travel management is easy. Meaning of as often tend to think that the role of the Travel Manager is easy but the truth is far from it. The travel manager is entrusted with managing the travel itinerary of all the employees who travel on business trips. More often than not, it is his or her responsibility to ensure the tickets are booked and the exact date and time of travel is conveyed to all the stakeholders to avoid confusion. Thankfully, the corporate travel management module of an advanced HR software like Digital HRMS is designed to streamline the entire process on a single platform and also send automatic emailers at every step.
Myth 2: Approval of Travel Request is a Simple Process
Talking about the next one, many people make the mistake of believing that approval of travel requests is a simple two-step process. However, the truth is that the approval process often involves several rounds of approvals, sometimes because of changes in schedule while at other times, because of unavailability of conveyance. Also, the travel budget needs to be taken into account while creating the itinerary, which also takes time and sometimes moves back and forth between the travel desk and the team manager for approvals. It is a complex process to say the least, but an HR software like Digital HRMS can seamlessly automate the process.
Myth 3: Video Conferencing can Replace Business Travel
With the onset of remote work and with technology redefining the way we interact with colleagues and business prospects, many of us are left wondering if video conferencing can replace business travel altogether. After all, if you can manage with remote communication, why go all the way to meet people in person? However, one must understand that face-to-face communication is much more effective and brings better results when it comes to business interactions. Hence, it would be safe to say that business travel is here to stay and it is recommended the businesses get an HR software platform for effective business travel management.
Myth 4: Business Trips Spell Higher Productivity
This is another common myth as people tend to believe that employees are automatically more productive when they are on a business trip. However, this is not always the case, because the irregular working hours can take a toll on the productivity. This is where a Cloud-based HRMS platform like Digital HRMS can help the employees to track their work progress through the TimeSheet module.
So, we see that certain aspects of business travel are not as they appear to be. Do you have more myths to share about corporate travel? Share your thoughts in the comment box below.
Want to discover more about how the business travel management module of
Digital HRMS can help manage and streamline employee travel management?
Discover the Digital HRMS Mobile App for Android and iOS users.