Travel Management with Digital HRMS: Say Hello to Seamless Management of Travel Requests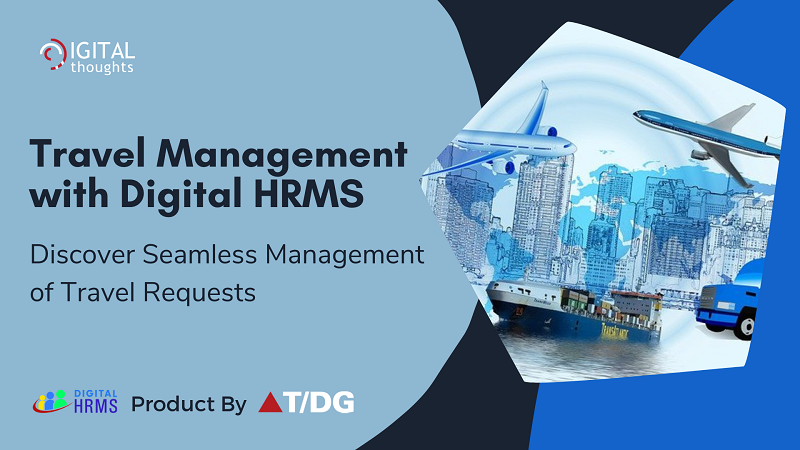 Business travel, also referred to as corporate travel, is an important aspect of every company's operations. As businesses become more global, with headquarters in different places throughout the world, the demand for business travel will only increase. While the advent of Covid-19 has put a stop to corporate travel for the time being, no one can argue that engaging through technology will never be able to replace "genuine" face-to-face engagement.
However, when it comes to managing employee travel requests, many businesses throughout the world are still finding it difficult.
43% of organizations find the management of employee travel and expense a challenge.
According to PayStream's data, flawless corporate travel management comes with its own set of problems, which many businesses find tough to overcome. The primary challenges of business travel management are as follows:
Data inaccuracy owing to the use of outdated manual methods for recording, estimation, and monitoring

Costs of manually processing a travel request have increased

The usage of a manual approach generates unnecessary delays in the entire travel management process, especially when multiple employees are travelling on business trips.

Not enough awareness among the employees regarding the Travel policies

Slow processing of reimbursements has a negative impact on employee morale
Discover the Digital HRMS Travel Management System
Digital HRMS is a software platform for HR administration that includes individual modules for each HR function. The Digital HRMS travel management system makes it simple for employees to submit travel requests and track their progress. It is also possible for managers to submit travel requests on behalf of their employees.
The following are the key features of the Digital HRMS Travel Management System.
Employees can use the website to submit travel requests

Easy and transparent monitoring of trip requests

Existing requests are quickly sorted

Provision to specify the types of trips you want to take, as well as the purpose and date

The ability to see a list of trip requests and their status, as well as the ability to make requests for the team.

Quick and detailed reports on employee travel requests
Benefits of Travel Management Platform of Digital HRMS
The following are the key benefits of Travel Management with Digital HRMS.
Allows the HR department to submit travel policies to the portal, which saves time, speeds up the process, and guarantees that the organization's standards are followed.

Automation of the process reduces the time for processing of employee travel requests

Reduces the cost of processing each request, which results in significant profit for the company

The HR department's productivity and efficiency improve as a result of automation with a travel management system

The data acquired, saved, and handled using a travel management system is much more relevant and may be properly evaluated for helpful deep insights

Results in a boost in employee morale
Want to explore more on how the travel management system of Digital HRMS can help your organization streamline management of travel requests?
Stay connected with us on Social Media for all the latest updates.