What HR Experts are Talking About in 2020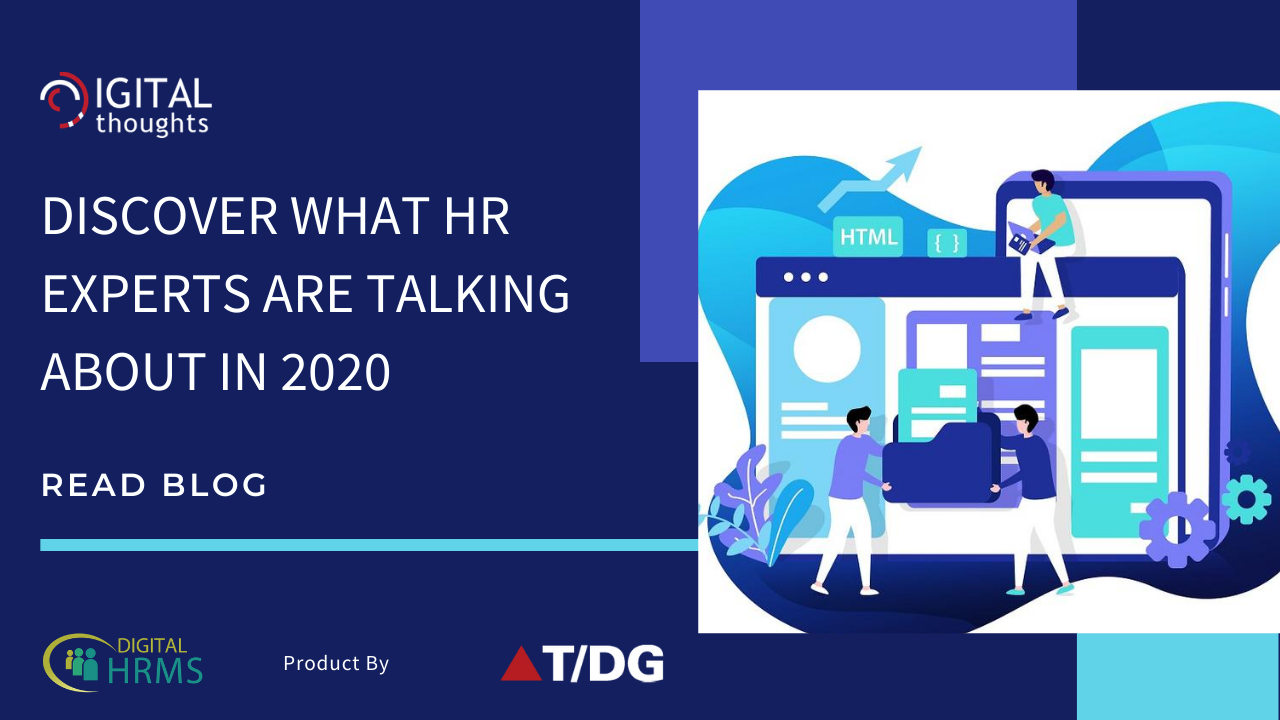 The HR department has multiple roles and responsibilities in an organisation, which makes it one of the most significant departments. As they rightly say, the HR is responsible for taking care of the employees right from the day they are hired to the day they retire. The journey is long, and there are several aspects to look into when it comes to the employee lifecycle and employee management. A good HR team is responsible for increased levels of employee engagement and the relationship between the organisation and its employees, and a good HR software can be a great help in this regard.
If you have always been an HR enthusiast, then you are probably aware of a few of the names mentioned below. Today we bring to you some excerpts on what the leading HR experts are talking about today. These insights reflect a lot on the trends, the significance of HR software and what's in store for HR in 2020. So, let's get started...
1] Understanding What You Need, Not What You Want When It Comes to Recruitment
Will Craig, MD of LeaseFetcher and a popular HR influencer

, insists on how HR recruiters should change their approach to meet the changing demands of the current scenario. Recruitment in times of remote work has become more challenging than ever, and it is important that recruiters are aware of exactly what they are looking for when interacting with the candidates on a virtual platform for the interview.
Craig says here, "Developing a strong job specification has become exceptionally important to the success of our virtual recruitment process in recent times. Although a simple requirement, it is something that is overlooked all too often in a traditional recruitment process; potential employees must be given clear responsibilities and expectations—now more than ever before— if they are expected to succeed whilst removed from the traditional office environment. If you can do this, then I guarantee you will receive a significantly higher proportion of high-calibre applications for your efforts."
The new age HR software can be instrumental in helping your HR team streamline virtual recruitments.

2] Technology has come to our Rescue During the Pandemic
Josh Bersin, world known industry analyst and thought leader in all aspects of HR

, insists on how
HR software and HR
technology has been instrumental in helping us cope with the crisis of the pandemic. Without
HR software
, the concept of remote work and even social distancing, would fall flat and it would be impossible to stay connected to one another, leave alone working in a collaborative manner.
Josh says in his blog, "… our tech is working well. Our Zoom calls, emails, Microsoft Teams meetings, and VR and online training programs are working exceedingly well. Forget the old "digital transformation" stuff – we're all transformed overnight."
This is the time for enterprises to streamline the HR process more effectively than ever before with an advanced HR software. What's more, these platforms also offer a dedicated employee management software for additional convenience to the HR department.

3] Enterprises Need a Different Approach to Overcome the Pandemic Crisis
Trish McFarlane, Managing Director and Principal Analyst for H3 HR Advisors

and a renowned HR influencer, states that these are challenging times for every enterprise and so it becomes important for the enterprises to prepare themselves to meet the challenge. Every organization today needs to implement a set of steps in order to build a strategy and respond to the current scenario.
Mc Farlane writes in her blog, "As one of the most deadly, untreatable viruses spreads around the world, I am getting inundated with questions about people strategy and how best to respond. The issue is the amount of information, and misinformation, about how best to prepare." She has even shares some pointers to help organizations.
A new age HR software can play a great role in streamlining HR processes during the pandemic as every HR team needs an employee management software.
4] Virtual Hiring will be the New Normal in the Post COVID World
Dave Millner, renowned author and founder of HR Curator

, explains how virtual hiring or remote hiring with the use of technology is not just a temporary thing, but it's here to stay, long after the effects of the COVID-19 pandemic will have receded. This is because the rapid use of technology like AI in the field of recruitment is changing the way enterprises hire people, forever.
Virtual recruitment platforms and employee management software is the need of the hour now than they were ever before.
In his blog, Millner writes, "In my recent book 'Introducing People Analytics', the research highlighted three interconnected elements, the 3 D's (Data, Design, and Digital) that will drive and change the HR function and every specialist function within it as the 'New Normal' emerges."
5] A New Face of HR is Emerging
Jacob Morgan, renowned author, keynote speaker and HR influencer

, wants people to notice how HR has evolved so much over the years. He compares how the HR department of yesteryears has evolved into a dynamic department in most organizations today. Today, the HR department is associated with more than just hiring, in fact the department is increasingly being associated with employee engagement and employee welfare.
Morgan writes in his blog, "What used to be viewed by many as one of the least exciting areas of an organization is now one of the most dynamic places to work. Human resources is evolving into more than just hiring and firing and having a huge impact on the employee experience and the future of work. I have explored this in my recent book on Employee Experience."
So, that was about some of the HR experts and what they are talking about in the year 2020. This year has been different in many ways, but with the help of technology, we have been able to sail through the difficult times with ease.