What Makes the Resume Parsing Platform Now Better than Ever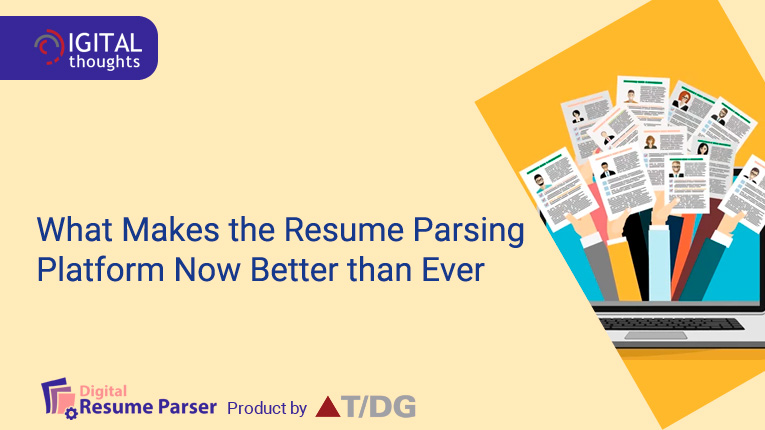 Did you know that the new age resume parsing platform has a high level of accuracy that is close to 93%?
Yes, that's right and this value is very close to the average human accuracy level of 96%! What does that indicate? Well, it means all the efforts towards the development of advanced technology for efficient resume parsing has been successful and today we can empower AI to be highly efficient in something as complex as resume data extraction, which is all about multiple formats, layouts and terminology used by different individuals to draft their resumes.
So, you must be curious about what makes the new age resume data extraction tool so powerful? The secret to the advanced capabilities of the modern resume data parser is the powerful technology driven by Artificial Intelligence (AI). The AI technology makes it possible for the data extraction tool to process the words in the resume, sort them on the basis of pre-defined categories, and then converting it into a machine readable output.
Working of a Resume Data Extraction Tool
Digital Resume Parser provides you the process that analyzes the resume/CV information and extracts it into machine readable output such as JSON. The data extraction tool developed by
The Digital Group
accepts different resume input formats like pdf, docx, doc, txt, rtf, odt, dot and act as an interpreter that will segregate resume data into various sections like Personal Information, Education Details, Organization Experience, Project Details, Client Exposures, Skills, Achievements, Certifications, Trainings, References etc. into JSON structured output with the information that will help you to analyze the applicant.
Resume Data Extraction Tools Empower Recruiters
Today, we have resume parsing platforms that are designed to help recruiters in saving their time and efforts in order to enable them to focus on the more significant tasks at hand. These smart data extraction tools are all that the recruitment team needs in order to siphon out the most relevant data from hundreds of resumes in a matter of a few seconds! And that too with superbly high accuracy. Now, if that's not empowerment of the recruitment team, then what is? Let's have a look at the features that make it possible…
High Accuracy
Support for Diverse Formats
Intuitive Summary
Support for Multiple I/O Formats
Seamless Integration
Accelerated Results
Data Privacy & Security
Customizable Services
Want to explore the resume parsing services offered by Digital Resume Parser data extraction tool and know how a powerful resume data parser can simplify recruitment process for your HR? Visit the
website
or drop us an email on
tdg-marketing@thedigitalgroup.com
and our team will help you with your queries.