5 Lessons Towards a Positive Change for Success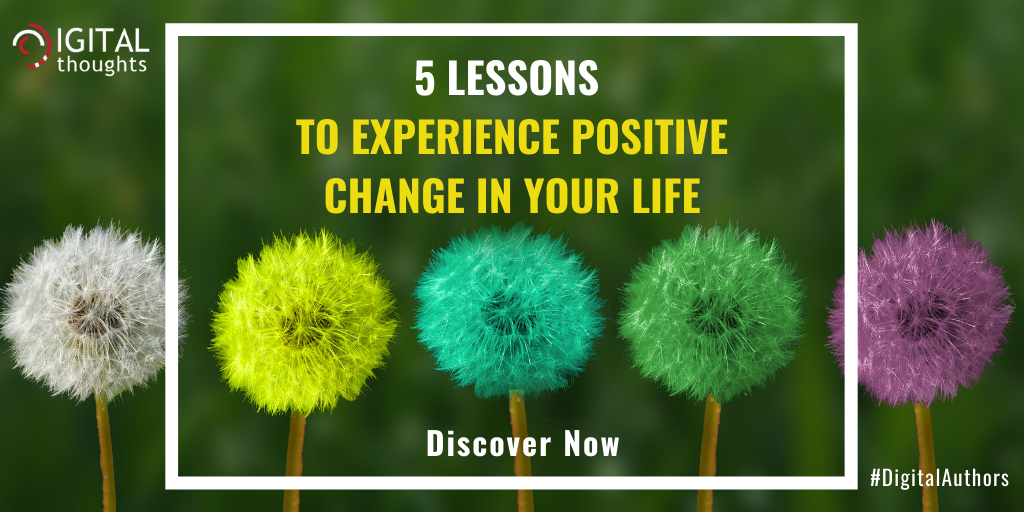 In the past couple of years, while preparing for my trainings, I have gone through many websites, blogs, book summaries – anything that has held my interest. In this duration, I have picked up some ideas and valuable lessons that have inspired and motivated me as they all have the power to bring positive change in one's life. I would like to share a few of them with you. If you ever decide to develop any one of these lessons, they will certainly add value to your lives.
1] Always Focus on the 'START' rather than the 'FINISH'

If you don't start something, how will you finish it? This is illustrated beautifully in the

2-minute rule by James Clear

, which says that If it takes less than 2 minutes for you to do something, then do it now. This usually helps when you want to pick up a new habit.
For example, if you want to read before bed each night, then start with just reading one page before bed each night. If you want to run three miles, then start with tying your running shoes! The idea behind this is that any new habit shouldn't feel like a challenge. The first two minutes should be easy. Anybody can read a page or tie running shoes. The first two minutes gradually become a ritual at the beginning of a larger routine.
2] Do your Most Difficult Task First

Brian Tracy

calls this –

Eat your Frog

. This means, if there's any task that is difficult and there are chances you will procrastinate it, you should first complete that task before anything else distracts you. This is one of the best productivity takeaways.
3] Find a 'WHY' to Your Goals and Let it Motivate You

"He who has a why to live can bear almost any how." – said Victor Frankl

. Apply this to your goals. Your answer to the 'Why' will keep your goals alive and help you stay consistent on your commitments. Your 'Why' should be strong enough to inspire you. Always put your 'Why' (the purpose) before your 'How' (the process) and 'What' (the product or result).
4] Make the Best Use of the Morning Hours

Robin Sharma

says 'Winning starts at your beginning. Your first hours are where the great heroes are made.

Own your mornings and you'll master your life

." When you wake up at 5 AM, you are totally away from any kind of distractions and this becomes your golden opportunity to concentrate on the task or activity of the highest value. This is the time when you can embrace the solitude and silence, increase your creativity, and invest in your health and fitness. This time allows you to produce work that will lead to better outcomes.
5] Take a Holiday or a Break to Rejuvenate Yourself

'Holidays are mandatory'

as per

Mahatria Ra

. One should take a holiday or a break to rejuvenate in a similar way to how we take rest at the end of the day. Take a break to breath different air, to replenish your energies, to give yourself completely to your family, to free yourself from your work, to break your routine, to strengthen your relationships, to know yourself and your emotions and then come back and start with a bang.
Would like to end with a quote:
"Sometimes the smallest step in the right direction ends up being the biggest step of your life. Tiptoe if you must, but take a step" – Naeem Callaway