7 Tips to Write that Perfect Email Call to Action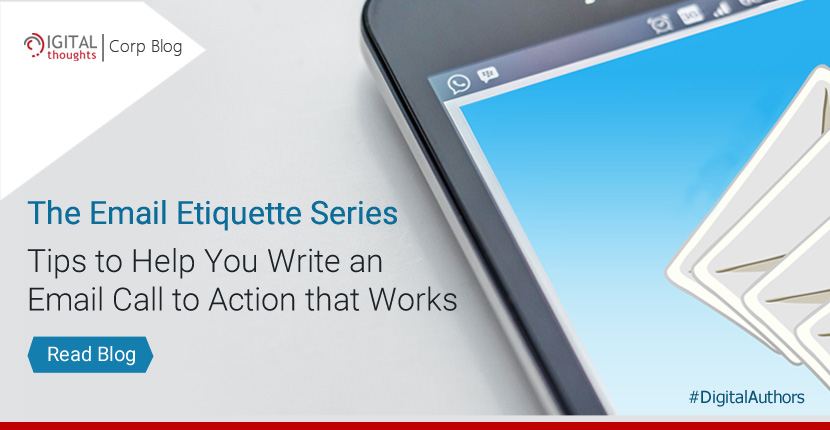 We all have read emails that come with instructions, a phrase or two that request us to do something or precisely, take an action. Inserted within the email text or added as a button between two paragraphs, these phrases are the Call to Action (CTA). The purpose of a CTA is to bring to the reader's attention what action they are expected to take. Today, we are in the age of digital marketing, where you see these small and often colourful buttons all around you – on websites, on emails and on newsletters.
Now one must note that the CTA has a very important role when it comes to making the user to take action, whatever it might be based on the objective of the content around the CTA button. Without a CTA button, the user is likely to feel lost in the ocean of words and is highly likely to miss out on taking action, simply because you're not guiding them on the line of action that's expected. The Email Etiquette Series is all about writing emails that people love to read and today in this blog, we shall look at some quick tips for you to create CTA for a business email. So, let's get started.
1] Define a Purpose of Your Email
The very first thing you should do while writing an email is to define your purpose behind writing that email. Because unless you have a purpose, there's no point in proceeding further. Once you have a purpose, it becomes easier for you to frame a Call to Action that caters to that purpose.
For example, if your objective is the sale of a product, you need a different call to action than when you need to introduce your users to your new website.
This is a very important point. Expert copywriters believe that your email call to action (or any call to action for that matter), should not exceed 4 words. Email users have very short attention span and you cannot expect them to stop by and take time to read what's on your CTA button. So, the thumb rule is to keep it really short.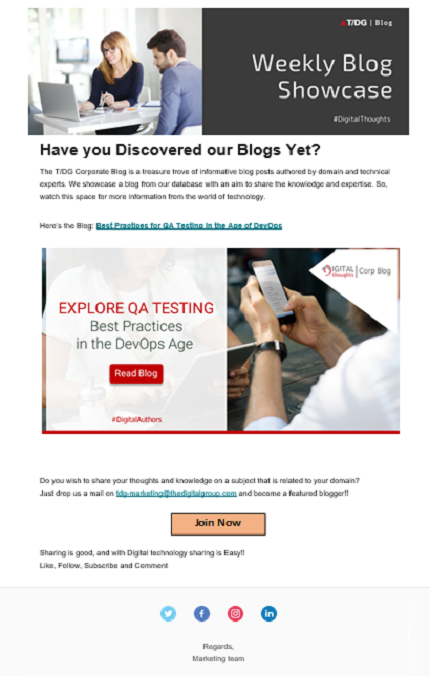 3] Be Precise with Your CTA Copy
One of the defining features of a good call to action (CTA) is that it's precise and to-the-point. Your CTA should be able to convey to your users exactly what they are expected to do. If it's a link you want them to shop your latest collection, write 'Shop Now'. If you're providing more information in the form of a blog or an article, choose to write something like 'Let's Delve Deeper' or 'Start Exploring'.
4] Begin with an Action Verb
The first rule about writing a CTA is to begin with an action verb. After all, it's not called 'Call to Action' for nothing. Start your CTA using words like Start, Play, Shop, Join… you get the picture? Action verbs have a certain vibe of energy about them that's hard to miss and it's this vibe that will draw the attention of your readers and get them to click.
5] Urge for an Immediate Response
The purpose of having a Call to Action in your email is to not just make your users take action on reading your email but also take action as soon as possible. To accomplish this, you need to add a sense of urgency to the CTA text in your email with words like 'Now' and 'Today'. This is shown in the screenshot below.

6] Limit Yourself to a Single CTA Button
Now, you must consider that email content is really short these days – the reason being the short attention span of the readers. So, it is recommended that you focus on only a single CTA in your email. Including too many can distract or even confuse your readers and they might end up NOT clicking on any button. Hence, you should think twice before including multiple CTAs.
However, I would like to mention an interesting way to include multiple call to action – just change the copy of the CTA on the different buttons, but link them all to a single URL. This way, there's no possibility of confusion because they all lead to the same place. This is shown in the email below, where both the call to action button as well as the image take the user to the same landing page which is the website of QARA Enterprise.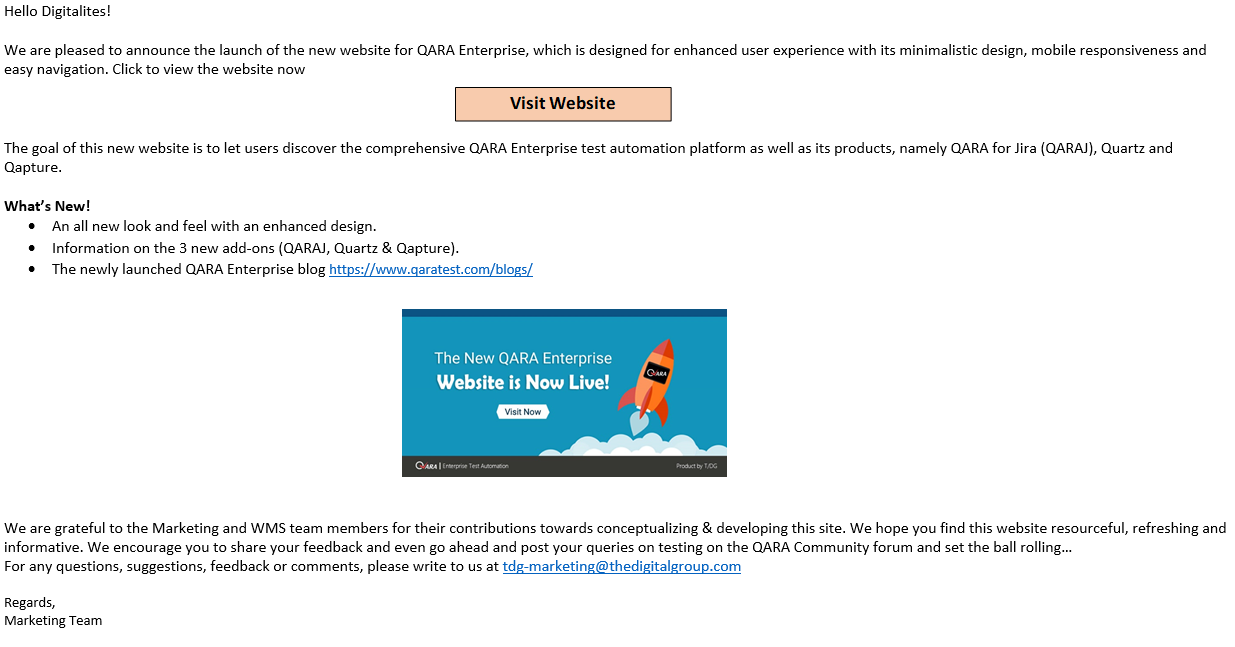 7] Make Sure to Test Before You Send
Last but not the least, make sure you test a few options to get an idea about what works and what doesn't. For this, make two or three versions of your email with different CTAs and then test them by sending each to a different set of people on your contact list. The response you get for each will give you a fair idea of what works and what doesn't.
Framing the perfect Call to Action for your email is not that difficult after all, and all you need to do is consider the points we just looked at. There are also a few DOs and DON'Ts regarding the design aspect of the CTA button that you must consider as well, to ensure the visual aspect is taken care of.
Up Next on the Email Etiquette Series: 10 Words & Phrases to Avoid in Business Emails