An Introduction to QARA Enterprise Test Automation Suite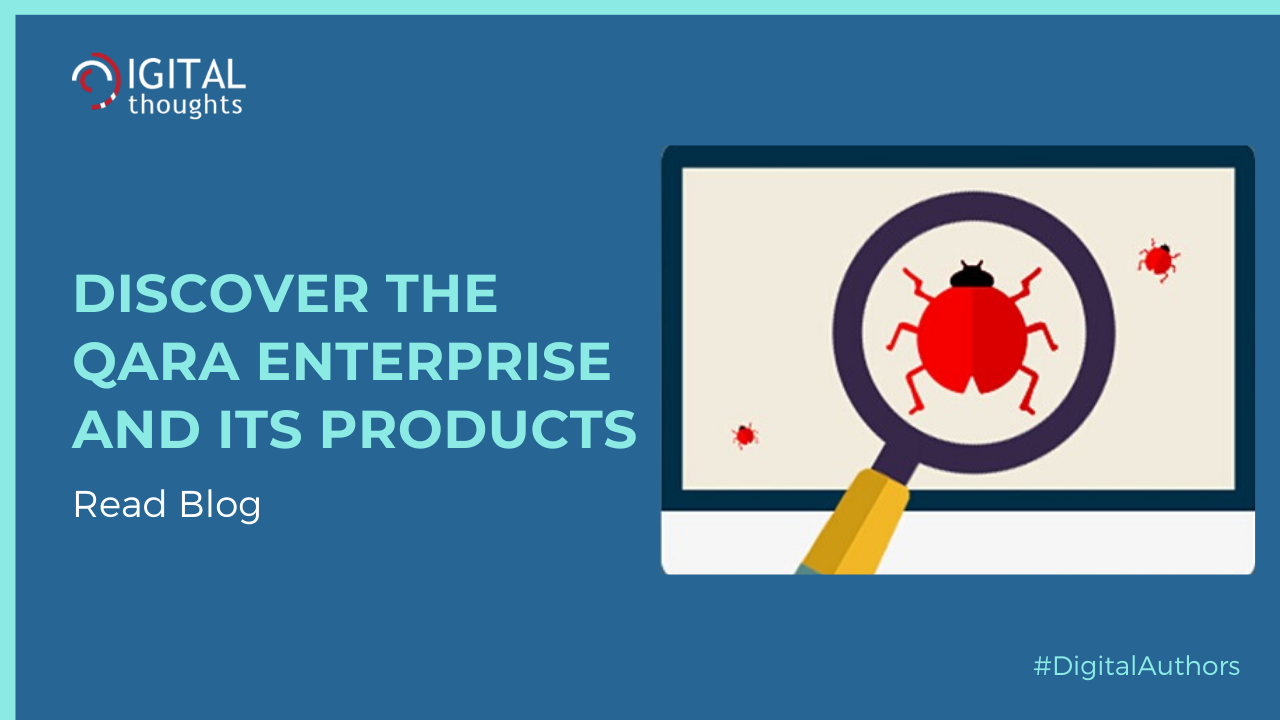 One of the biggest breakthroughs in the world of software testing has been brought about by automation testing. Today, automation testing has revolutionized the way QA teams work, increasing their productivity and efficiency, allowing for higher test coverage and significantly reducing the time to market. There are many other benefits that automation testing has to offer to QA teams as well as the entire organization, as explained in the blog '
Importance of Automation in Software Testing
'. What QA teams need today is a complete test automation solution that also offers powerful features for test case management. This is where a software like QARA Enterprise comes into the picture.
QARA Enterprise is a complete test automation suite that consists of products that are designed to assist in successful automation and test management across different platforms and devices. It is the only product your QA team needs to accelerate test automation and boost test performance.
QARA Enterprise
makes this possible with a host of products, along with a few additional add-ons and extensions.
QARA Enterprise at a Glance
QARA Test Management for Jira (QARAJ)
QARA Desktop
QARA Recorder
Add-Ons and Extensions:
Qapture Extension
Quartz Time Tracking for Jira
Now, let's have a look at the products and add-ons one by one, to learn about the features.
T
he following are the products that are a part of the QARA Enterprise suite.
1] QARA Test Management App for Jira (QARAJ)
QARAJ is an add-on that is used with JIRA to enhance its test management capabilities. It can also be used with QARA Enterprise to track projects and bugs on the same platform, without the need to switch to JIRA. The add-on is available for download on the Atlassian Marketplace.

Key Features:
Provision to create new Test Cases as an 'issue type' in QARAJ.
Allows assigning of test cases within a project into folders.
Allows creation of Test Cycles and assigning of Test cases to a test cycle.
Provision for execution of test cases for comparison between the expected and actual results/performance.
Provision to view a history of executed test cases and generate test reports.
2] QARA Desktop
QARA Desktop is the desktop version of the QARA Test Automation platform. It can be installed on your desktop and enables you to experience the test management and functional test automation capabilities of QARA Enterprise directly from your desktop.

Key Features:
Enables consistent performance across multiple browsers and platforms
Eliminates the need for coding and scripting
Enables end-to-end test management
Facilitates easy record and playback of test cases.
Easy performance analysis with colourful graphical reports
Integrates seamlessly with Jira and other platforms.
3] QARA Recorder
QARA Recorder is a Chrome extension that allows you to record test cases directly from your Chrome browser. This extension records test cases through the QARA Enterprise test automation tool, and allows recorded test cases to be played on multiple browsers.

Key Features:
Recording of test cases directly from your Chrome browser.
Easy access to the extension on the Chrome Web Store.
Test case record and playback using QARA Enterprise automation tool
Access to assertions during recording test cases.
To get it,
click here
.
Add-Ons and Extensions
The following are the add-ons and extensions that are independent products and do not form a part of the QARA Enterprise suite.
1] Qapture for Jira Add-On
Qapture for Jira is an easy to use collaborative testing add-on to capture, annotate and share visual feedback within Jira. It allows teams to collaborate and share visual feedback from their Chrome browser directly to Jira, without going to the Jira interface. It also ensures the feedback report is prioritized and gets resolved.

Key Features:
Provision for easy sharing of clear feedback through audio and video format support.
Provision for extended browser support through all major browsers and versions.
Allows easy addition, removal, download or deletion of screenshots.
Offers users an enhanced search experience for epics and sprints.
To get it,
click here
.
2] Quartz Time Tracking Add-On for Jira
Quartz – Time Tracking for Jira is an advanced time-tracking tool that extends the power of Jira by adding powerful time management capabilities. The add-on supports powerful time reports, painless time entry, custom attributes, approval process and more. It is available for download on the Atlassian Marketplace.

Key Features
:
Easy tracking of actual effort hours against specific dates as opposed to the logging hours against an issue without any date/timeline context, as is done on Jira.
Offers a clear perspective on progressive estimates against issues versus actual hours over a timeline.
Offers a JIRA dashboard widget to roll up estimated and actual hours across implicit hierarchies within JIRA issues
To get it,
click here
.
So, that was all about QARA Enterprise, its products and add-ons. The suite is designed to help QA teams achieve maximized results in test automation and also experience its multiple benefits. As test automation becomes the need of the hour, all that QA teams need is a test automation suite like QARA Enterprise that helps them implement test automation successfully.