Discover Key Features that Make a Good HR Analytics Platform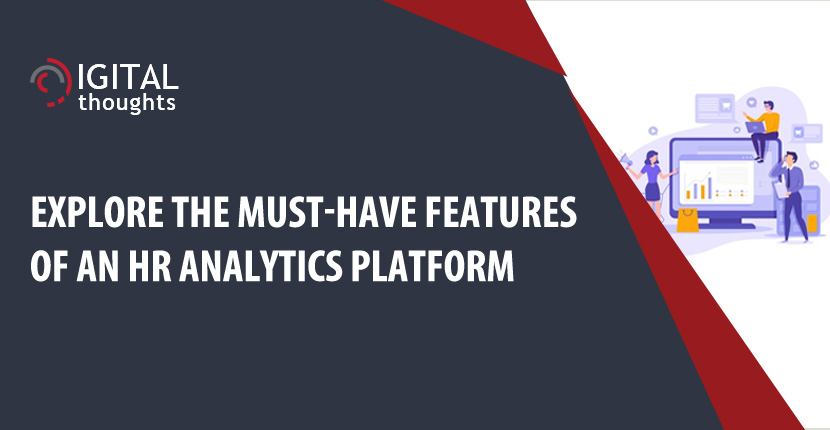 What is HR Analytics? It is a term that is used to refer to the analytics of HR data to derive relevant insights about the human capital in the organization, which in turn helps the HR to boost employee engagement and reduce employee turnover. HR analytics is more significant for organizations today than ever, because of the drastic drop in levels of employee engagement in organizations today, coupled with the rising rates of employee turnover. The statistics below by Gallup and the U.S. Bureau of Labor Statistics, are a testimony to this fact.
85% of employees are not actively engaged or are actively disengaged at work

Between 60-70% of all employee turnover is voluntary

Approximately 3 million U.S. workers leave their job each month
To prevent high employee turnover and to understand the factors that make employees happy, HR teams are turning towards HR Analytics platforms.

BENEFITS OF AN HR ANALYTICS PLATFORM
Reduced employee attrition

Enhanced employee engagement

Boost in employee morale

Better hiring decisions based on historical data

Training needs of employees identified for effective training programs

Increased efficiency of the hiring process

Reduced instances of talent scarcity
KEY FEATURES OF AN HR ANALYTICS PLATFORM
A good HR Analytics platform offers a set of features that make it easy to get the most relevant insights, according to the specific focus area of employee management. If you explore an HR Software with powerful HR Analytics capabilities like Digital HRMS, you'll discover some of the following features.
1] Real Time HR Analytics
When it comes to analytics, it must be in real time, isn't it? That's exactly the purpose and thanks to advanced AI technology, real time insights are a reality! Digital HRMS is a platform that offers real time HR insights and reports in a few clicks, which means the HR department is always updated with the latest insights at their fingertips.
2] Easy to Use and Explore
An HR Analytics platform, just like every other tool out there, needs to be something that your employees can learn to use fast to get the best outcome. Employee training can be a time-consuming process and can delay the implementation of the platform. What's more, it takes time to master a complex tool for maximum productivity. So, your team needs an HR Software like Digital HRMS that offers a short learning curve with a user friendly interface and smooth navigation.
3] Availability on the Cloud
The Cloud is the new destination for enterprise data, so the ideal HR Analytics platform should be available on the Cloud. Also, with the current scenario of remote work, the On-Premise model is not much relevant and access to the Cloud is emerging as a primary requirement for enterprise software. A platform like Digital HRMS that is available On Premise as well as on the Cloud, is what enterprises need today.
4] Privacy & Security of HR Data
Enterprise data is sensitive and HR data is more so, because it consists of the confidential data of the employees. This calls for advanced measures to ensure privacy and security of HR data. To ensure this, the new age HR data analytics platforms offer multilevel data security, along with role-based access, in order to ensure the data is safe from unauthorized access and misuse. Also, Digital HRMS is a GDPR compliant platform, which means it ensures complete data privacy.
5] Provision for Customization
Last but not the least, it is important to understand that every enterprise is different and so the goals of the HR department widely varies. In such a scenario, lack of customization will make an HR Analytics tool practically of very little use, when it comes to catering to the requirements of every HR team. A well-designed HR Analytics tool is focused on customization, coupled with scalability, to offer the flexibility the HR teams need today.
Looking for an HR software that can help your HR team get the most relevant insights from HR data?
Visit our website www.digitalhrms.com or drop us an email on marketing@digitalhrms.com and our team will get in touch with you. Now, get Full access to Digital HRMS Free for 90 Days. Available for Limited Period only!
Stay connected with us on Social Media for all the latest updates.
•

https://www.facebook.com/DigitalHRMS/
•

https://twitter.com/DigitalHRMS
•

https://www.linkedin.com/showcase/18484661/admin/
•

https://www.instagram.com/digitalhrms/