Discover the Advantage of a Training Management System for Your Enterprise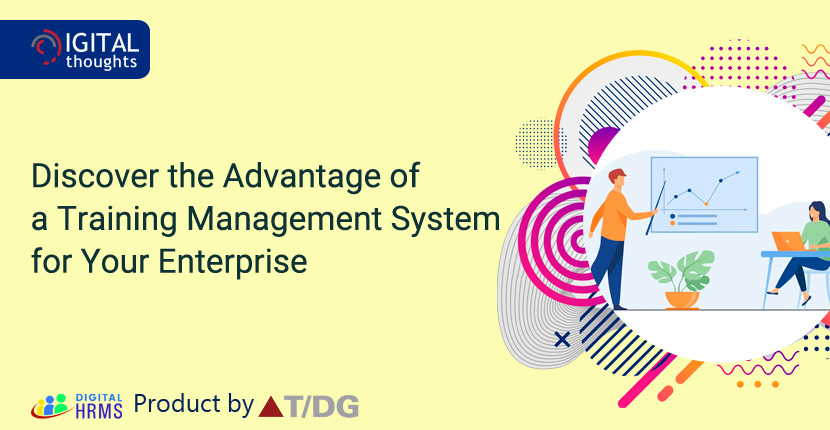 65% of employees are reportedly not engaged at work.
Employee engagement is a primary HR goal today, and it's being implemented in a variety of methods in businesses all over the world. One of the most successful strategies for businesses to increase employee engagement is to use HR management software.
One of the most effective ways to increase employee engagement in an organisation is through corporate training. Most employees today prioritise the opportunity to learn and develop themselves over increased compensation and other benefits. Effective online training solutions, as well as methods and technologies to assist organisations in providing training to their employees through highly scalable custom solutions, are in great demand today.
Digital HRMS
is a sophisticated HR software that is designed to assist businesses in implementing strategies to increase employee engagement, one of which is managing corporate training.
How a Training Management System Can Help Your Enterprise
There are many ways a training management system can help an enterprise, more so in the current times of remote work. The infographics below showcases the key benefits of a LMS software.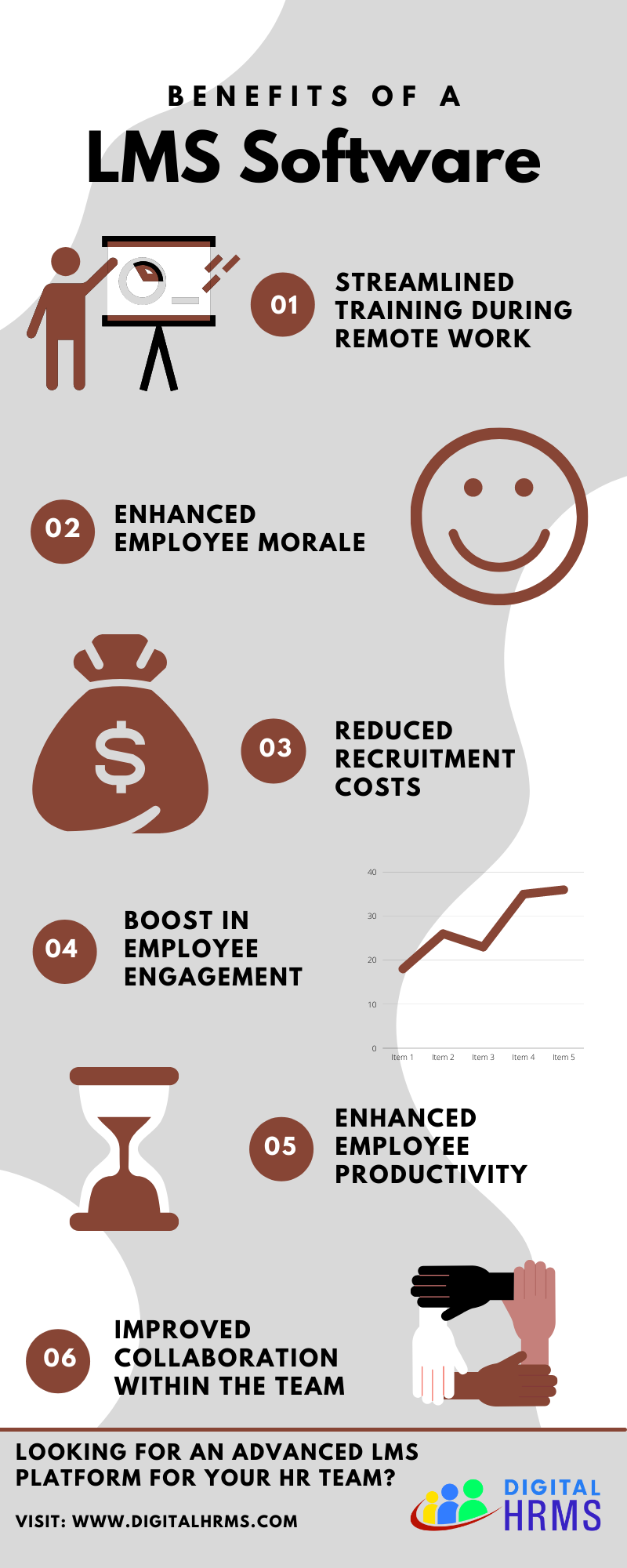 1] Streamlined Training During Remote Work
It's vital to remember that corporate training should be both a motivational factor for employees and an activity that allows them to learn and grow their abilities. HR departments throughout the world are excited about the prospect of bringing corporate training efforts online. To put it another way, it's all about transferring classroom training to a virtual setting. After all, transitioning to online training isn't as tough as you might imagine, as long as your company has access to a sophisticated training management system. This is where a learning management system (LMS) platform can help your company.
2] Enhanced Employee Morale
If implemented correctly, corporate training can have a significant impact on employee morale. It makes employees feel important in the organisation, which improves employee productivity and performance. One of the most significant advantages of a training management system is this.
3] Reduced Recruitment Costs
Recruiting new personnel can be costly. When a position with advanced abilities becomes available in the organisation, the standard procedure is to hire new personnel. However, a solution is to improve employees' abilities by using a training portal to promote internal job openings. This will not just money, but also boost employee engagement levels in the organization. Employees can learn new skills more easily with corporate training using an advanced training management system like that offered by Digital HRMS HR software.
4] Boost in Employee Engagement
As previously said, one of the main concerns of businesses when it comes to staff retention is employee engagement. The ability to learn through a training platform is a proven and effective technique to increase employee engagement. Employees who have the opportunity to improve their talents are more likely to feel invested in the company. In the long term, this proves to be a great value, and a training management system makes training management simple.
5] Enhanced Employee Productivity
Employees have the confidence to give their best when an organisation organises corporate training to assist them improve their abilities. They don't have to worry about picking up new skills; instead, they can focus solely on using their skills well with the purpose of improving their performance. This will improve the team's overall performance as well as the organization's overall performance. This is one of the most important uses of HR software such as Digital HRMS, which includes a robust training management system.
6] Improved Collaboration Within the Team
When it comes to collaborative team work, it is essential that all team members are on the same page. This can be accomplished by holding frequent training sessions on a training platform with the entire team. Even new hires can quickly grasp the nuances of the team's roles and responsibilities, in addition to the goals, policies and other information about the organization. The Digital HRMS training management system enables HR to plan and organise training sessions in a systematic manner.
Want to explore more about how the LMS system of Digital HRMS can help your HR team streamline employee trainings?
Visit our website
www.digitalhrms.com
or drop us an email on
marketing@digitalhrms.com
and our team will get in touch with you. Now, get Full access to the Digital HRMS HR software platform Free for 90 Days. Available for Limited Period only!
Stay connected with us on Social Media for all the latest updates.