Explore the Journey Towards Agile HR Functions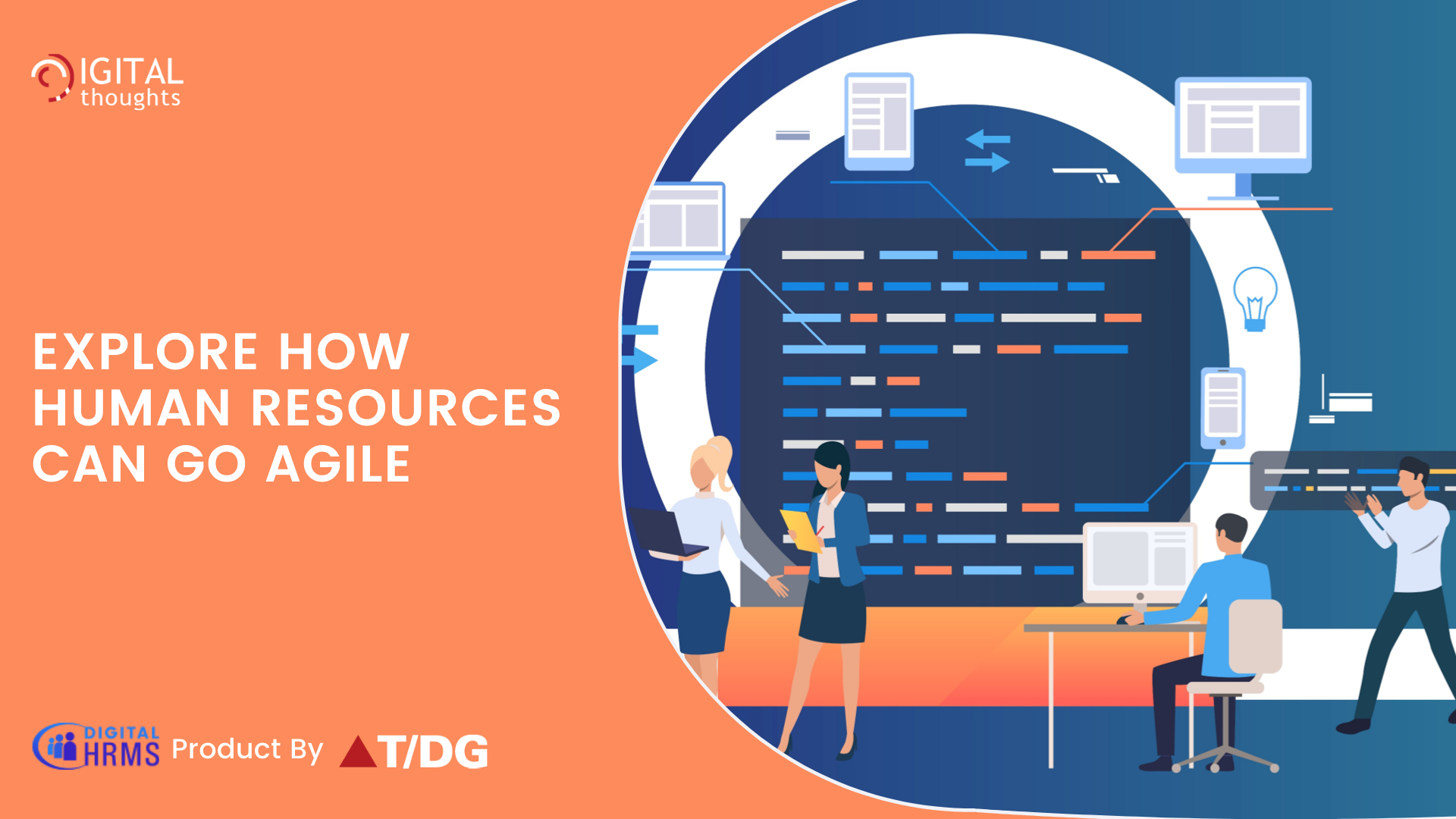 What is Agile? Let's begin our discussion with what Wikipedia has to say –
"In software development, Agile practices involve discovering requirements and developing solutions through the collaborative effort of self-organizing and cross-functional teams and their customer(s)/end user(s). It advocates adaptive planning, evolutionary development, early delivery, and continual improvement, and it encourages flexible responses to change."
Now, talking about the origins of Agile, it has its foundations in the
Agile Manifesto
, which outlines the 4 values and 12 principles that define the Agile methodology.
What Makes Agile so Popular
The Agile methodology has emerged as one of the breakthroughs in the world of technology and software product development. The advent and widespread use of Agile has resulted in an innovative approach towards software development and has brought in several product improvements, coupled with faster time to market.
DevOps, Scrum, Kanban, Continuous Delivery, Continuous testing, Lean development, are some of the agile-based frameworks that have been helping the IT world manage teams with better collaboration, boost productivity, reduce costs and respond well to changes.
How Agile is Relevant to the HR Today
Today, businesses are continuously evolving in every aspect and there is the need to adapt to constantly changing scenarios and fluctuating demands. The HR department, being one of the primary departments in an organization, can also benefit in many ways by adapting an Agile methodology. An Agile approach can help the HR team be more responsive and gain the ability to respond faster and adapt to situations with an enhanced level of flexibility.
An Agile approach to HR can help organizations in multiple ways, by enhancing the level of collaboration between team members, come up with more relevant solutions based on continuous feedback, adapt better to changing environments, and also become more result-oriented as Agile focuses on results.
In the long run, adapting Agile in HR can bring in a positive change in the mindset and culture of the entire organization. The new age advanced HR Software can help enterprises implement Agile HR successfully.
Principles of Agile in HR
Based on the Agile Manifesto that we have mentioned earlier, the following diagram illustrates the principles of Agile HR when it comes to the Human Resource department..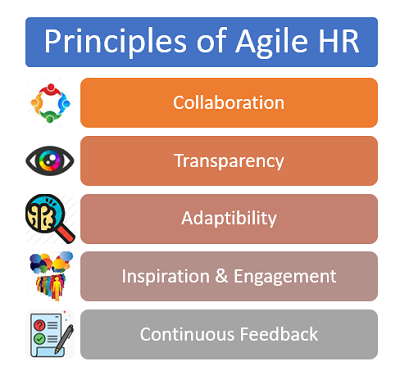 Getting Started with Implementing Agile in HR
Now, we know that Agile is good for the HR team as well as the entire organization. An advanced HR software like
Digital HRMS
can go a long way in simplifying the implementation of Agile HR. So, what is implementing Agile all about when it comes to the Human Resources? Well, here are some pointers that showcase the many ways in which Agile HR can become a part of the everyday HR functions.
Instead of being a one-off initiative at a specific time of the year, employee training opportunities to be carried out throughout the year and also, as and when required.
Dynamic career paths for employees in the organization, instead of the more traditional linear career paths.
Agile HR processes are developed in smaller parts, and then subjected to feedback for improvements before proceeding further. This is a sharp contrast to the traditional approach of implementing it once it is completely ready, with little or no space for feedback.
Recruitment becomes less of need based and more of a continuous initiative with Agile HR that involves brand building and awareness on social media platforms, in order to develop a pipeline of candidates at all times.
Instead of forcing employees to stick to developing skills for his/her specific job role, an Agile HR mindset allows employees to acquire skills and be a part of training sessions, irrespective of their job role.
Job roles and responsibilities are defined in a way that the employees can contribute towards the common goals of the organization, instead of a smaller job-oriented goal.
The success of Agile HR functions is defined by the larger perspective of employee engagement, employee retention, a positive organizational culture and innovative solutions. This is a sharp contrast from the focus on documentation that used to define HR success earlier.
The HR department is one of the few departments that has its influence on the entire organization, including the employees. This makes it all the more important to implement Agile in order to bring about a culture of innovation within the HR department, which in turn can benefit everyone in the organization. As mentioned earlier, an advanced HR software with its capability of advanced automation, can be instrumental in the functioning of an Agile HR team in so many ways. Visit
www.digitalhrms.com
for more info on why your HR team needs an HRMS platform or drop us an email on
marketing@digitalhrms.com
and our team will connect with you.