Geofencing with Digital HRMS: Track Attendance of Remote Employees with Geofencing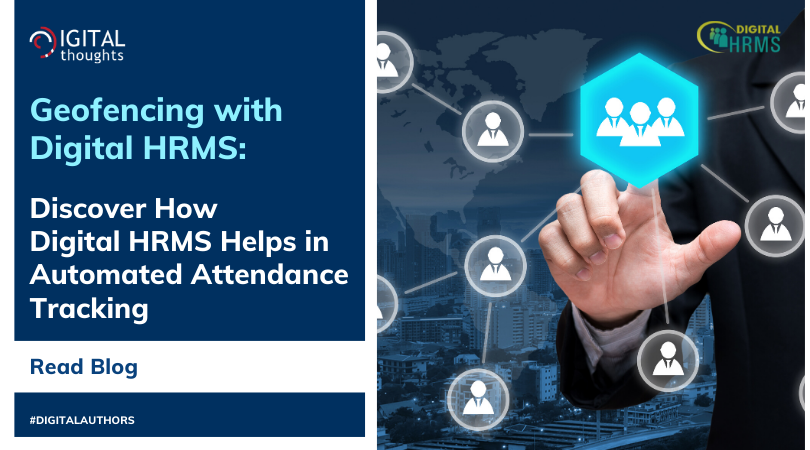 Did you know? 77% or organizations across the globe say that employees working remotely lead to lower operational costs.

- Flexjobs
Also, here's something more interesting…
80% of employees say that more flexible working arrangements lead to lower stress levels.

- HRInsights
Well, these statistics are a clear indication that remote work, or work from home (WFH) as we know it, is definitely a win-win scenario for employers as well as employees. While remote work does have its own share of benefits to offer, there are quite a few challenges that come in the way when an organization is implementing work from home for their employees, be it for a long-term or a short-term basis. So, how does one ensure that productivity is not hampered when employees are working from the comfort of their homes?
Well, an advanced HR software is the solution. Digital HRMS is a new age HRMS software equipped with all the advanced features that help the HR department of an organization automate and streamline their operations and increase productivity and efficiency. Digital HRMS has independent modules, one for each HR function. It also offers a mobile app with mobile specific features. In today's context, let us have a look at how Digital HRMS can help organizations automatically track the attendance of remote employees with ease.
Remote Attendance Tracking and Management with Digital HRMS
One might wonder if Digital HRMS has anything to offer for situations similar to the current scenario of lockdown that was a step taken to contain the rapid spread of the deadly Corona virus. To begin with, Digital HRMS is a platform that is available On Premise as well as on the Cloud. The Cloud support ensures that it is a HR platform from which employees can access data from anywhere on the globe.
Digital HRMS has several features that help in tracking the attendance of employees who are working far from the office premises. These features are mentioned below.
Management of attendance of employees based in different locations across the globe.

Provision for employees to view their total working hours, on a daily, weekly or monthly basis, or even for custom dates.

Supports quick application of Attendance Regularization / Work From Home requests by the employees themselves with just a few clicks.

Paperless attendance management for increased transparency.

Provision for employees as well as the HR and Admin to generate detailed reports on working hours, time-in and time-out, leaves, and more for easy and quick analysis.
Experience Advanced Attendance Tracking with Geofencing on the Digital HRMS Mobile App
Geofencing is a technology which enables you to define a virtual fence over a desired geographical area, so that some sort of trigger is sent every time someone steps into or steps out of the virtual fence defined by you.
Today, there are ample applications of the technology across different industries and sectors. Digital HRMS uses this trending technology to register the working hours as well as the attendance of employees, who are either working remotely, or are outside the office premises for office work. Under normal circumstances, this applies to people who are out of office for market visits, seminars, business events, client meets, etc. However, in a scenario like the current one we're experiencing today, this technology can make it easy for the enterprises to ensure their employees are safe and working from their homes, or any other pre-defined space.
To make use of the geofencing technology, the Manager needs to define the geofence for the employees and allow permission for automatic attendance updates. Once the geofence is defined, the employees will have their attendance automatically marked if they are within the pre-defined area.
The Digital HRMS app is available for both Android as well as iOS users, and is available for free download. If you're interested to know more on how Digital HRMS can be your ideal HR Partner to help you sail through the challenging times, then reach out to us on www.digitalhrms.com